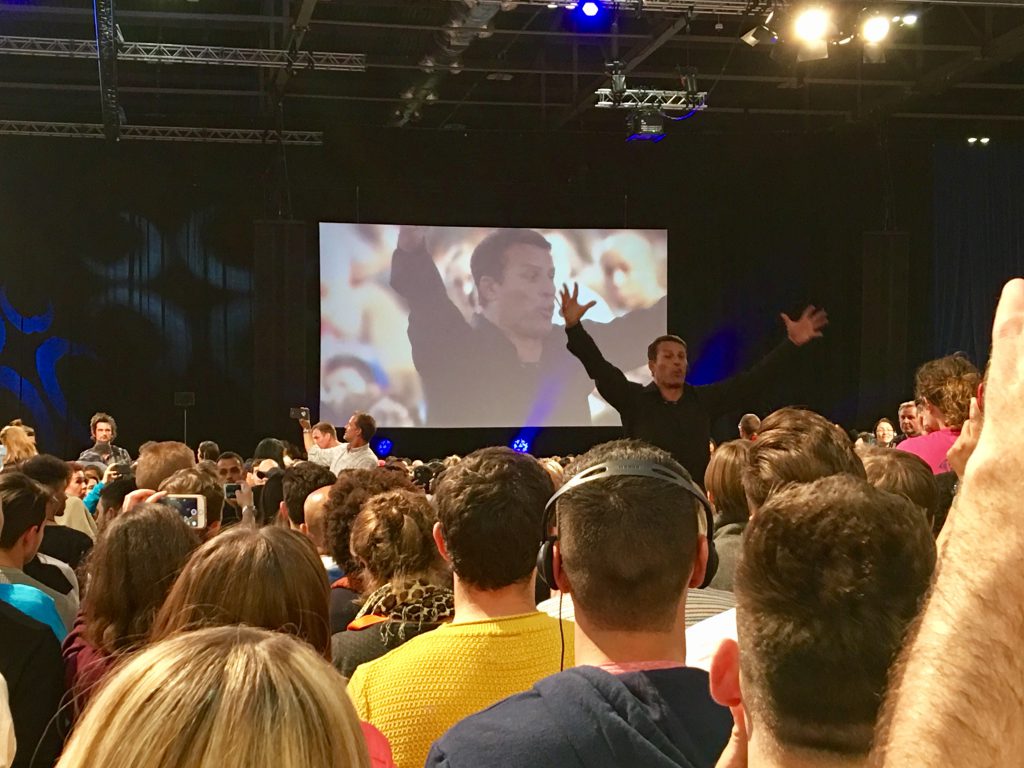 Wow, that was quite amazing and totally way and above what I expected!
I just spent the 4 day weekend, along with 10,000 other people, in London's excel going through Anthony Robbins Unleash the Power Within event.     It was amazing.  And more like a rock concert than a "seminar"
These were 10,000 very highly motivated and successful people, mostly adults, and nearly all the learning techniques are just what we're trying with Genki English to put into schools.
From why traditional schools are so bad to standing up and shout out to reinforce what we were learning,  from how physiology controls your energy and mood ( ever had tired teenagers?  Fix their physiology ) to ways of looking at issues to get maximum impact  along with health, exercise and diet.
It was basically GE for adults, without the English.
And it was amazing to see the transformation in people.
If you get the chance, you should definitely attend in the future.
You have to play full out,  you can't just "pop along",  but as you're a Genki English teacher I know you already always play full out to give the kids amazing lives.
Be genki,
Richard
P.S.   A Four Takeaways for Teachers:
With the right tools and mindset an outstanding teacher ( that's you) can achieve way more in four days than the average teacher can cover in 10 years.   I've seen so many people trying to be like Tony Robbins but the time, devotion and research he puts in raise him above anyone else.
Stories.   Everything he taught was with stories.   Get a story for everything you teach.
Tony has been doing this same entry level workshop for 30 years.   He has it polished down to a fine art.   He doesn't get bored or feel he needs a new "game" or "idea",  he just refines and gets so much satisfaction with the same workshop each time because he knows the results it gets and that for the students it's the first time they are having this experience.
Music & moving every 10 minutes.   We covered so much ground from practical psychology to fear eradication, big business to building families, from nutrition from the CEO of Bulletproof coffee to mediations and Ki practice with Master Stephen Co.  ( That's the same "KI" as "GenKI")   One day ran from 8:30AM to 1:30AM.  And then back the following morning.  The only way to make all this information stick was to constantly use the power of motivating music and motion to keep our minds and bodies active.   Not nursery rhymes, but music that fits the emotion we need in any moment,  from high level energy to thoughtful contemplation.  Music and physiology are what control your mood.   You have the tools.  Now go use them 🙂