Now how cool are these!  The "Let's make a monster" song now has videos – of not one but three monsters!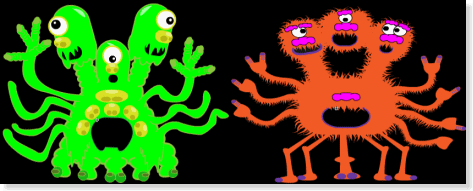 If you've set up a GenkiEnglishOnline Homework account then you'll find them on the Halloween menu.
Or if you have bought the Download Pack this year then as a special thank you (especially this month and last have been fantastic!)  then how about a free upgrade with the new monsters?  (And another special bonus!)
(If you're not sure about computers, please ask someone who is to help you.  )
Download and unzip the VIP bonus files (UPDATE: The free download offer has now finished, I hope you enjoyed it – check back for more later in the year!) .  Then…
Back up your Download Pack software  (very important in case anything goes wrong!)
Copy the three "swf" files from the unzipped directory into your Download Pack folder.
The computer will ask if you want to overwrite the "CD10MENA.SWF" file.
Click on OK
Launch your Download Pack as usual
Click on the Halloween disc and enjoy your brand new lessons!
.
Thanks again for supporting Genki English!  And thanks to Gaz for the amazing monster designs!
If you're not a VIP Member yet then get your Download Pack order in today and join us!
Which monster do you like the best?
Be genki,
Richard
UPDATE: This upgrade works on Download Packs bought since December 2009.  But to upgrade an older one (& get the monster freebies) then  just send me an email to pay the difference between the current price and the price you originally paid! You can't say fairer than that!