UPDATE:  Thank you everyone who joined the live session!   Keep an eye on the blog for the next one 🙂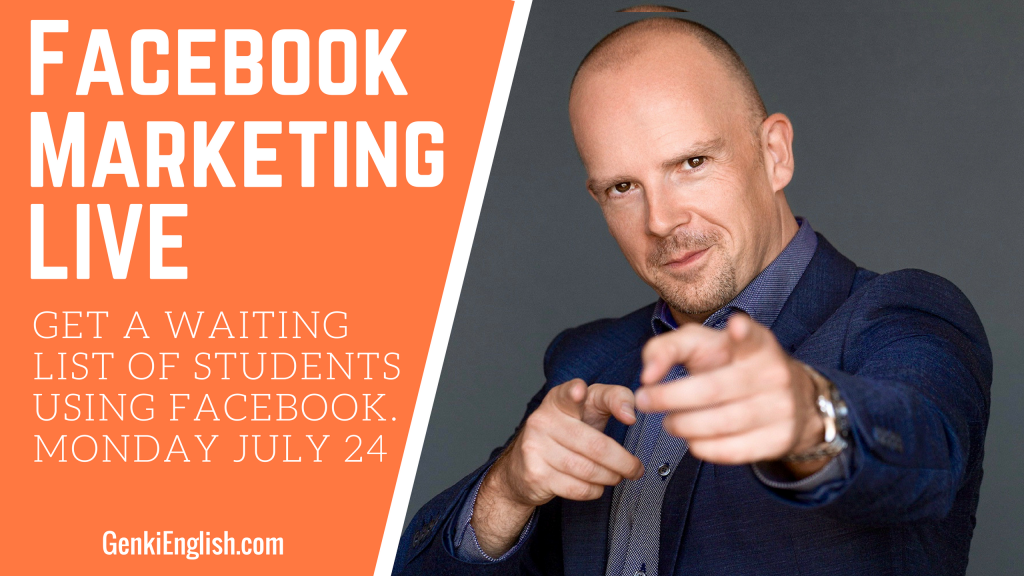 I'm on Tour in Vietnam right now (details coming soon)   And on Monday I've got a very special Facebook LIVE for you .
If you've been wondering how some schools get sooooo many new students using Facebook then I'm going to show you LIVE on Monday.
You'll learn all the tips and tricks so you can get your own waiting list of students.
Yes, it will only be live.
Monday 24th July 2:30AM Buenos Aires, 7:30AM Paris, 8:30AM Moscow, 14:30PM Tokyo ( Click here to see your time zone)
I'll keep it up for just a couple of hours, then it will become a part of the Start Your Own School School Owners Coaching Program.
So now's your chance to get a taster of what that's like for free.   And of course to hopefully fall in love with my teaching so you'll want to join the paid for course 🙂 
Plus of course when you join live you'll also get to ask me any questions about the business side of running your school.
It is going to be awesome, and I'm pretty sure you'll be blown away by the content!
Be genki,
Richard
P.S.   For those of you who joined the summer workshops, I'm going to go deep on 30 Day Challenges here,  so get all your questions ready and I'll answer as best I can!
P.P.S.    Do any of you know a school in central Ho Chi Minh City who could host a Genki English workshop?   I'd love to pop down there and do something maybe on July 30th,  but we can't find a suitable place yet!  Let me know if you know anyone!   And see you Live on Facebook on Monday!