First of all, "Wow! Thank you!" for all the fantastic comments on the How Long Do *You* Think It Takes To Get Fluent? question.  There have been lots of personal stories,  research based insights, a few (quite shocking!) surprises (decades to learn a language!) and also a few controversial things too. 🙂   I'll write a full post about it next week, but please keep your answers coming and do have a read through everyone's replies, I'm sure you'll find them fascinating.
But … revenons à nos moutons…
To go with last week's What's your name? song software update I've just uploaded some new "What's your name?" A4 cards and minicards.  Do let me know if you like them!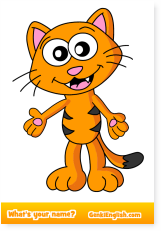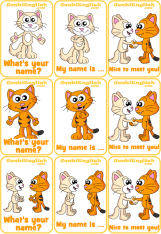 Be genki,
Richard
P.S.  Well, we're not getting entirely back to our sheep….. One of the big "cheats" to getting fluent quickly is in *what* you study.    As I say I'll talk about this more later in respect to your own learning,  but with regards teaching English, just have a look at today's two phrases: "What's your name?" and "My name is …?"   Of course the main reason we teach them is that it's really useful English that the kids can, and want to, use straight away.  But also look at just how much is contained in those few phrases, contractions, possessive pronouns, sentence word order, question word order, plus some very useful vocab we can use elsewhere.   All from just two sentences.   If you can keep this up, you can introduce, and get kids used to using, the most popular grammar of English in remarkably few lessons.   According to Tim Ferriss there are 171,476 words in the Oxford English Dictionary.  But …. just 25 of them represent 33% of written English.    The key, whether teaching or learning, is in selecting those 25. 😉