! ESL EFL English site for elementary school kids, with free MP3 songs, games and teacher training >

In Japanese
Save yourself loads of time with the brand new...
Printed, Laminated Genki English A4 Picture Cards!
NEWLY UPDATED:
There are now so many picture cards in your packs we can only post them in Japan.

For overseas, choose the eco option and download the cards of your choice from the curriculum.


The complete set of Picture Cards (over 1,000 pages printed back to back on over 500 cards) is expensive at 178,000 Yen + P&P but it will save you soooo much time!

(At this time this product is only available for delivery in Japan)






Or click here for the Fax order form. ( It's in Japanese so you can show it to your school and hopefully get them to pay!)


OVERSEAS: Due to the huge weight of the cards and sky high price of postage we cannot ship these overseas. (Well I guess we could but the postage would be 100s & 100s of dollars!)
So you can simply buy the Teacher's Set and print them out yourself, which will work out a lot cheaper!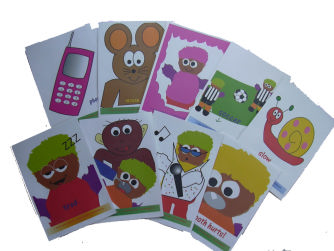 Kids love our picture cards and they make teaching English so much easier. They have even been used by "Last Samurai" star Koyuki in her TV Series.
(Check out the cards on the table in this photo!)

If you have the Teacher's Set these cards are all free to download from the website, but if you want to print them all out yourself it could take you well over 20 hours just for the printing. Then add on another couple for the download and laminating time and you can see why we were getting so many people asking for printed packs. So, ever willing to please, we've done the hard work for you!

They are in full glorious colour and best of all are plastic laminated to make them strong and perfect for playing games!
Just fill in the order form and your very own set of fantastically cool cards will be on its way to you ASAP!





If you have any questions or comments, please get in touch or Click here to order