! ESL EFL English site for elementary school kids, with free MP3 songs, games and teacher training >
Richard's Diary!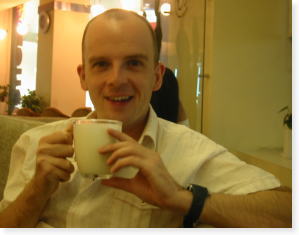 Take any problem in the World and it's invariably caused (or made worse) by a lack of education. Too many kids hate school because it's too boring.

The aim of Genki Learning is to have all subjects in all countries taught in a fun, engaging and effective way. There are already a few million kids benefiting from this, and even a whole country where the government has put it in all their schools. But there's still a long way to go!

While I'm on the road you'll hear about my travels & workshops, and when I'm doing studio work I'll keep you up to date with ideas, updates to the site and some of my favourite teaching resources. So if you want to find out what's it's like behind the scenes or how & why I do what I do or even if you're just nosey or a bit bored, have a read.

I'll update the diary as often as I can, so keep coming back. And of course whilst I'm away, the office staff are always ready to send off your CD orders just as soon as you send them in!


Subscribe in an RSS reader - Previous Entries are here

---

March 25th - New Colour Printables
Gaz has just sent in some super cool new colour printables:


I can + superhero words e.g. fly, climb, swim etc.





I can + soccer words e.g. kick, pass, shoot etc.





Doctor, Doctor, my ..... hurts body parts.




Creepy Crawlies!





Months of the year




Plus we have some funky cut out coloured dice for bugs, body parts, countries and the superhero!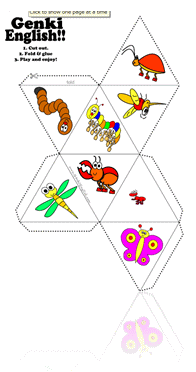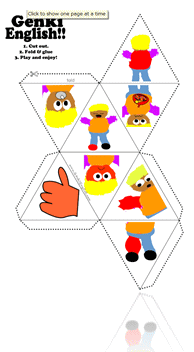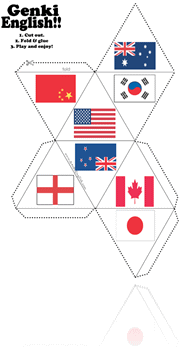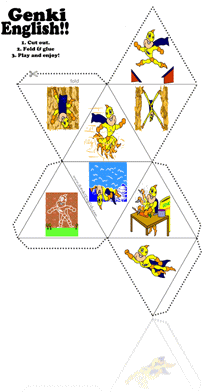 Plus of course VIP Members also have tons of other books and printables on the VIP Members page.




October 11th: Don't pull my teeth!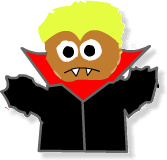 Here's another game from Mido Farid, just in case your kids are wanting something a little gruesome this month!!!
Do you remember the game oh my hair? I got this idea from it

1. Divide the students into two teams
2. Draw two heads on the board.
3. Draw a big mouth for each head
4. Draw some teeth inside each one.

5. After asking the first student from each team a question the quickest one can remove one tooth from the loser's mouth!
6. Keep playing till one team loses all the teeth!

What do you think of it? - Mido
October 19th: (Haunted House) Master Builder
Here's another funky counter game (which works great after the Let's Build a House Lesson!) from Mido Farid...

1. Divide class into teams and draw an example five-sided house on the board.
2. Teams compete to see who can build the most houses. Houses are "built" by rolling a die. If the student rolls a number between one and five, you can draw that many lines to make a house on the board.

So, a student rolling a 2 would have one wall and the floor of the house drawn on the board. If the next student on the team rolled a 4, three strokes would be used to draw the last wall and the roof of the house, and the remaining stroke would be used to start a new house.

If a student rolls a six and has an incomplete house the house is destroyed. Completed houses are not affected.

At the end of the activity the team with the most completed houses wins
What do you thing about it?


August 25th 2010: USB Superpack!
(See below to see how you can get this set for free!)
We've just launched a new "USB" version of the Japan Superpack. i.e. super easy to carry around!
It's exactly the same as the normal Superpack ( it's the Teachers Set plus 2 more DVDs in Japanese and a Genki English card game) but instead of the (270!) MP3s and software being on the 10 CD/CDROMs, they're all on a shiny new USB Memory stick!
You can order it online (in English or Japanese) but ...
Get it for free!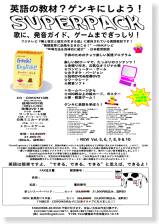 ... if you print out the FAX Order Form and get it to your school or BOE before the end of the holidays there's a very good chance they'll pay for it!

The trick is to get it done ASAP as even if they don't have an English budget, they'll probably be able to buy it with the Summer Library, Teacher Training or Computer budgets!

Your school can also give us a ring on 0898-48-0256 in Japanese to discuss how to do it!

Enjoy!

Oh, and if enough people want an international version, let me know all I'll see what I can do!
August 3rd 2010 - Skeleton Soup Video
I know, I know, it's only August... but in the workshop the other day we were talking about plays and picture books and how kids switch off when the English is too complicated for them. So I showed them the new Skeleton Soup Song/Story. It will probably be a paid for download by Halloween, so grab the mp3 while you can!

Here's the video ....



Needless to say the kids are usually a lot more enthused about it! How did your kids react?




August 2nd 2010 - New way to do bingo - in video!
Traditional bingo is crazily popular, but doesn't provide much English other than a touch of listening.

With the Genki English version the kids get tons of English speaking practice but still love it because they get to play bingo at the end! Here's the video we took at the workshop the other day ....

Part A:



1. Give each kid a piece of papert.
2. In the middle square they write an age. Not their own age, but any age between 1 and 12. If the kids are all tending to write the same age, use dice to choose. Or tell them to write an age between 1 and 12 and then swap sheets with the person next to them!
3. They then go and ask their friends "Hello, how old are you?"
4. The friend responds by saying "I'm... " and then the age that is written in their middle square.
5. The person who asked then writes this age in one of his/her vacant places on the worksheet.
6. If they already have that age written down they must pass and go and find someone who has a different age!!
7. The game finishes when everyone has filled all 9 squares.


Part B



1. Everyone sits down in their seats.
2. You play the Ball and Music game.
3. When the music stops everyone asks the kid with the ball "how old are you?". And they respond.
4. If anyone in the class has the age they cross them out on their bingo card.
5. The first person to get 3 in a row wins!! (Or whichever bingo rules you wish to choose!)
6. Do the "How old are you?" song to finish on a high!

What do you think?



August 1st 2010 - If you are banned from being Genki....
Today's workshop was very interesting! First it was a festival day so it was really hard for teachers to get here.

Some of the teachers were also banned from making English lessons too exciting for the kids (see the video below for why!) so I showed them the alternative Genki English lesson plan, which actually is much better for the kids and easier to teach, but you do need a computer to do it....

1. Warm up as usual, reviewing all the Genki English you've covered before.

2. New English: now instead of using the flashcards and "repeat after me" you just get one kid to the front who controls the computer as the whole class does the Teacher's Set computer game for today's lesson. As the theme is totally new for them (otherwise there would be no point teaching it!) then it is a real challenge, but immense fun for the kids. Have a look at Genki Korean or Genki Spanish if you want to experience the feeling for yourself. It takes a while but the kids get a real sense of achievement learning this way.

3. Meaning: Now you use the "Words 2" section of the Teacher's Set theme to double check the meanings of each new phrase. Don't tell the kids, ask them what they think it means and make sure there are no misunderstandings (e.g. thinking "I'm hungry" means "My stomach aches" or something - it happens!)

4. To remember for next time: Teach the song as usual using the Mini Lesson, again in the Teacher's Set
Then get them to sing the song with the music as best they can without being too loud (because they were banned from doing this!) but with gestures if they can.

5. Practice: Now do the normal classroom game from the Lesson Plans book.


What you'll find is a lesson that seems more traditional on the surface, and although it lacks a lot of the confidence and "success" training of a normal Genki English lesson, it does actually work very well, mainly thanks to the computer games from the Teacher's Set.

Anyway.... here's a video I took in the evening that explains why the teachers have to do it like this....




July 31st 2010 - I think it's .... Shizuoka!
Today's workshop in Shizuoka went very well - and on the same billing as Abba!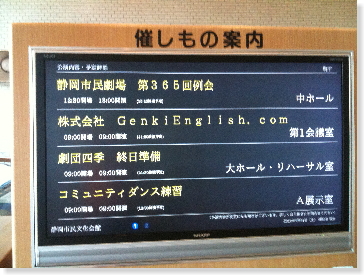 It's always great having fans who use Genki English in the front row because when other teachers say "Oh no, that won't work with my kids" the fans turn round and say "No, no, it works great! We use it all the time!". That makes me happy as well!

Content wise, along with a load of questions, we did:

* Genki Disco Warm Up
* What's your name? lesson (but in German so they get to feel how the kids feel!)

Then I wanted to get into the "What do you think of...?" theme which is so popular at the moment. So to do this I did:

1. How are you? Lesson (so you have things like "I'm happy", "I'm good" etc,)
2. Pronouns Lesson (to then get things like "He's happy", "She's hungry" etc.)
3. Then we did the new "Look at me!" song, it went very well as you can see in the video below!




4. Once we had that it's easy to do the "What do you think of ...?" Lesson (so you can get the kids to say things like "I think he's hungry, but she thinks we're tired!" - which is a pretty great accomplishment for 4 hours of lessons!

To introduce the theme I show my iphone then ask in Japanese "What do you think of this?" to which someone will say something like "good" So you can introduce the phrase "I think it's ...." and then the next words in the song, "cool" and "excellent"

Then you can ask about a boy in the class, saying (in the kids' language) "How do you say "I think he's great" in English?" To which the kids usually say "I think it's great!" so then you introduce "He" and "She" from the previous lesson.

Then I usually just let the What do you think of ...? mini lesson (from the software) to introduce the question. It works a treat!

And here's the song!




We also did the What time is it? Part 2 song then the game ...



Finally I wanted to show the Computer Games from the Teacher's Set. As usual the teachers were bored with the ones in English (just the same as 6th graders get bored with too easy English like "apple" or "dog") but they magically came alive when playing the same game in Korea i.e. they were actually using the computer games to learn something!

But they just couldn't make the link between how much they enjoyed learning the new Korean and how much their students would enjoy learning the new English this way! Many were like "It's amazing for us! But not for my classes, no....." Ahhh.

Anyway, it was a pretty good day and everyone was very Genki with lots of questions, especially from the teachers who use Genki English regularly, which was great!

Then a rush to get the bullet train up to tomorrow's workshop, and just wait to hear what they had to say!




July 21st 2010 - 10 Years Full Time Doing Genki English
It's exactly 10 years ago today that I finished my teaching job and started doing Genki English (very) full time. Here's how the 10 years have gone by ...

1999

Started the Genki English website (here's the earliest version) as I was doing teacher training workshops and just had so many handouts. Was still teaching elementary school full time.

2000 - The Big Start!

Still teaching I made the first of the songs available on the site: How are you? The idea was to give everything away free as mp3s. But everyone was asking for a CD and workshops in other areas. CDs were (still are) really expensive to make, but I figured if I sold enough it could pay for me to travel and do workshops.

So CD1 was launched in May. In July I quit my job and started putting the rest of my songs as CD2.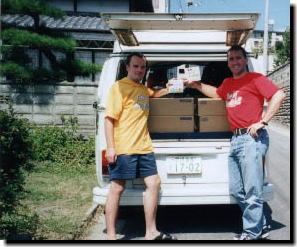 After trying to tour the country on a mountain bike, I teamed up with a mate who had a 1975 Camper Van and we did the first Genki English Tour of Japan. The Japanese press went for it as did loads of schools. We finally made it from the top of Hokkaido to the Volcano of Sakura Jima.

2001 - Phonics & OUP

Still on $100 per month salary I started 2001 writing the phonics page, which is now the 2nd most popular phonics page on the internet according to Google. I got the rest of my songs done as CD3. In September Oxford University Press invited me to tour with them. In the huge Kinokuniya Bookstore Auditorium - we ended up selling more than OUP did - people were going crazy for a way of teaching they'd never seen before!

2002 - Hollywood!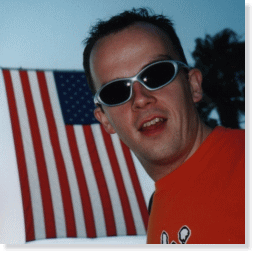 The biggest year for Genki English! Got invited to LA to film the Kids English videos, then to Portland to do the soundtracks.I did my first (volunteer at that time) workshop in Thailand and toured Japan again. NHK did a documentary about me and broadcast it arond the the world. Then I went home to look after my Mum after she had an operation. When she was sleeping I produced CD 4.

2003 - Keynote, VIP & DVD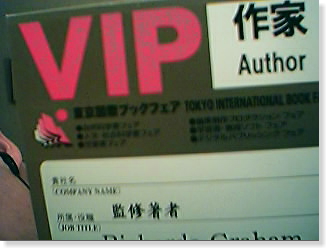 I got offered the Keynote speech at the Ministry of Education's JET Programme Conference - over 1000 teachers! Also got invited as a VIP Author to the Tokyo International Bookfair. Did my first workshop in Korea. Produced the first Genki English DVD, 1000 of which we gave away free to elementary schools. And on tour I taught thousands of kids.

2004 - Last Samurai & Phonics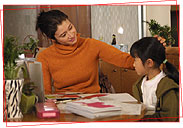 Even though the DVD was a big flop (no teachers in Japan had DVD players!) thanks to the CDs and Superpacks by this time Genki English was the most widely used teaching material in Japan's elementary schools.

Koyuki, Tom's Cruise's co-start from "The Last Samurai" used Genki English when teaching on TV which was a huge boost. That allowed me to still spend the whole summer doing free volunteer workshops for teachers in elementary schools. I brought out the first Phonics CD.

2005 - Spain & the Prime Minister

I wrote CD5 in Spain. I taught 1,400 kids in 3 days and had now done events in every prefecture in Japan. Did a huge workshop in Bangkok where I got asked to lunch with the Prime Minister. I wrote more and more for the website.


2006 - Germany, Easy to Teach & Every School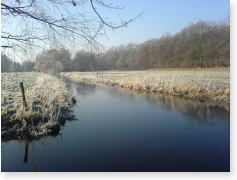 Started the year with my first workshop in Germany. Learnt that making the CDs for the kids wasn't the best idea as CD5 had proved to be really difficult to teach. So with CD6 the focus was on teachers and "Easy to Teach" (All the older CDs have since been remixed to be easy to teach as well!) The Thai government put Teaching Packs in every school in their country - over 30,000 of them! Google also told me there were 9,980 pages of content on the Genki English website - almost all written by myself. Got invited back to Korea for the CALL conference.

2007 Hong Kong & 2,000 kids

CD7 came out. I had more workshops with 1,000s of teachers in Thailand and set up a project in Hong Kong. Genki English was on the NHK news again. I also did my 7th year of free Summer workshops for Japanese teachers. Still wrote more and more content for the site and in one day I taught 2,000 kids!

2008 - Portugal, Sweden, Cambodia, China & India!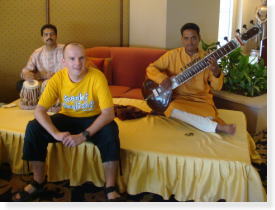 Spent the first 2 months making thousands of new worksheets in Portugal, then Italy and one of the busiest days I've ever had doing Genki English in Sweden. The best part of the year, by far, was being asked by the University of Newcastle to help with their private schools for the poor in India. This was really what I have been doing Genki English for. I did workshops in Cambodia, a guest lecture in the UK, then a huge research project in China. I also managed a massive set of new Halloween materials - mainly thanks to all your comments on the blog. I set a goal of wanting 1 billion kids using Genki English. The World Bank (!) came to view my lessons.


2009 - Superhero!



Started with a huge workshop in Tokyo. We got the first academic results on how Genki English works and with 2 months in Thailand then 2 months checking on our China schools I wrote so many songs that eventually became CD9 and CD10. The British Council & Thai government stepped up their project by making Genki English part of the national curriculum. NHK approached me about a TV series and after 9 years of free workshops I started charging schools in Japan.

2010 - LASIK!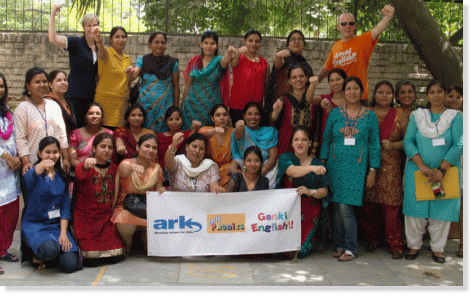 Wow, and we're here already! I went researching schools to recommend for studying abroad in New Zealand and Australia. And I also brought out the new Phonics Course which could do for reading what Genki English has done for speaking and listening.

If you want more see the full 7 years of blog posts!

The biggest problem this year has been LASIK! I had my eyes done in December and after 10 years of working crazy, crazy hours every day (and far too many overnighters) on songs, software and the website, not to mention answering every single email I've ever been sent, I suddenly found myself unable to work at hardly half the pace. It has been the hardest year by far. If it wasn't for all your support I did indeed think about giving this up so many times. Changing the word is hard. Changing the world when you can't see makes it even harder. But being in Delhi last month, and seeing how far they want to take this, made the India teachers' attitude come back to me "I used to complain I had no shoes. Until I met a man who had no feet". I have no right to complain.

I started Genki English to change people's lives. I figured it's just as hard to teach some thing good as something bad, like the current grammar methods of teaching, so why not do something where the kids actually learn? Education is the key to every problem in the world.

Many people criticise the current ways of teaching, but I believe the best way to "criticise is by creating". Hence all the work I've done over the decade. It has been hard and it has been fun. But it's also been a huge personal sacrifice in many ways.

Going forward I need to decide which way to take Genki English. I've been asked to research & write up what I've been doing as my PhD, and as the first course is basically completed (although there are still many more ideas to come!), the main thing is getting the word out to more and more teachers. And for that I hope you can help!

Thank you for everything so far. And here's to the next decade.



July 15th 2010 - Common Mistakes When Teaching Genki English
Here are some common mistakes I see when teaching Genki English. How many do you do? : )
Any you disagree with?


July 12th 2010 - How to run a Genki Teacher Training Programme
If you've been asked to train a group of teachers this holiday, then here is the structure I use.

You'll find that every step is important, to get them teachers from "but in my school ...." to "Oh yeah, let's do this!"

If your teachers don't speak really fluent English (i.e. most groups) I'd also recommend an interpreter.

If you have any questions or want more details, ask away in the comments!

Genki English Training Manual: Version 1.0

Part I – Introducing Genki English




Part 2 – Allaying fears




Part 3 – Introducing the component parts of Genki English






Part 4 – Lesson Plan Construction + Demo Lesson



Part 5 – Demo Lesson




Part 6 onwards – Teaching Practice



Final Hour: Final Review and Motivation



Any questions or remarks, ask them in the comments!


© Richard Graham www.GenkiEnglish.com







July 3rd 2010 - But my kids can't do that...
One of the biggest constraints on kids' learning is the teacher's attitude. And one of the biggest things I see is "but these kids can't do that" Have you ever worked with teachers like that?

Today it happened with, of all themes, "Where are you from?" The excuses ranged from "but slum kids don't have a concept of India never mind other countries" to "why teach things that the kids will never see?" The reason is, of course, to give a taste of other countries, which they'll see anyway in sports tournaments, and for when they move onto projects.

I know that every time I've taught in classes in slum areas the kids know international cricket teams better than me with shouts of "West Indies!", "Australia!", "Sri Lanka!" dominating their talks. But today I had one teacher swearing me down that this wasn't possible because no slum kids had TVs. "Yeah, but they have access to them" I replied. "No, not at all. There are no TVs there. My children are rich and watch TV so we can teach them this, with slum kids we can't".

Talk about taking a red rag to a bull! Apart from being very annoyed with the teacher, but not showing it of course, I was very confused as to why she would think this. Then I realised. Our private schools are actually in the slums. The teachers are often from there, get paid similar levels and know the kids very well. The government schools are outside the slums and as the teachers get paid so much more (sometimes as much as 10 times the private school teachers!) they probably never set foot there. Hence the stereotypes breed.

My usual response is to say "really?" then show a video of the kids actually doing what the teachers had just said was impossible! The video of the kids in the Doctor Doctor game and Colours game are all very low income area schools. But I didn't have any for this particular theme. So I asked "What about this school? Is this a posh school?" to which they all replied "no!" So I popped outside, all the kids came up to say hello (something again some teachers thought was impossible!) so I said to them "My name is Richard. What's your name?*" After a while they started saying their names (these kids haven't done Genki English yet remember) then "I'm from England (plus a cricket sign!) Where are you from?*" to which after a few deliberations I got "India!". Right, so they know the concept of a country!

(*this is the reason why we teach the full sentences in GE songs, so you can give the answer first to help the kids understand!)

So after a lecture as to why we are doing all this, why should only the rich kids learn? What's different about the slum kids? Why can't they have the same opportunity as everyone else? I finally got them back on side. Then they did the super hero lesson and realised why we needed to learn "I'm from..."

Then after days of comments such as "you've ruined 25 years of my teaching with this workshop" and "I'm a government city teacher - I'm not doing this!" we had one lady ask to do a speech to the group once we'd finished. I really should have videod what she said because it was so moving, but it ended with them all saying "We PROMISE to try our best with this programme".

And that for me, is everything I ask for.









July 2nd 2010 - How to get government school teachers on your side + more bad textbooks
If you ever have to present to a group of teachers then it's definitely worth trying the simple exercise below, otherwise you'll spend all day with attitudes like "but in our country ...." "but in my school ..." Doing the exercise, however, gets all their frustrations out there and gets them totally on your side! I guess one of the reasons it was tough yesterday was that I didn't follow my own "lesson plan" and didn't do a needs analysis (I just used the one from the week before!) so I definitely did one today.

You'll also find that just about every teacher has the same problems to deal with!

All you do is....

1) Split the class into 2
2) Make one team the "beautiful team" and the other the "gorgeous team" (they like you for this!)
3) Give one person in each group a pen or chalk.
4) When you start the music they have to come to the front and write one problem they have with teaching English
5) Then they pass the pen to the next person who writes another problem on the board.
6) Keep going till you feel you've got all their problems out in the open and stop the music.

If you've done the Genki English Warm Up and the Genki English Rules then they'll be pouring their hearts out on the board (just problems with teaching English - not personal problems please!) And at the end of it you'll have a whole list of things to base the rest of your training on. For example if the teachers are using too high a level of English, point to where they wrote "kids are bored", because that happens when the kids aren't understanding. Or if they aren't into using music players then show where they wrote "pronunciation is bad" and they'll be more inclined to try.

Here's half of what we had today: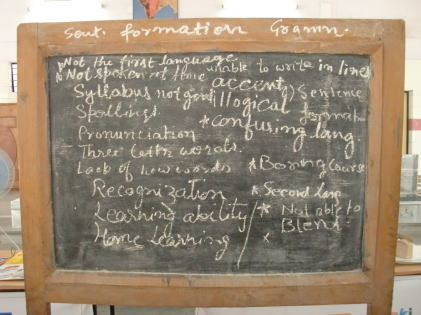 As you can (hopefully!) see most of the problems will be fixed with the Genki English and Phonics curricula we're giving them. But of course they don't know that yet, so you have to explain which bits relate to which problems. Then you get lots of "Aha, I see!" moments!

Textbooks again

One of the big problems that always comes up is "Syllabus not good" or that there is too much English to teach. I always ask the teachers which syllabus they are complaining about and they nearly always say it's the "government school syllabus" or something like that.

One of the first things I do in a new country is to study the official framework or guidelines. So I just pulled them out and said "where does it say all that?" In nearly all the countries I've worked in it's hardly ever the fault of the government curricula or guidelines. In fact reading most countries guidelines they practically read like a description of Genki English (as in fact that's what I based Genki English on in the beginning.)

The problem lies with the textbook writers. If the government is wanting a syllabus full of positive attitudes and communication skills then it is very difficult to make, and sell, a "text"book that covers these things. So what do publishers usually do? They cram the book full of as much text as possible - hence the name "textbook". Then what happens is that the teachers, who probably have never read the official guidelines, think that they have to teach the book, rather than teach what the government wants them to teach. This is a big problem, especially when you see the Indian ones. It starts off with the Indian Constitution - in English (which admittedly the kids don't have to read) then moves on to things like:

"The mosquito flew off. The paw struck his own cheek. The blow scraped his cheek. It began to bleed. The mosquito buzzed away. The tiger struck with his other paw. The mosquito flew off. This time, too, he hit himself"

This is first grade. Which inevitably leads to rote learning for hours on end like this video example below:




In government schools we can't throw out the textbook. And although we can promise to cover the government framework in our lessons, we can't promise to cover everything that is in the textbook (that would be impossible.) The hope is that by learning to communicate in Genki English and learning phonics it will help the kids improve their English scores. So that's what we're doing, we've got a great team baseline testing hundreds of kids now and then also in 6 months and a year's time, to hopefully get some data for Delhi, to go along with that we already have for Hyderabad, on how the kids' English (fingers crossed!) improves compared with the control group who just teach like before.

There so many variables and a ton of data, but results are what we need to persuade the people in authority to spread this out to more schools.

Anyway, after all this the teachers were much better today. They did the lesson plans and were cool.

But tomorrow one other big problem cropped up!



July 1st 2010 - Government School Training
All the research indicates that private school teachers, even in low income areas, are much better than government school teachers. Hence this week we were a little apprehensive about training. But screening and testing teachers before they were allowed to attend seems to have worked as we ended up with a very professional lot.

There were still differences though. Last week the private school teachers were eager, almost hungry, they were full of passion, but they often lacked some basic teaching skills. Today it was sort of the opposite, the teachers were all up to speed on teaching techniques and theory (something you don't often see!) but the class felt a little, lethargic I suppose. So quite a lot of time was spent on highlighting the efficiency side of things, that we don't have infinite time and how to make the most of it. They also have not got the hang of praising the kids yet, they were teaching me Hindi and all I got was a "yeah, it's alright I suppose" reaction!

I'm writing this in the first break, so let's see how they go (and how fast!) when we give them the lesson plans to work through. Let's just hope they can break through the noise from the traffic outside and the temple next door!


Ahhh... yeah that didn't work did it! They were doing the usual thing of pretending to read but not making any effort to understand the lesson plans. They said they were enjoying being students. Well yeah, but they're here to learn how to teach it! I even had to do some stuff on body language as they were all slouching over the chairs within an hour of their finish time (of 2PM!) This was just like government teachers in Japan and nothing like the group last week!

It's days like this that make me feel "why do I bother?", especially when I have so little time now. It is very much like flogging a dead horse. I guess the difference is that I at least give my 100% to it! And anything has to be better than how they are currently teaching!

Oh well, let's see what happens tomorrow...

P.S. we haven't got permission to use the video of today yet, so here's a clip from my day off in Delhi to enjoy!





July 2nd 2010 - Summer Clothes - Software!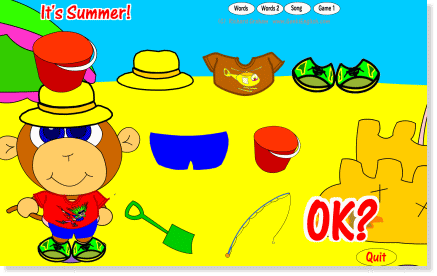 Here's the animation, game and digital flashcards for the "Baby Monkey it's Summer!" Summer clothes theme. It's not totally finished (there's no mini lesson yet), but should hopefully keep your students happy! It's a totally free - but time limited - offer for VIP members (grab your Download Pack if you're not a member yet!)

Right Click and select "Save as" to download to your machine:

Baby Monkey it's Summer Software ( .exe 9MB)

Usually WARNING: DO NOT DOWNLOAD unless you want it in your head all day!

If you need the Mac version, shoot me an email.

The song itself has also been remixed a touch. It is one of those songs that sounds quite simple at first, but I've been hearing great feedback about it! What do you think?




June 22nd to 25th 2010 - ASPIRE Training in India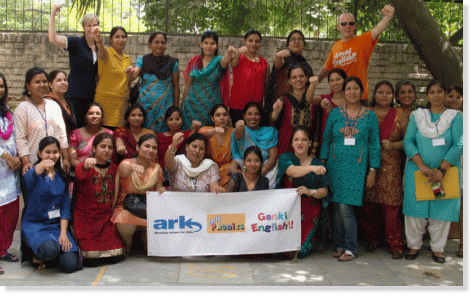 This week we had four days of training split between Genki English and Jolly Phonics. The teachers were all hand picked from private schools in low income areas and they were amazing! Right from the start I did a mini warm up and even the school owners and head teachers were joining in!

I guess having an programme like ASPIRE behind you makes a huge difference. They needed zero motivation talk and got the Genki English rules ("I can do it!" and "Try again!") instantly.

Then I ran through a few themes and they were great.

The real test comes though when we put them in groups, get them to read the lesson plans and see if they can do it themselves. In most countries teachers never read the lesson plan, they sit there staring at the page and go "Ugh?" when asked to do the lesson.

Here was the total opposite, they read the first lesson plan and every one of them could actually do the lesson. I've never seen that before!

So it was pretty much plain sailing from then on with them getting into groups and doing really well with the lessons.

As usual for teachers who do solely rote learning then we did have a few problems to fix:

1) They didn't teach the new language, they just said it a few times expecting the kids to magically memorise it.
2) They didn't get the L+1 idea and instead were jabbering away in high level English the kids could never understand.
3) They weren't giving the kids enough thinking time in the beginning to recall the English.

But most of these we could cure by getting them to teach us Hindi (where they also figured out how easy the songs make teaching grammar) and by me jabbering away in Japanese or French to teach one new word!

I also did lots of "bad lessons" to get them to criticise me and they again did brilliantly, picking up me up on just about everything.

Overall they were great, some of the best teachers I've ever taught. And then I got invited back to teach the government school teachers next week - let's see how they do!

P.S. It was also quite fun going back to the old school way of doing GE with flashcards and a clothes line! Proper videos coming soon!








June 22nd 2010 - World Cup Card Game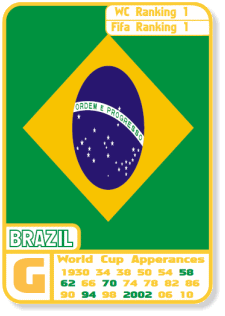 Gaz has just sent in this amazing World Cup Card Game. The rules are similar to "Top Trumps" or the Genki English Card Game (check out the animation instructions or the countries version too!) and it features all the 2010 World Cup countries.

Of course you can change the rules however you like, but statements you could use with the game are:

World Cup (WC) ranking
Fifa Ranking
Number of Appearances
Latest Win (shown in green)
Group (A to H)

Or you could even make them into questions for an entirely new game for older kids like "What is your World Cup ranking?" or "When was your latest win?"

VIP Members can Download the Game here.

There's also another set of cards with just the country flags as well!

I'm sure you'll love it, but what do you think?



June 17th 2010 - More Colours Snakes & Ladders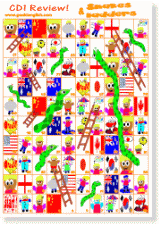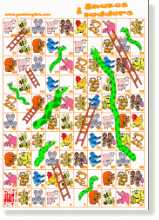 Gaz has just sent in two new colour snakes and ladders games. One is for the Do you like animals? lesson and the other is a review of the songs in Vol. 1. which is a great review idea. Enjoy!

Keep an eye out tomorrow for some fantastic World Cup cards from Gaz!



May 30th 2010 - Tell us about you - and get paid for it!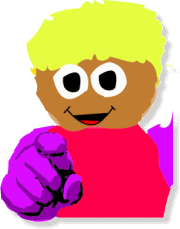 We all want to hear about you! Yes, you! Not about me. Everyone wants to listen to how you teach, the problems you have, how you solved them and the days that make you go "Yeah, I loved that lesson!".

And how would you like to get paid for it?

Well, here's your chance! I'm looking at outsourcing some of the blog posts so we get to hear from more real teachers, just like you. It won't be much, maybe around $10 a post, but we're wanting to hear how you use Genki English, how you used the materials, the little tricks & tips you used to make it work better and most of all your fantastic success stories to motivate us all to try new themes and new ideas.

Imagine waking up every morning to a fun, motivating real life post about a theme that you'd never even thought about teaching. Well, that's what I want to hear too!

A one off article is cool, or if it proves popular then I'd be happy to make it into a regular column if you like!

So get some ideas written down, get in touch and let's see what we can do!

Any questions?

Be genki,

Richard








May 30th 2010 - Phonics "o" Song: I am a Robot!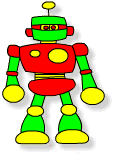 Wow, is this the first new song of this year?

This time it's a phonics song to practice the short "o" sound. I'm loving it, plus it's got robots in it! (Always popular with the boys!)

How to teach:

1. Put the kids in a circle (an "o" shape!)
2. Everyone does a robot dance whilst singing "I am a robot"
3. On the final "I am a robot" of the chorus the teacher points to one kid.
4. When the song says "on" this kid has to robot dance!
5. On "off" he or she freezes!
6. Repeat from step 2 but this time the first robot chooses who is next.

Just have a try now in front of the computer, it's a lot of fun starting and stopping!
You can get everyone stopping and starting if you like.

If you're not a VIP member yet then order the Download Pack and get it within a few minutes!



Phonics "o" song: I am a robot.
(Right click on the link and select "save as")

As usual this is pretty much finish and tested but it still is a demo version of the recording, so please give all your feedback on the comments page, good and bad!

Good feedback usually makes me want to write some more!

Be genki,
Richard



May 6th 2010 - New Genki Phonics Posters
To go with the new Genki Phonics Workbook course there is now a Genki Phonics Posters ebook! As usual VIP members can download it for free, or if you're not a member yet, get your Download Pack order in right now and join us!

The phonics posters work with the Genki English songs to introduce kids to the English letters in such a controlled order that it becomes really easy for kids to pick up reading. It is by far the best method we have ever used here.

And now the posters can stay on the wall to remind kids of the sounds and to let them practice in their free time.

As usual all comments and suggestions are much appreciated!

P.S. A cool hint is to laminate the posters then have a pen & board eraser nearby for the kids to try the writing during their breaks!





May 7th 2010 - How to find out where you really want to be in life
Genki English rule no.1 "You can do it!" or things like "You an do whatever you set your mind on" are fine and work. But when it comes to teenagers, university students or even most adults, it's often not that they can't believe they can achieve anything, it's just that they don't know where or what or who they want to be.

Here's a video with one of the simplest 10 minute techniques that anyone can do. It allows you to see the perfect home and lifestyle you would love to be living. And it's not always obvious. It is, however, one concrete goal to aim for whatever your age. The technique is taken from my Genki English lectures for university students, so get yourself ten minutes in a peaceful location and I think you will love it!




May 7th 2010 - Why teachers shouldn't teach
I must be stupid writing this on a blog mainly read by teachers, but in all the years I've been doing this in all the countries I've worked in, this is what I find myself coming back to, and it has to be said, "the biggest limitation to a child's learning is their teacher".

And the natural conclusion to that is that I don't believe teachers should be teaching kids at all.

Wahey, hey, just a minute you're all saying, well at least the ones are haven't clicked away in disgust, what do you mean?

I mean that when the teacher is in charge, when the teachers is "imparting" knoweldge onto the kids, the kids become fundamentally limited to the level of the teacher. Especially in languages, the kids are often above the level of the teacher in either the new language English, or indeed in their own native language. By having the teacher choose the lessons, content and then actually deliver a lesson they are by default limiting what the children can learn.

And as we've all seen with pokemon, baseball scores or video games, even silly things like the makes and models of family members' cars, kids can learn way, way, way more than any teacher or school ever gives them credit for.

The caveat of course, is that it has to be fun. But even when we try and make lessons fun, like we do here, what the teacher thinks is fun is often very different from what the kids think is fun. For example how many teachers do you work with that use the Genki English computer games? And how many of you have seen how the kids eyes light up when they are playing the game and ultimately learning at at least twice the rate of any classroom activiity?

And this is just for the good teachers, the ones who put the learning of the children above their own position. For example the thing that struck me the most about the April fool last month was not the hate filled comments, it was that not one of them was concerned at all that the kids might suffer because of English being cancelled. Every single one of them was primarly concerned with losing their own income.

"But aren't you doing the same? You're just trying to sell your software" the critics will say. Since losing my full eyesight I'm really limited on the work I can do. All the time I have people telling me I must be crazy wasting my time and reinvesting my money in this job when I should be paid way more for tech consulting or something similar. But I can do both, hopefully. The reason the software is paid for is that I've also learnt that as soon as something is free, that's what people value it at.

But what we have with the Genki English games, and of course other systems and some of the really cool Youtube videos, is a means for children to learn themselves. They go at their own pace, which is always faster than any specific curriculum, and they learn what they want to learn. Now you could limit their choices to specific topics or themes if you wished, but why would you want to? Isn't our job the children's learning, not the teacher's teaching?

The question then is...

Well what should the teacher be doing then?

Luckily what I've also found is that the kids do need someone else. Just as all entrepreneurs need a mentor or peer group, kids do need someone to guide them, correct the mistakes they can't pick up on their own and to offer them a kind word when they feel they are at an impass.

This is really what I believe "teachers" should be doing. Really good computer software can help kids learn way, way, way faster than any teacher. If you don't believe me just try it, you will be amazed. Don't let the system limit how fast the children can learn. Don't waste your time teaching. Just get the kids computers, they are way cheaper compared with any teacher's salary, and have them do the actual learning there.

Then spend the rest of the class time playing the classroom games, getting the kids to do presentations and give them the feedback and extra encouragement that they need and can't get from a computer.

That's what real humans are for.

Your time is valuable, there's never enough and it's the one thing you'll never get back, so let's use it in the best possible way. No other industry wastes time with things that can be automated, so why should school be any different?

Of course resluts are the only way to get this to work. So why not try two classes, one with the Genki computer games and one without. At the end of the year you can guarantee that one set of parents will be clamouring to get their kids into the other class!




April 2010 - Start your own school Tip 1: How to price your lessons
The one word of advice I hear all the time from experienced school owners is "don't price yourself too low".

In the beginning it can be so tempting to say "well, I'm just starting so I'm not sure if I can charge as much as everyone else" or to under estimate all the expenses (and taxes) that will need to come out of your student's fees. Without a doubt the price you are thinking of charging is too low.

Plus in many markets to a customer that means it's not worth as much as the more expensive place down the road!

The worst thing is that once you have set your prices low it is very difficult to raise them. I know I made the same mistake with Genki English. I set my prices very low, and very often have customers with a suspicious tone asking "why is the teaching package so cheap compared with all the other systems out there, where are the hidden fees?", especially compared to Europe or Japan where systems often cost thousands of dollars for schools to use, or where they have to pay a certain fee per student to use a lot of materials. But I'm sort of stuck with the cheap pricing - at least for now!

So please don't make the same mistake I have!

However much customers say they want something cheaper, and they always will say that, what they act on is value. As long as you are giving them an over abundance of value they will pay almost anything. Some language teachers command incredible prices + first class travel and accommodation!

If you're still not sure about pricing high, then one tip I learnt is to do a tiered pricing structure. You start out at one low price for the first student. That student pays that same price forever. But the next student you charge just a little bit more. Then a bit more for the next student. Everyone ends up paying different amounts, but someone is always paying more than them so they are quite happy. If they ever quit and rejoined, they'd give up their price and have to join at the latest price, so you get less people quitting as they are locked in. If they do quit you simply rent that slot out for the current higher price.

Eventually you will hit a plateau where you can no longer increase the price, but you will be amazed at just how high you can go, and how satisfied people will be, compared with what you initially thought you could charge. You realise just how much money you are leaving on the table.

This works in many fields, just look at how much Starbucks charge for coffee compared with other places that assumed the price could go no higher.

As long as you keep delivering a quality product you'll be very surprised at just how much people will be willing to pay you, and I'm sure that would make your spouse very happy!



April 2010 - Start your own school Tip 2: Be unavailable!
Getting students can be tough at the beginning, but here's a great tip to use!

Imagine two restaurants. One is always empty, you ring them up and they say "oh, come any time, we're pretty free here". The other you've heard is always full, you ring up and they only have one reservation slot left.

Which one do you eat at?

It's pretty obviously the second one.

This tip comes down to scarcity and "social proof" i.e. the belief that what's popular must be good. It might not always be true, but it is always perceived to be true by customers, and unfortunately that's what counts!

If you are just starting out, especially if things are slow in the beginning, you might be tempted to just grab at everyone who gives you a call. "No problem, I can fit you in any time. Any time at all!". Of course as soon as you do that, alarm bells start going off in the customers head and they find an excuse to hang up real quick!

A much better approach, and this is one that is recommend in a lot of business courses, is to simply limit your classes to just one afternoon per week, say Wednesday. Then if anyone rings you can say "Well I only have spaces available for Wednesday at either 6 or 7 PM."

It sounds much more impressive to your customer. If the customer takes it, you fill them in. Once the whole of Wednesday is full, you open up Thursday for bookings. Don't open a new day till the previous one is filled.

That way you always have classes booked close together, which is great if you have to travel, rent a room or even take other work on the side whilst you get started. It really concentrates your mind on filling that small quantity of slots.

If a customer says the day is not acceptable you simply take their name and number and tell them you'll ring them back if that day becomes available. When you do open that day up, you call them back, they'll be happy that they can finally get in!

Try it, it's a great way to organise your time and build your student base!






April 2010 - Start your own school Tip 1: Where to hold class?

Since I started talking last week about why I think it's a good idea to start your own school I've had lots of people emailing in saying they are starting to look round for places to rent.

I'd say that's probably not such a good thing to do!

When you start any business, keeping your costs as low as possible is really important. And committing to a regular monthly payment will hinder your starting cash flow.

When you need it.

Rather than buying or taking a lease, I'd recommend renting a room only when you need it. Community centers, churches, local organisations as well as business centers can all offer rooms for rent for specific times. It is more expensive per hour, but it's a lot less than having to quickly fill up enough classes to pay a full rental agreement.

Of course if you have the room then you can always just start in your own house. That's how I started my first school, and it's also how many of the big name schools also started!

The very best way...

Or one even better tip, depending on where you are, is to offer to hold English classes after regular classes in a normal school. If you get an understanding head teacher it works out great as they can advertise that they have extra curricular classes, you get a much reduced rent, kids don't have to commute (and are hence rarely late) and best of all the parents get an extra hours "free" child care!

That in many cases can persuade parents that your class is perfect for their kids!



April 10th 2010 - Name Cards Games for nearly all the themes!
April 10th 2010 - Name Cards Games for nearly all the themes!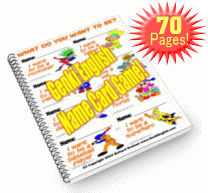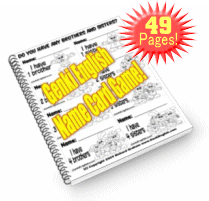 Gaz has been at it yet again, this time making monster ebooks of Name Cards for the Name Card Game.

As usual VIP members can download them below, and if you're not a member, get your Download Pack now and join the fun!



Namecard Game Cards colour (pdf)


Namecard Game Cards Black & White (pdf)


April 10th 2010 - Genki French!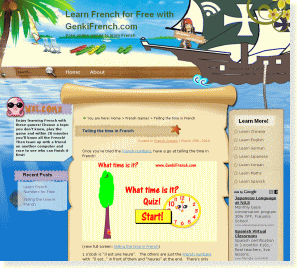 Genki French is now online!

If you know anyone who is learning French, or if you'd just like to try the Genki style of computer game learning before you buy your Download Pack , then pop over and have a play.

There are just a few games at the moment,

Telling the time in French
Colours in French
Numbers 1 to 12 in French

but if it's popular enough I'll keep adding more and more!


So be sure to tell your friends and also check out the other language sites:

Learn Spanish
Learn Chinese
Learn Japanese
Learn Korean
Learn German
Learn Thai



April 9th 2010 - Very Cool Colour Snakes & Ladders!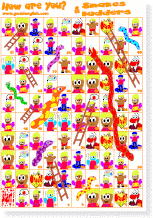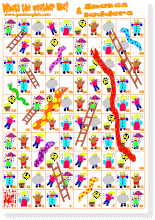 Gaz has just sent in some very cool colour Snakes & Ladders games.



How are you?



What's the weather like?



Where are you from?

VIP members just click the links to download them, or order your Download Pack today become a VIP straight away!

There are also black & white versions for most of themes (along with a video on how to play)

What do you think?

April 8th 2010 - How to encourage shy students?
Marie wrote in with a question I very often get asked "How can I encourage a shy student to learn English?"

Many teachers just see "shy" as a personality type, and hence use it as an excuse saying "it's OK, she's just shy." But that really does no one any favours.

The key is to understand what "shy" actually means.

One definition, taken from Brian Tracy, is that shy simply means "the degree to which you can communicate with other people".

Hence someone who is not shy can communicate with anyone. Someone who is shy cannot communicate with many people.

Once we realise this it's easy to see that rather than being a personality trait or an excuse to be made, "shy" is actually the complete opposite of what we are trying to achieve with communication education.

So before we start teaching any English we have to overcome the shyness. We have to aim to banish it from class! As I show in my workshops and DVDs, confidence training has to be a major part of this and there are techniques you can use. And of course for kids who are very shy, simply being there to support them and giving them words of encouragement are very important.

But the aim should always be to remove shyness completely from the classroom, not to use it as an excuse or something not related to the study at hand. As someone who is incredibly shy by nature I know that if it is left unchecked it can be a huge social hindrance. But once it can be conquered the whole world is your oyster!





April 7th 2010 - Alice in Wonderland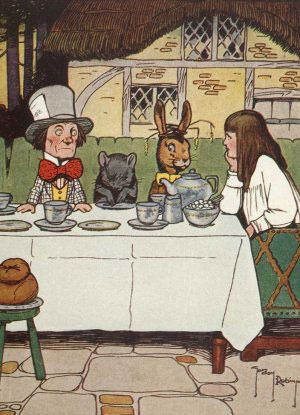 With the new movie coming out, here's a quick reminder that you have the full text of the book available on Genki English as part of the "Learn English with Fairy Tales" page.

Alice in Wonderland..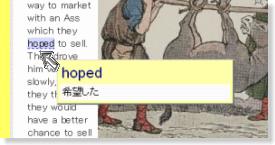 Plus there's also a "dictionary included" version for Japanese students where you simply hover over a word you don't know to get a translation.

Alice in Wonderland 不思議の国のアリス

Plus more on the main 童話で英語 page.

It's great for more advanced students, or just as something to read on your iPhone if you're bored.

Oh and here's the trailer of the movie, just in case you haven't seen it yet!



April 2nd 2010 - What if your job really was cancelled? It could be the best thing that ever happened to you!
Yesterday's blog post certainly stirred up a hornet's nest. Yes it was an April Fools. I thought I added enough clues and links in the message, but I guess my current mood (my eyes are still horrible) didn't make it a very positive one this year. I apologise.

Having said that, the wholesale cancellation of English in elementary school is certainly possible.

I've seen it before where whole cities have made English compulsory, including bringing in outside teachers, only for the programme to be cancelled when new politicians came in. With the current national state, and history, of elementary school English then cancellation of the whole programme is a real possibility and something we should all think about.

So the question is then, what would you do if your job disappeared?

If you rely solely on the traditional Western idea of one teaching position or one job then it really is like putting all your eggs in one basket. Especially if that job is a temporary one or a yearly contract. All it takes is one person to make a decision and suddenly your income and way of supporting yourself (or even worse your family) disappears. In this day and age it is a necessity to have several sources of income or "multiple income streams" as the money people call them.

For example my Japanese learning materials get a lot of their revenue from Youtube. But yesterday Youtube changed their whole system (I thought that was an April fools!). If I relied solely on their income then I would be in big trouble!

Jobs for teachers

As a teacher some form of writing, publishing, online work, blogging, investing or a million and one other options should be a part of your income mix. Yes it is more work and none of us want to work more, but it's work that you exchange for more financial security. And it is rather cool that we have the choice.

A much larger share of income should come from other clients, other contracts or, most secure of all, from your own school and your own private teaching. If you have a non-permanent contract then being allowed to teach outside class hours should be a vital part of your contract negotiations. It's the price they pay for not making you permanent.

Even if you are not allowed to teach outside your current situation, it's always wise to plan how you would start on your own should the worst happen. Being prepared always works. The idea being that if your school contracts were suddenly cancelled or not renewed, then you would have built up such a reputation as a brilliant teacher with constantly amazing lessons and fantastic results that parents would be calling you up. Your income wouldn't be interrupted and you may even get a pay rise!

In fact I've known quite a few teachers with their own schools who purposely take low paid, or volunteer, short term contracts at public schools just to bowl the students over and have the parents begging to sign up for private lessons later.

If public English education ended, parents would certainly look to the private sector i.e. you, to educate their children. That's how education in many countries actually works.

The most secure way to guarantee your income...

Without a doubt, starting your own teaching business or school is the most secure, and maybe only, way of guaranteeing your income. Is it more work? Yes. Is it more stress? Yes. Can it be incredibly hard? Yes. Do you have to constantly improve yourself and your teaching? Absolutely.

So what's so good about it? Well, it's for one reason.

When working for someone else all it takes is one politician, one boss, one board of education member or one change of head teacher to throw you out. With just two words "you're fired". Do you really want to give someone else, someone you may not even know, that much power over your life? I know I wouldn't!

If you work for yourself, with your own students or your own school it's you who has total control. You put in the blood, sweat, tears and study to get it started. And therefore you decide your income, your salary, your students, your working conditions, when, where and how you work. You control your own destiny and your own freedom. And that is priceless.

But the best part is that the only person who can ever fire you ..... is you. And you wouldn't do that to yourself, would you?

Comments are welcomed!

Be genki,

Richard


P.S. If your livelihood really does depend on one thing, you should never believe anything you read on the internet. Especially if it is written on April 1st!

P.P.S. Much more happier posts coming next week - with some very cool new stuff!



April 2nd 2010 - New Phonics Workbook Pages
Today we have more pages for the hugely popular Phonics Workbook. This time going right up to cover th, ng, ai, ee, igh, oa, oo, ar or, ur, ow, oi, ear, air and er.



New Genki Phonics Workbook (pdf)

Depending on where you were brought up (i.e. your own English accent) that should just about cover all the major sound groups. A much requested feature was a front cover page, so I've included that as well.

What do you think? Can you tell which sounds aren't covered yet?

P.S. I couldn't think of any Genki English word for "ure" - any ideas?

P.P.S. Once the book is finished it will probably be a paid for download so snap it up now!





April 1st 2010 - Japan Cancels Elementary School English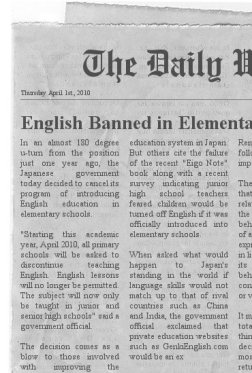 Although school starts next week, the new academic year begins in Japan today. The press were full of this story this morning!

"In an almost 180 degree u-turn from the position just one year ago, the Japanese government today decided to cancel its program of introducing English education in elementary schools.

"Starting this academic year, April 2010, all primary schools will be asked to discontinue teaching English. English lessons will no longer be permitted. The subject will now only be taught in junior and senior high schools" said a government official.

The decision comes as a blow to those involved with improving the education system in Japan. But others cite the failure of the recent "Eigo Note" book along with a recent survey indicating junior high school teachers feared children would be turned off English if it was officially introduced into elementary schools.

When asked what would happen to Japan's standing in the world if language skills would not match up to that of rival countries such as China and India, the government official exclaimed that private education websites such as GenkiEnglish.com would be an excellent way to continue their English studies"


Related Articles:

Japan to Make English Official Language
Get fluent in English, Japanese or any language
Celebrities Sing Genki English



March 29th 2010 - Picture Cards without Words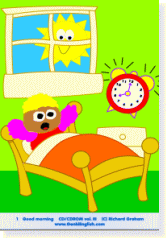 I've had requests from a few teachers for versions of the picture cards without any words on them. The idea being to stop kids who haven't done English phonics yet trying to read the words with their own language's reading system and hence messing up the pronunciation.

Luckily Gaz has just re-done the whole set of cards for the first 4 Genki English volumes!



Picture Cards vols 1-4 without words (pdf)

Thanks Gaz! Any more requests?





March 25th 2010 - Easter Worksheet: spot the difference
Here's a nice worksheet for Easter for you. It's a basic "spot the difference" quiz - with a twist!

As you'll see the differences are quite obvious (well most of them are!), the twist is that they allow the kids to use the language from the song to explain where the differences are e.g. just change "look" to the animal e.g.

"In the green picture the rabbit is in the bath but in the blue picture the dinosaur is in the bath"

Quite complex sentences, but easy if you've done the Easter lesson and CD8's I like animals beforehand!





March 11th 2010 - Know Any Good Speaking Tests?
Do you know of any good English speaking / listening tests?

Although I don't usually like tests, they are necessary when we go into a new country and the people in charge want to see results. So far we've been using the standard Genki English test ( here's an example) which works great in evaluating students and their teachers after the first 6 months to a year of study.

But what I really need now is an internationally recognised speaking and listening test. Same age group for kids who've been studying 6 months to a year. Ideally it would also be easy to administer.

But I can't find any! They all seem to rely on students being able to read, which is of course a totally different skill.

If you have any recommendations I'd love to hear them!



February 18th 2010 - You're not charging enough...
I often hear from teachers saying how they can't afford this or can't afford that, budgets are being cut, the economy's bad or that parents don't have money or won't spend it on education.

Well, over here it's a real eye opener!

This week we've had teachers who've flown over to Tahiti, Korea, South America, India and Japan (several times a year!) just to recruit students. Your students! Parents everywhere are willing to spend their money, and lots of it, on educating their children - abroad!

And it's not just from big cities, students from all areas are studying here.

Now obviously you can't offer the English environment or activities that schools in New Zealand can offer.

But you can offer the same level of education and for a fraction of the cost.

This is an ideal opportunity for you to compete for the money and students that are absolutely out there.

How do they do it? It's by being totally professional, upping their game and by almost guaranteeing students will get good. There's none of this "study for 2, 3or 6 years and let's see" business like in some countries, or playing around with an improvised curriculum or materials. Over here it's "get the ability in ____ months" or they offer internationally accepted qualifications such as IELTS or TOEIC.

If you can offer that locally then a whole slice of a very big pie is yours!

I know I'm going to get lots of comments saying "but we only have one hour a week", "parents won't pay", "kids can't use the English outside class here". But you'll need to get out of that mind set.

I've spend the last two weeks interviewing students here and many parents are willing to pay for several hours a week, and take even primary school kids out of regular school for a whole year, to provide them with an international education. Some of the kids here only speak Japanese with their friends and spend all night skyping their boyfriends/girlfriends but they still improve just from the class time.

And it's back to the expectations thing, if a school doesn't expect the kids to get good, they don't. If they are mixing with really motivated kids (or teachers!) from other countries and see them whizz pass them in level, they know they have to up their game.

As I say, this is where all the money is going. And it's a real eye opener!

Anyway, I'm going to have some videos of some of the schools so you can see what they offer, I'm very impressed by the quality of what they have and I guess regulating English schools does have some benefits!






February 16th 2010 - Maori Chants, Songs & Language Learning
February 1st 2010 - New Genki Phonics Worksheets / Workbook
A few of you know I've been working on a completely new integrated phonics system, so once your students can speak and listen with the main Genki English curriculum it's really easy to teach them to read.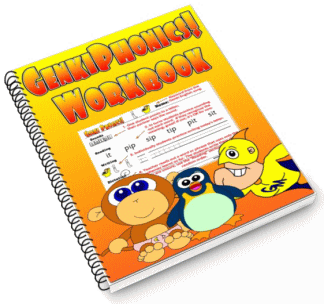 The programme is still going to take quite a while to finish, but the first part of the workbook is just about ready. So in the spirit of "it's better out there than stuck on my hard drive" I've made it ready for you to download!

Download the Genki Phonics Workbook (pdf)

To get the most out of it you really need to follow a good phonics lesson plan, but even without that it's better than 99.9% of the other phonics worksheets / workbooks out there on the internet!

What do you think?




January 24th 2010 - Creative Questions from Tokyo Teachers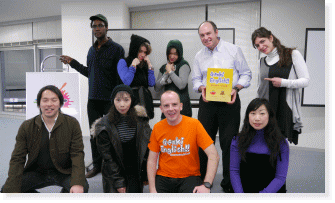 Today we had a private full day workshop for a new set of schools in Tokyo. The cool thing was that the participants were all creative professionals (we had a professional singer, dancer, orchestral percussionist and 2 movie producers!) who are going to be using their talents alongside the Genki English curriculum for premium style English classes.

It's quite an exciting way of doing things, and everyone was really great.

Being creative types though the questions we had in the beginning were a little different to say the least! As well as the usual, discipline, which style of teaching etc. we also had some funky ones such as:

* Do the children love me?
* Should we feed them?
* What happens to bullies?
* Do the kids really want to be there?
* Am I qualified?
* Is it OK to yell?
* Should I be friends with the students?

At first I thought they were kidding, but no these were real deep questions they were genuinely asking!

So I might as well write up my answers for you guys here...

Do the children love me?
A very deep question. The answer we came up with is "yes".

Should we feed them?
No. Although everyone loves candy, allergies, diets and all the other concerns of modern life mean an over abundance of caution is probably the better course. You wouldn't want to kill a kid with candy. In most public schools giving the children food is banned anyway.

What happens to bullies?
They all live a life of misery? If only! This went back to the usual discipline questions.

Do the kids really want to be there?
In the beginning, probably not. Our job is to make the lessons as exciting, challenging and inviting as the latest Playstation game, so that after the first lesson is over they really do want to be there, every week!

Am I qualified?
If you speak English and are passionate about what you are doing, you are more qualified that 99.9% of English teachers in the world. From then on it's just a case of learning as much as you can about your chosen art, from books, videos and the net and real life experience.

Is it OK to yell?
No. Getting angry is the final resort and once you go there you've nothing left. This doesn't mean you mustn't discipline. As with any type of management "strong and calm" is the key. But never get angry.

"A man is about as big as the things that make him angry" says Winston Churchill.

Should I be friends with the students?
Different people have different thoughts on this, but I'd say "Be friendly but not necessarily friends". With adult students who are friends it can get a little blurred, but just make sure your role is as the teacher in class time and everything should work out fine.

Thanks to everyone for today, and I look forward to seeing how you guys get along with the real Genki English lessons!


Anyway, what are your thoughts on the above questions? We'd all love to hear them in the comments below!





January 13th 2010 - Is LASIK laser eye surgery worth it .... No!
Is it worth having LASIK laser eye surgery? Well, I think I have to say no it isn't! Why? Simply because they don't tell you just how long you might have to take off work - and how much that would cost.

I just had my 4 week check up and explained to the doctor that it's still really hard for me to concentrate on a computer screen for more than a few minutes at a time or more than an hour or so per day. Guess what he said "Oh, that's quite normal. It will probably take up to 3 months for you to be able to use a computer normally again. Just work through the headaches and eyestrain."

Then he said not to be anywhere that's dry. Upon telling him I had a 24 flight coming up he said "Hmmm, when you step off the plane you'll regret ever having them done". He was right. And I have another one coming up in two weeks! And now I have a load of funky gel to keep putting in my eyes.

It really is my own fault for not doing more research, I fell for all the ads where they show people who say they are seeing perfectly and back at work after just a couple of days. But if you have a look most of those people seem to be athletes and sports people - i.e. people who don't have to look at a screen all day. I can see, I just can't concentrate on one thing for long at all.

I'm quite lucky in that you've been all really understanding and I have been able to take the time off. But not so in that if I don't work I don't get paid! And my hour or so a day of PC work has been taken up with more mundane things such as taxes and admin stuff rather than all the funky new materials I wanted to bring you.

So I'd have to say if you use a computer a lot then really think about how much time off you may have to take with laser eye surgery. I know I probably wouldn't have had it done had I known. But then again I haven't seen the real benefits yet.

Good side

But looking on the good side it has made me realise that I need to make Genki English a lot less reliant on myself and more about you guys. So hopefully I'll have some masters of the Genki English graphics available so you can make and share worksheets amongst yourselves.

How you can help!

And the biggest thing you could possibly do for me and each other would be to just keep spreading the word to other teachers, friends and students about the Genki English materials and the Genki English website. The current idea of members getting lots of new material for free also means I have to keep new customers coming and buying from the site. I don't spend silly money on big adverts and it looks like I will have to rely on you guys to help Genki English keep growing in the coming months. I am so glad I can rely on you all - and I promise I'll make it up to you once I'm 100% back to normal!



December 17th 2009 - Losing your eyesight
I often get asked "are you always so positive and genki all the time?" Well, mostly, yes.

I wasn't always like that though. At school I was fat, wore glasses, was bullied and hated it. It was when I left that I decided to change. I read some books on thinking positive, took up Tae Kwon Do, got thin, got contact lenses and never looked back.

Until this week.

Losing your eye sight, even if it's only temporary after laser eye surgery, really, really messes up your head. For a few days there, and maybe still now, it was as if everything had been washed away. I was empty. Not able to think of anything, anyone or the reasons why I should bother to do anything.

It was a lot like being a teenager, wanting to do things but not being able. I couldn't see, couldn't work, couldn't even go out in the sunshine. I couldn't do anything.

And it's when you don't have anything that depressing thoughts can invade like Harry Potter's dementors. I never worry and I'm never scared. But last week I was.

Now my eyesight is coming back it is becoming a little better. But it does mean I have to really re-build up why I do everything and re-evaluate where I am and where I am going from scratch.

I very much need and appreciate you all for all your support in my professional life.

And when my girlfriend arrives next week she will certainly be a sight for very sore eyes.




December 11th 2009 - End of Year Review
It's coming up to the end of year, where kids probably want to have a bit of fun and do something special.

Here's what Margit has been doing, it sounds like a fantastic end to the year!



This week I used the digital whiteboard with 12 classes, 5+6grade.

As with 36 kids the room is gettiing pretty narrow when it has projector and whiteboard and cables I decided to concentrate on whiteboard and do a total review.
I went through all the topics we had done so far; (about 5-6) , with some of them I did the computer game right away, some we did the song togehter then the game.
Some I would have the students do the game with others I did it myself but I closed my eyes, and the kids had to guide me, "left, right up, down"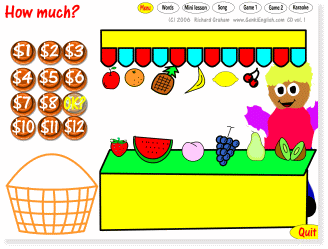 With the How much game (1) I chose 4 kids , three shoppers who alled the kid at the whiteboard: "Excuse me" "How much is the apple?"
The kid would click the apple listen to the price and hit it on the register. After three times switch roles.
It was great!


Also Richard,
there were pretty many surprises, because I hadn't noticed several details of the pictures so far, and the kids reaction made me aware:
For example
When Aigo is going back he grows and grows (hadn't noticed this)
In the Left and Right he disappears in the air when jumping . The kids couldn't stop laughing while doing the song and tried to do a super jump themselves.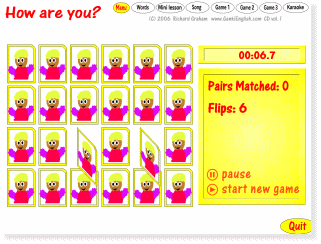 The Memory game of "How are you" was a big hit as well, especially the voice , "I'm sad"

There was some more, so it's like having a new CD after watching these with the kids. For one thing I think it's there imagination, but as I do watch it at home as well and non of my students has reacted to these details so far, I guess it's the size of the screen as well.

I don't think I would use a digital whiteboard for all of my lessons, but for a review at the end of the term it was more then perfect.
Some classes I told it's going to be a "Listening test" and well, actually it IS, just without "X"s.

Anyway, everybody who has the chance I can highly reccomend it for a last lesson this year, especailly with the beautiful magical Christmas color song in the very end.

It was so weird because after that song kids and teacher didn't know what to do anymore; they just stayed in their place in absolute silence, even the chime had gone and I had said Goodbye!


If you have a Digital Whiteboard ( or even just a projector!) get it set up and give your kids a treat! You already have the software on your CDs or Downloads, just pop them into a computer!



December 7th 2009 - Gingerbread Test
Here are another couple of worksheets from Flossy and her daughter.

The first one is a listening test to go with the Gingerbread house. You say one of the words and the kids circle the correct picture.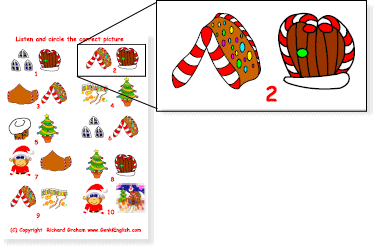 The second one is similar to the spaghetti worksheets for the Where are the Christmas presents song. But this one requires reading, so make sure the kids have gone through a good phonics programme first!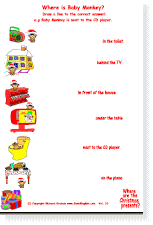 What do you think?


December 7th 2009 - Flossy's Christmas Printable Games
Flossy's daughter has come up with some excellent new Christmas games for you.

Here's the first, a series of unbuilt snowmen, and you draw a line between the ones that are the same. I've never seen this idea before but it's really fun to do!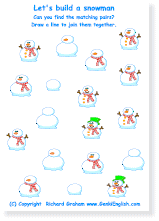 If you are doing reading (remember to start with phonics!) then your kids could try this one - underline the correct sentence, snowman or fruit?!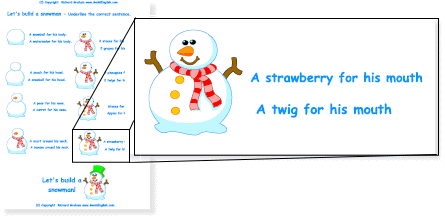 Or the colors matching sheet: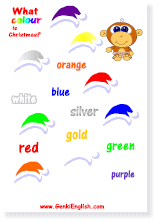 And I've also done a mega Christmas Snakes & Ladders review for you: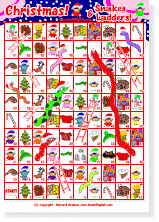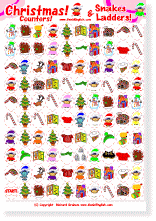 It features a review of Let's build a Gingerbread House, What Colour is Christmas & Genki Christmas.
Plus some Snakes and Ladders Counters - which you could even use as stickers!

Hope that's enough to keep you going till tomorrow!

P.S. I'm having my eyes lasered with LASIK today so I might be behind on my emails for a few days! But the office and website are open as usually to fill your orders!

December 7th 2009 - Buy me! "is" Game
Here' a cool little review game from Eby...

------------------------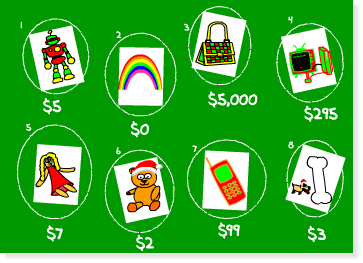 1. Draw some circles on the board, one for each item you want to review.
2. Put a flashcard in each circle,
3. Under each circle, write an amount like $5 etc.
4. On top of each circle write numbers 1 to 8 (or however many cards you have)
5. Form 2 to 3 teams.
6. Teacher calls out a number
7. The first team to yell out the item and the dollar price in gets the amount of $.

Kids love playing money. My kids enjoyed it so much. try it u will see that even quiet kids will take part and yell
------------------------------

Thanks Eby!

This would be really easy to do with What would you like for Christmas? and is a great practice of the word "is" e.g. The robot is 10 dollars. You can also review How much?

You could of course do it with any song you like, you simply say the dollar price and the kids have to shout out the sentence from the card e.g. using it with the Where are the Christmas presents? song and the kids have to shout out "behind the snowman!" etc.

If you have any cool games that aren't on the site yet, be sure to send them in. Your fame awaits!



December 4th 2009 - 2010 Genki Calendar + More Xmas Worksheets!
Always a welcome gift, here's the 2010 Genki English Calendar to bring a rainbow of colours to your classroom. Of course the 2009 one is still online just in case you need it!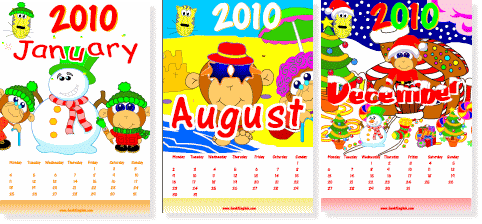 Plus there are more luxury Christmas worksheets with Christmas Colours Snakes & Ladders, black and white Snowman mini cards and Christmas Colours Dominoes! Enjoy.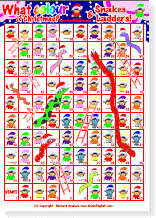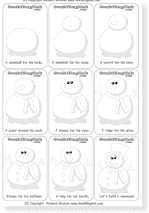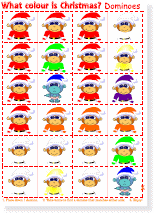 Want more? I've got a touch of free time in between studio sessions this week (a stylish new Xmas body parts song hopefully coming soon!) so send in your requests and I'll see what I can do!



December 1st 2009 - ESL Pronouns Song in Video
This has to be one of my favourite themes, it is so easy to do and is so, so useful: CD9's "I, you, he, she, we" pronouns song Check out the gestures in the video below:



Doing the gestures in the video means you can teach it in just a few minutes, then try the "Dinosaur Danger" game from the song page to go with it.

So much language in so little time!

It's so versatile as you can combine it with I'm a superhero song to come up with "I/you/he/she/we can jump/swim/fly etc." or How are you? to come up with "I am/ you are / he is happy etc." Then you can use it with the And .... but song to make really long sentences like "I am hungry and he is thirsty but she is cold and he is tired!" Thousands and thousands of combinations, all, thanks to the songs, from less than 60 minutes teaching time, which is a huge, huge motivation boost for the kids!

What other themes would you combine it with?



November 27th 2009 - Soldiers & Ninjas Video
Flossy asked for new Warm Up / Review Games. The Lines Quiz is always my favourite, but as Flossy said, after doing it every lesson for over a year it is a bit much!

So my number 2 review game is Soldiers & Ninjas!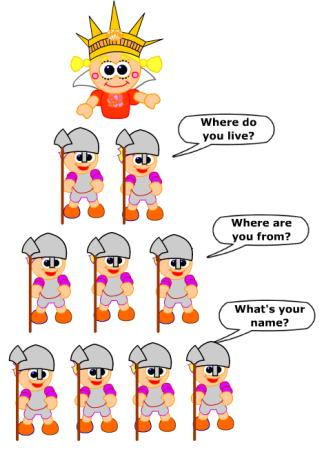 1. Select 9 students to become the soldiers. They stand in rows to protect you, the king or queen!

2. The other kids, the ninjas, have to answer one soldier's question from each line and then beat that soldier at "Rock, Paper, Scissors" before moving on to the next line. You can choose the questions from previous lessons e.g. What's your name? Where do you live? or any thing really.

3. If they make it to the final soldier, i.e. they have answered all the questions and beaten one soldier from every line at "Rock, Paper, Scissors" they must answer a random English question from the king or queen!

4. If they can answer this question in English correctly and they beat the king or queen at "rock, paper, scissors" they become the new king or queen!

5. Keep going and going! (Of course the deposed kings and queens want their thrones back so start back as ninjas answering and battling with the soldiers!)


It's just one of the games in the VIP members' Top 50 Games eBook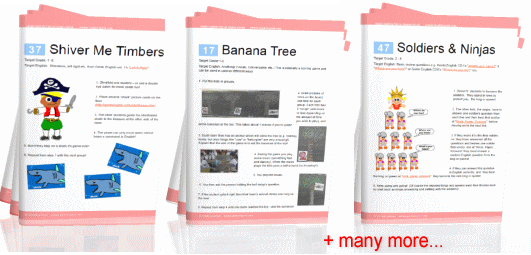 Enjoy!

P.S. More videos coming this week!

November 26th 2009 - from Austria: Gingerbread House (Christmas Play Idea?)
Now I'm back in the land of unlimited internet I can show you a clip of where we had this weekend's workshop. By the Imperial Palace in Tokyo, central Beijing & Bangkok, Arctic Sweden and now very Christmassy Austria...



All very inspirational, especially as Beethoven used to spend his Summers just round the corner!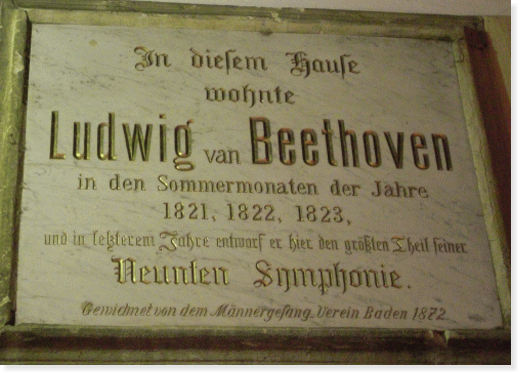 So what did we come up with? One was a great way to do the Gingerbread House song: simply get the kids to go round in a circle building an imaginary Gingerbread House as they sing the chorus. Or even better, what about making a cardboard Gingerbread House that the kids can put together as they sing, perfect for a Christmas Play!



You could then even do the What colour is Christmas song? afterwards as they decorate the sides of the house!






November 30th 2009 - Discipline: Class Rules & why you need them
Setting up class rules can be very important, but all too often we completely forget them or just think "well aren't they obvious?" But unless we set them out clearly, we can't expect the students to follow them!

For example in last week's workshop we had one lady who broke my first rule which is

Respect each other and the teacher.

Now you may think this is obvious for a workshop aimed at professional teachers, but it wasn't for this lady. She was chatting when other teachers were talking and was generally rude. But I couldn't blame her because I hadn't specifically laid out the rules!

It's the same with kids, we may think that certain behaviour is just common sense or general good manners. But for some kids they might never have even heard of listening to other people when they speak, respecting other people or being positive. So it really, really pays to spell out your rules right from the start.

Of course you need to speak the kids' language to do this, it doesn't work in English!

The key is also to keep the rules as short as possible, as Mark Twain says "If I had had more time I would have written less", so my rules are usually:

1. Respect each other and the teacher
2. Be positive.

Then you can use something like Power Teaching to enforce them.

It really makes such a difference and along with setting your goals of what you want to achieve, is one of the most important things you can do for your class.

And when they do fail completely you need the next step, which I'll write about tomorrow!

So, what are your class rules? Write them up in the comments!



November 24th 2009 - Eigo Note, or even English, to be abolished? Gov. wants you to choose!
Whilst I'm over in Europe, all the excitement is going over in Japan. As has happened every time before, the new government has decided to upturn what the last lot did, so apparently they are looking to abolish the English Education reforms.

The good news is that this looks like the scrapping of the horrendous Eigo Note (yeah!) but might also mean the scrapping of elementary English altogether (boo!) Anyway the Ministry is apparently asking teachers their opinions to see if they can overturn the decision or even get the Eigo Note reinstated.

So what are your thoughts? Are you for or against the Eigo Note? For or against primary school English? How should it be taught? Check out the Ministry's page here: http://www.mext.go.jp/a_menu/kaikei/sassin/1286925.htm And be sure to send them your opinion: to suz-tak@mext.go.jp and you must write the name and number of the project: The number of the project is 7 & the name of the project is 英語教育改革総合プラン、学校ICT活用推進事業

The deadline is Dec.15

It is pretty cool that teachers are getting a say in this. Here's more on the system they are using.

Full marks for Yumiko's 小学校英語ブログ for bringing this to my attention and keeping everyone informed on the forum!

So, let your voice be heard!


November 22nd 2009 - Fire your students!
Firing your students? Am I crazy?

Well...

One of the reasons we give for why private school teachers (for rich or poor) are better than public school teachers is that they can be fired. Do a great job, keep it. Do a bad job, lose it.

But it can also apply to your students.

Although as teachers we feel we want to appeal to and reach every single student, sometimes pragmatics have to take over. Pareto's principal says that 80% of your problems are caused by 20% of your students (or more likely their parents!) and whilst you can probably "deal with it", if it affects the other students then it can really be a case of stealing their hard earned lesson time and money. It can really affect the atmosphere and hence outcome of a class.

In that case I recommend firing the student! If you run the school then give them their money back and suggest they find another place to study. Sometimes things just don't click and it works out better for everyone. You can use your energy to help more students.

Practice what I preach

I found myself in the same situation the other day. I had a paid for workshop and one teacher was constantly arguing with me. I'm quite happy with constructive criticism and it is part of the scientific method. But constantly moaning about why Genki English is bad in a Genki English workshop is just silly. Never mind how rudely she presented them.

So I just asked the teacher if she would like to leave and we would gladly refund her money for the time that was left. She of course didn't want to leave right then, but quietly slipped out during the next break.

The atmosphere in the room changed immediately. The other teachers got so much more out of it once she was gone, it was like the sunshine had come out to play.

Now I am thick skinned enough to take criticism, but taking so much time and energy away from the other "students" in my class wasn't really on. Superman only works because of kyroptonite, and without all the boring methods to battle against then Genki English wouldn't win the hearts of so many teachers. But at some point you have to say, enough is enough, this isn't working for anyone and just offer their money back and "fire" the student. It takes courage, but you have to do it.

It works out better for you, much, much better for the rest of the students and hopefully in the long run for the student who got fired as well!



November 21st 2009 - Genki in Austria
Today was my only teaching workshop in Europe this year and we had people fly in from all over the continent, from Spain, Germany, Hungary, Lithuania and of course Austria!

Amongst all the general rules and positivity behind Genki English we did...

- Genki Disco Warm Up,
- String Game for introductions
- My self intro about the India/China/Thailand projects and why schools aren't working
- What's your name song? to get people into eye contact etc.
- Then the GE lesson plan - warm up, song, game
- How are you? - with the balance of positive words at the end.

Then lunch!


After we did a needs assessment.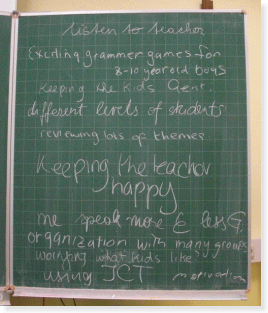 Then ...
Extra warm up games with Lines Quiz and Soldiers & Ninjas + mingle to get into groups
Then a demo lesson with What's the weather like? + Clap Clap Game
Then how to use the software - some people were surprised that they already had it on their CDs!
Then computer games - for the Playstation generation - Do you like..? OK but too easy = boring, Genki Chinese - too easy! Genki Korean, more of a challenge, everyone on the edge of their seats - really saw how the computer games work!
Then Hip Hop games for higher level.
Got asked about "That's not in the exams" - that's fine, we teach the kids to speak, then the exams become easy later!
Then Superhero to finish off and out for dinner!

Overall a really great day with a great bunch of teachers in a fabulous location. And as usual the exact same challenges that everyone else has came up. Although brilliantly when I asked for "problems" in the needs assessment, none of them had any! Very cool.

Then the next day we did even more cool stuff...



November 22nd 2009 - Genki in Austria Day 2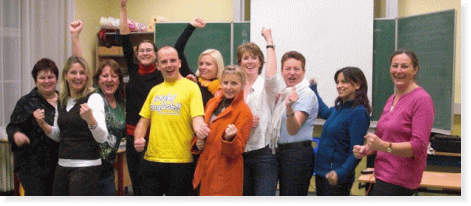 Some of the very genki teachers from this weekend's workshop!

A foggy Christmassy morning, so we started off with
- When, when, when?
- I am , you are pronouns song + dinosaur game - which only sort of worked because I was the only guy in the room! But it shows how just a couple of Genki English themes can lead to hundreds of new phrases.
- What time is it 2? + Game (remember, 1:10, 3:15 etc. is used much more often than "quarter past" etc. and 3:30 is especially useful for German speakers!)

Then I went through the brand new integrated phonics system from the forum. The lesson plan I have and the worksheets are done, but the gestures aren't going to work with "finger spelling" here, so it looks like it will take longer for it to be finally out there for you!

Then another great lunch before...

- What colour is Christmas? which was really, far, far too slow, then the normal colours song which everyone found much better paced!
- Rocket Launch - the long version on the software to show funky lighting techniques!
- Gingerbread house + Let's build a snowman, where I took some fantastic videos of how to teach it, hopefully I'll have them on the site soon - they're amazing!
- Then I asked one of the participants to leave - I'll blog about that later!

Then Flossy did a fantastic presentation on how she uses Genki English with a laptop and iPod speakers. I really should have videoed it as it really energised everyone there!
- Then projects - getting the kids talking with other countries!
- Then the $50 digital whiteboard which I'll blog about later, cool video coming.
- Then in ten minutes we learnt left, right, forward & back in Japanese and did the Mr Bump game in Japanese. If you had been told you could speak and communicate in Japanese in just ten minutes - would you have believed it? That's Genki English for you!
- And finally Can you speak? English and the pro rules to finish on a fantastic high note!

It was an amazing weekend! Thank you to Elizabeth for organising everything so wonderfully, and thank you to everyone who came, those who came from nearby and those who flew in from afar. It really was amazing to present to teachers from so many different countries and have everyone join in and get so much out of it!

I've got a ton of video that I'll hopefully get uploaded when I have a more economical internet connection - you're going to love them!

And that was a whole new country added to the Genki English repertoire! Where's next, your country? Just get in touch, that's what Elizabeth did and ended up with a whole weekend of genkiness!

And if you attended, did you enjoy it? Be sure to let us know in the comments. : )






November 16th 2009 - Education Policy Lecture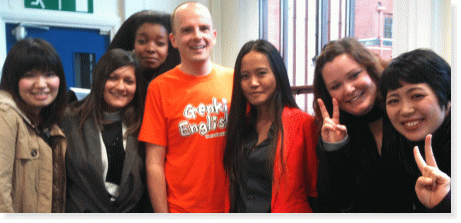 Some of the students on the Education Policy and Entrepreneurship for Development course.

Today I was invited back by the University of Newcastle to give my lecture to the students on the Masters of Education course in Education Policy and Entrepreneurship for Development.

First the Doctor in charge gave a run through the phonics programmes and the research they'd done on the effectiveness of phonics and Genki English. Then we had some very cool videos about phonics teaching in Ghana.

Then it was my turn. Just like last year I was invited as an "Education Entrepreneur" and it was a trip through why I started Genki English (appalling ways of teaching, kids sleeping in class, inequality between public and private schools), how we teach (finding out what the kids want to learn & how they want to learn it), how successful we have been (180 countries, every school in Thailand, 1 billion students by 2012) and the problems we face (teacher apathy!) I also talked about the research projects in developing countries and I also left on a question "do we really need teachers at all?" which is something they'll be covering in other parts of the course.

Then lots of really good questions from the students (exactly how did you develop the curriculum? Use of mother tongue in the class? What research data do we have? Does it really work even with no teacher?)

After a few months focussing on Genki English business development (i.e. getting more Genki English sales) then it was really good to get back to the education development issues. It is nice to sell a load of Download Packs (thank you very much, it looks like we'll have another record breaking month this month!), and that is really important to fund things, but it's how much we are helping kids in the worlds' poorest areas that really motivates and excites me. It's always good re-seeing the results of the India and China programmes and to see how it is affecting the kids there, because in the day to day running of things you tend to forget the big picture.

Big, big business

Then lunch with some people talking about some very exciting ways to do more education development work using more corporate ways of doing things, not just small scale entrepreneurship. Very exciting. After reading the Leaving Microsoft to Change the World book (highly recommended) last week about the amazing Room to Read programme, this is also something I've been really interested in. We have a really good programme, it's now a case of how quickly we can get it out to more schools on a huge scale, not just thousands, but 100s of thousands of schools.

So very, very motivating and I also got a name check in the acknowledgement section of the Beautiful Tree book!

Thank you very much again for inviting me back and I'm really looking forward to the future, it's a whole new chapter and there are so many more amazing things out there to be done!





November 13th 2009 - Uno Style Chritmas Game from Zurich
Thanks for all the request this week, in Zurich airport I just made a Christmas version of the Uno Style Card Game - The One. This one is to practice prepositions (under, on, in etc.) along with Gingerbread house, snowman, Christmas tree and Christmas presents. Enjoy!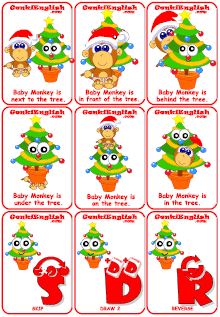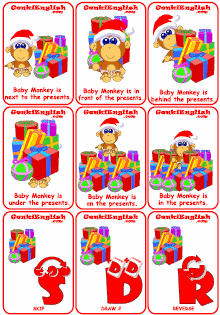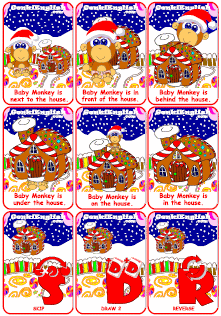 November 12th 2009 - Got the flu? Get well soon! Flashcards & Mini Cards
I hope the flu's not effecting your lessons too much - I know quite a few classes have been suspended. But whilst it's around we might as well take the chance to use it to teach some useful English.

And of course the most useful English is "Get well soon!" The song and animation are on CD10 and by request I've just made up A4 flashcards and mini cards of the "before and after" characters from the song. Enjoy if you can!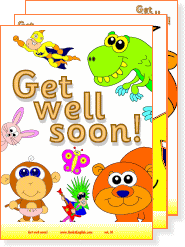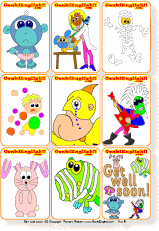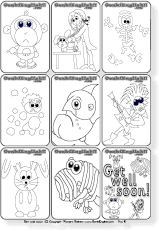 VIP members click the pictures above, non-members just order the Download Pack and get access straight away! Or you can of course go for the physical Teacher's Pack, the choice is yours.


November 11th 2009 - More Christmas Crosswords & Wordsearches!
I've sent my Mac back ; ( But that means I'm back to work making more materials for you all!

Today it's a Christmas theme with crosswords and wordsearches for What would you like for Christmas? and Genki Christmas themes! Enjoy!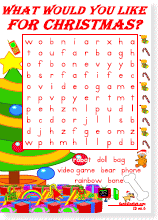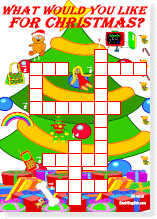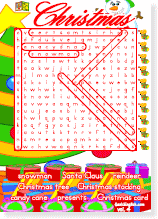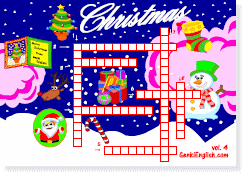 VIP members can just click on the pictures above to download them, and if you're not a VIP member yet, just get your Download Pack order in today and you'll be joining us straight away!

Plus all these new sheets are in the massive pdf Christmas books (the teachers' one is over 100 pages of genki goodness now!), again VIP members just click the picture below.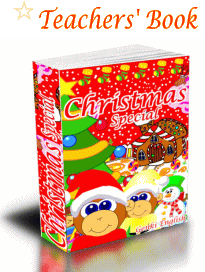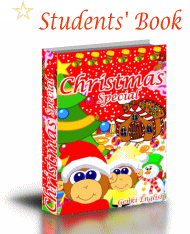 More flashcards etc. tomorrow, plus if you have any requests for things immediately, please write them in the comments!

Be genki,

Richard



November 5th 2009 - Rock Band English!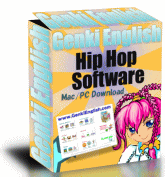 Unless you've been living under a rock these past few years you must have heard about the huge success of the "Rock Band" video games. You basically hit coloured instruments in time to pre-recorded music. But they are massive, massive hits with "kids" of all ages. The Beatles even have their own version!

So the latest Genki English thing is of course the advanced Hip Hop songs. It's just the same but this time you listen to the song and hit the right English button. Can you get full marks?

And from today there's also, by popular request, a download version of the software. It's on at $18.99 which is the same price as the Playstation Rock Band, but of course this time your students are learning English. Plus you also get the mp3s of the songs and some very funky workbooks!

More details here or buy now.

Enjoy!

P.S. If you've recently bought the pack, write down a comment on the blog and I'll send you a complimentary upgrade!


November 4th 2009 - Who can...? Game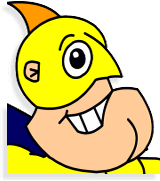 This is a cool game to play with CD9's "I'm a superhero! I can ..." or CD5's "Can you play the ....?" theme.

1. Give each kid one of the mini cards (e.g. here or here)
2. Everyone remembers their card, then hides it!
3. You ask the kids how long it will take to do the game, and then time them!
4. "Ready, steady, go!"
5. Everyone runs round the classroom saying "Who can...." plus what is on their card e.g. "Who can swim?"
6. The idea is to meet up with someone else who has the same card!
7. When you find your partner you sit down together.
8. See how long it takes for everyone to be sat down!
9. Give the cards to different people.
10. Repeat from step 3.
11. If anyone shows their card before they have found their partner, they are out!

This is a great genki game as everyone is shouting out "Who can...?" at the top of their voices and you really have to listen for your word, which is a really important skill! It sort of ends up looking like the New York stock exchange!

Try it and see, it's lots of fun!



November 2nd 2009 - Christmas Colours Cards
Now that Halloween is out of the way, it's time for some new Christmas materials. First off we have some super cute Baby Monkey pictures to go with the "What colour is Christmas song?"

What do you think?


October 28th 2009 - New And .... But.... Song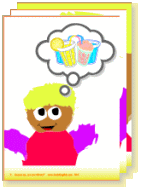 There's a great discussion on the forum about testing and joining phrases together.

I find the easiest way to do this is to start off with simply adding "And" and "But" to the How are you? song. The kids find it amazing that they can come out with huge long pieces of English like "I'm hungry and I'm tired but I'm happy and I'm OK!" And that's after just one lesson! Very impressive.

To make it even easier I've just made a special version of the How are you? song for you with lots of Ands and Buts:

And... But Song

(VIP members can right click and select "save as" to download it)

You just do the normal How are you? class, then in a future lesson ask the kids to listen to this version and see if there are any new words that they don't know. Let them try and guess what they mean. If they figure it out themselves you'll never have to review it ever again!

Just for the teacher's benefit, here are the lyrics:
I'm hungry and I'm tired.
I'm thirsty and I'm sad!
I'm cold and I'm scared.
I'm hot and I'm angry!

AND AND AND AND

I'm hungry but I'm happy
I'm thirsty but I'm fine
I'm hot but I'm great
I'm cold but I'm OK

BUT BUT BUT

What do you think? What are your favourite combinations of phrases to use with "And" and "But"?

P.S. Make sure you've done Happy Halloween previously so that they know "I'm scared!"

P.P.S. If you're not a VIP member yet, get your Download Pack order in today and join us. This month has been another record breaker so thank you very much!



October 24th 2009 - CD10 On sale! Dispatch on Monday 26th!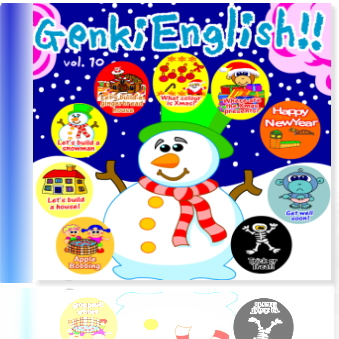 CD Vol. 10 is finally ready to go! We're getting the big boxes from the factory today and we'll be sending them out first thing on Monday.

It's a huge opportunity to get some amazing songs for teaching real English like colours or prepositions but with a holiday feel!

There won't be a member's discount this time (as you all got it for free last week!) but if you want it for half price, you can use your bulk order discount. It's also great if you want to pick up a copy of CD9 for yourself along with some Christmas presents for your students. They're going to love it!

If you want instant access there's also a download version for $34.99 or you can get in in the full Download Pack!

We had some amazing comments for the beta test, so be sure to get your order in today!




October 21st 2009 - Black & White Masks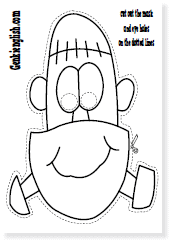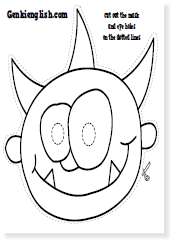 You asked for them, so here you go, black and white versions of the Halloween masks!




October 19th 2009 - Skeleton Body Parts Song!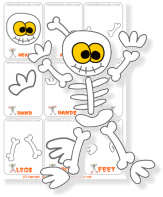 Here's a new body parts song for you, just in time (maybe!) for Halloween, featuring the very popular Mr Skeleton.

Draw a big bowl on the board, print and cut out the A4 (or larger if you can) skeleton and add the body parts one at a time according to the song. "Body" is included due to popular request and it's also a great way to reinforce foot + foot = feet!



Skeleton Body Parts Song - (4.8 MB)
(VIP members right click and select "save as" to download)

Give me your hands (hand, hand)
Give me your feet (foot, foot)
Give me your legs (leg, leg)

Give me your arms (arm, arm)
Give me your body (body, body)
Give me your head (head, head)

As you can hear it's very long and actually ends up being more like a mini play I think. Hopefully your kids will like it.

The recording is still a rough demo, but I figured I might as well get it out to you this year.

Now where do we find a vampire.....?

What do you think?


P.S. There's also a new Phonics "i" song in the VIP members' forum!


October 20th 2009 - Trick or Treat Game for 6th graders!
Here's a game to play with "too cool to sing" 12 year olds (or older), that gets them wanting to try more ....

After you've taught the words and gone through the song once...




1. Give each student an A4 picture card.
2. As the song plays if you hear your card you hold it up in the air.
3. Play the song again.
4. This time the teacher picks a "volunteer" who comes to the front.




5. Everyone hides their cards!
6. As the song is playing the volunteer has to try and remember who has which card and point to the correct person as their (hidden) card is said in the song!
7. They hold up their card if pointed to correctly.
8. Keep trying again with different volunteers until someone gets all the cards right!

It's a nice little twist, but at least gets them listening and talking amongst themselves as they try to remember who has what. The adrenaline pump from being at the front really makes a difference!

If you have small classes then this game works for any theme, but for large classes then the Trick or Treat is a good choice as you have 24 picture cards (i.e. "Scarecrow" and "Scarecrow Soup") and you can make other cards for "trick", "or", "treat", "Yes", "please", "no" & "thank you" to bring the total anything up to 31 kids!





October 14th 2009 - Halloween Stickers & Bones!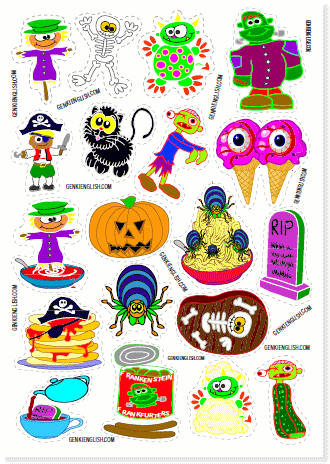 Gaz has been at it again, this time with some very funky VIP Members exclusive Halloween Stickers to go with the Trick or Treat song and worksheets for the Pesky Hound game, which you can find part way down the main Halloween page!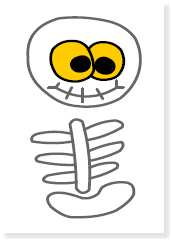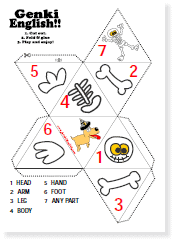 As usual these are VIP members (yep all members are now VIPs!) exclusives and if you want to join us then simple order your Download Pack and you'll be joining us in no time. Welcome to the club!



October 19th 2009 - I want to be a .... vampire!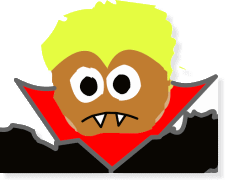 Kids in developed countries can sometimes be far too blase about the chances and opportunities they have.

So let's get them using their imagination more!

1. First make sure you've done the Halloween Song and the Trick or Treat song.
2. Then do the What do you want to be? theme,
3. But then for the game use last week's "Trick or Treat Clocks Game"
4. This time they have to say "I want to be a ..." plus the Halloween creature! (here and here)

What do you want to be? I want to be a vampire!!

A crazy answer as that will get them thinking even crazier things when it comes to choosing what they really want to be. And that's what they'll need to survive and not lose out to our uber motivated kids in developing countries!

It certainly beats "I want to work in McDonalds!"



October 15th 2009 - Trick or Treat Clocks Game
Here's a great game I heard from Nigel at the ACET meeting on Monday which goes great with vol. 10's Trick or Treat cards!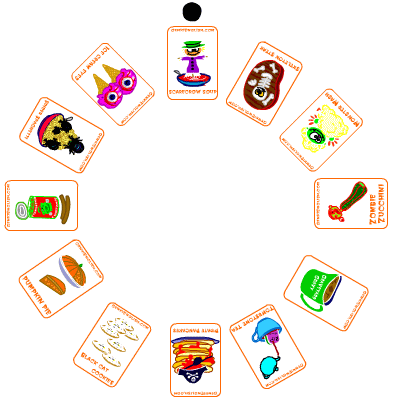 1. Put 12 picture cards in a circle.
2. Put a mark or object to assign the "12 o'clock" position.
3. Shout out either one of the cards OR shout out a time.
4. If you shouted a card e.g. "Pumpkin Pie" then the kids have to shout "8 o'clock" as it's in that position.
5. If you shouted a time, e.g. "10 o'clock" the kids have to shout out "Spider Spaghetti"
6. The fastest kid to answer correctly gets a point for their team!
7. Repeat from step 3.

The cool thing is that you keep moving the marker to adjust where the 12 o'clock is. e.g. if "Monster Mash" had the marker and you shouted out "4 o'clock" the answer would be "Pirate Pancakes". It's great to get older kids thinking!

Or even better you can do a mash up between CD6's "Happy Halloween" and CD9's "Winter Clothes"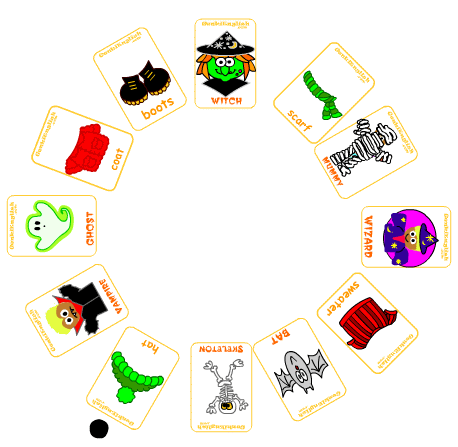 1. Put half the of the cards as Halloween creatures.
2. Put the other half as items of clothing!
3. Assign one of the cards as the "12 o'clock" position.
4. Say a time.
5. This time the kids have to make a sentence using the two items e.g. the ghost is wearing a hat!

Of course you can do this mixing up any of the themes to get the kids creating any sentences!

What would your favourite combinations be?




October 13th 2009 - New Download Recommendation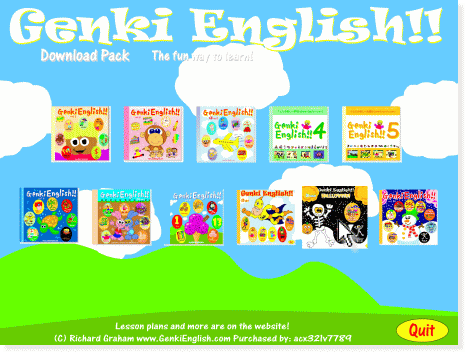 Whenever I teach I don't actually use the Genki English CDs anymore. I actually now only ever use the Download Pack.

The reason? Just one really, the very funky CD selector menu like above that lets you move between the CDs with a click of the mouse!

It's so useful that I'm thinking of changing my recommendation away from the CD Set and to the Download Pack for everyone, not just those overseas.

What do you think? Any pros or cons to either one?

Free Vol. 10s

Last week, by popular request, I also upgraded the Download Pack to include all the audio mini lessons and karaoke tracks as mp3s. Which now gives it a total of over 270 mp3s - which is about 7.5 hours according to iTunes! The price went up accordingly, but at the moment I'm including the new Vol. 10 (with the Halloween songs) for free, so it's still a fantastic bargain - mainly because that's all you'll have to pay with no monthly charges like most teaching systems.

If you have the previous download pack and managed to grab last week's CD10 beta test, write a comment below and I'll send you the updated menu to access all the CDs with one page.

If you haven't bought it yet, now's the perfect time. It's a massive 1.1. Gb (yes, gigabyte!) download but worth every penny.

Protect your investment & easy to carry

P.S. For both old and new members, to safeguard your investment I'd certainly recommend saving the pack on a 2GB memory stick and labeling it as "Genki English". Then if your computer dies you've still got all your valuable materials. Plus of course it makes it easier to carry around than a whole bunch of CDs!



October 16th 2009 - More Halloween Imagination Worksheets + 124 page Halloween eBook!
Fancy some super Halloween pdf books chock a block full of games and worksheets for teachers or kids?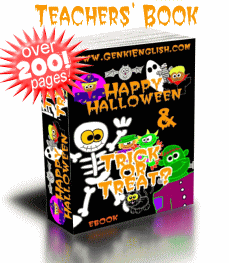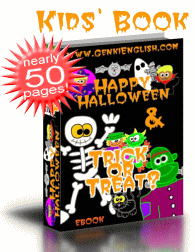 Flossy has just put a great post in the forum of how she makes amazing printed bound books for her kids out of the Genki English member's materials. They really have to be seen to be believed!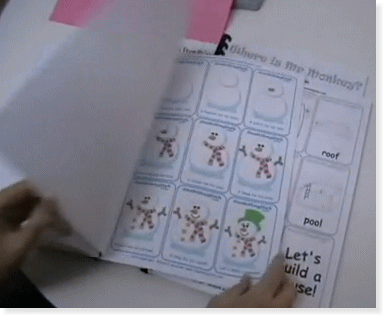 So thanks to her inspiration I've collated together a massive teachers' ebook of all the Genki English Halloween Printables - that's over 120 pages!

The really cool thing is that you can use the print options to select which pages to print and make your own Halloween books for the kids.

Or I've also done an example for you: Kids' Halloween ebook. It is bound to impress the parents!

As usual they're 100% free for VIP members or order the Genki Download Pack today and you'll be able to join us too!

The last few pages are some brand new "Imagination Worksheets" for Halloween...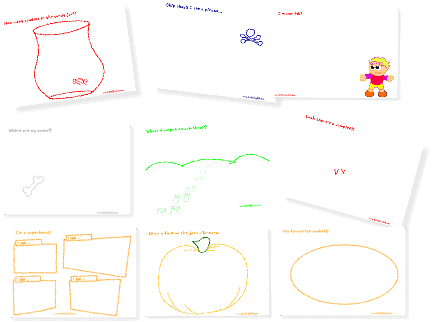 We have new ones for:

* I'm scared!!
* Look there's a vampire!!
* Where are my bones?
* Ship ahoy! I see a pirate...
* Draw the scary monster
* How many candies in the candy jar?
* My favourite cookie
* Whose footprints are these?

+ a new "I'm a superhero! I can ..." and last year's "Spider's Web" & "Draw a face on the jack o'lantern"

The new sheets are at the end of the Imagination Sheets ebook or the Halloween ebooks above! As usual the key with these sheets is to say as little as possible to the kids. Then they come up with some crazy stuff, just look at these that Flossy's kids did last year!





October 12th - iPhone makes Video Letters Unbelievably Easy- Even for Non-Techie Teachers!
Part 2 of Genki English is getting your kids really talking to kids in other countries. Projects or "video letters" are the way to go. It's way better than any textbook!

The internet makes it free to do (I used to spend a fortune on stamps sending videos overseas!) but some teachers were having problems with the technical side of things.

Well worry no more!

Just look at this, it's this simple to make a video and send it instantly using an iPhone 3GS!



How cool is that?

Of course you can do any topic, from kids introducing their favourite toys, their lunch, their school or anything really. Finding a partner school is easy using epals.com or even on the Genki English forum.

This is the future of language education, Part one: songs and classroom games to get the kids able to say anything they want to say, then actually letting them really communicate with Part 2: Video projects! Don't let your kids fall behind.

Plus isn't it such a cool excuse to have to buy a new iPhone??!!



October 9th 2009 - Wow! Halloween Masks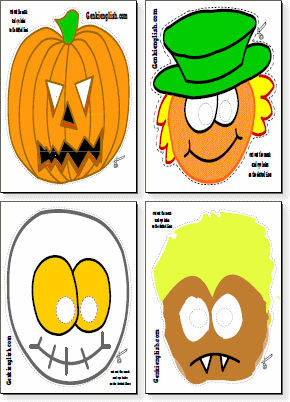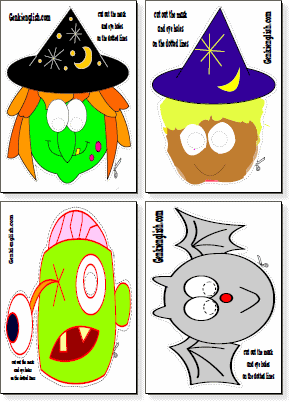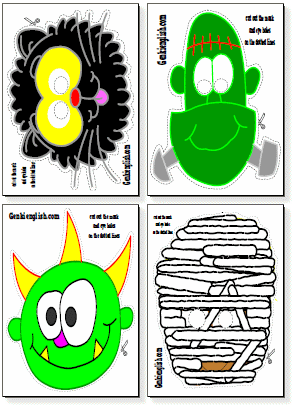 Gaz has just sent in his latest creation, some very funky Halloween masks based on the Trick or Treat song. My initial reaction was "Wow, please send more!" and sure enough he did!

Just look at these, what do you think?

Rosebud also did this cute little video of her kids last year doing the Trick or Treat song with masks on!



And here with the music!








October 9th 2009 - Genki English Around the World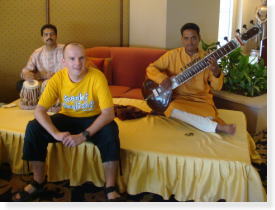 If you look on the right hand side of the blog main page I've just added in new links to my workshops and travels to CambodiaChina,Germany,India,Japan,Korea,Sweden,Thailand,& the UK You can read all about the trials, tribulations and plenty of excitement in taking the Genki English on the road.

If your country isn't on the list yet then please get in touch! This year I'm planning on adding Kazakhstan (in October) and Austria (in November), but I'd love to be able to do workshops in all the 190 countries where Genki English is used - so let's make your country the first on the list for 2010!

If you've experienced a Genki English workshop, please write up a few words in the comments to let everyone else know what they are missing!



October 7th 2009 - Breakfast Videos from Around the World
The videos of breakfasts around on the world on the What would you like for breakfast? page is proving really popular with the kids. But of course if your classroom isn't online you can't use them in class. Until now...

Because I've just added in new links where VIP members can download the videos to use offline!

I've also added a new Japanese and a new Austria breakfast video for you (thank you Flossy for the reminder!)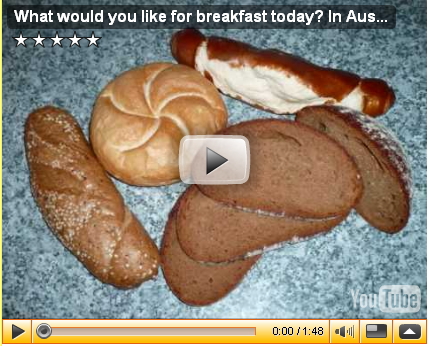 If you're in a country we've not covered yet then please video your breakfast, put it on Youtube and send me a link so we can share it with students all over the world. It's a great way to see how other people start the day!

Have you tried these videos yet?





October 6th 2009 - Some fabulous Halloween Pumpkins?
Here's a really interesting email I got the other day from Jeffrey down in Oita. You see Jeffrey has a farm, "Rancho Lincko" and specialises in growing .... Halloween pumpkins!

He has none available this year, but was wondering if any teachers would be interested in them for next year. I thought it's a great alternative to growing your own and I told Jeffrey you guys would be the people to ask! Would you be interested? Or not really? Answers in the comments please!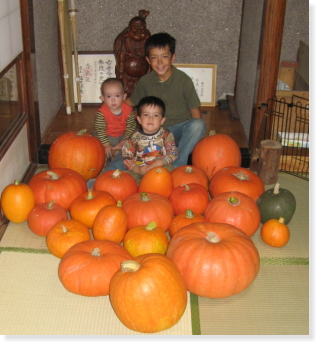 Here is our fine line of Rancho Lincko Pumpkins for 2009. We have been growing pumpkins at Rancho Lincko for seven years now. The original seeds came from a pumpkin my wife ordered from Hokkaido in October 1998. In the beginning none of our pumpkins were free-standing so we turned them upside down to make Jack-o-Lanterns.

Since then we have been selecting for shape and size and now produce batches of good-sitting gourds. Our record for size is 30 kg and, as you see in the picture, each year we have a selection between 1 and 15 kg. A 5kg. pumpkin makes a fine, medium, Jack-o-Lantern. We have none for sale this year but would like to know, if we did, how many people would be interested in getting a pumpkin delivered to their door? If there is interest we will plant accordingly and take orders in the the summer of 2010.

Thanks,
Jeffrey Linck .

October 4th 2009 - Where are you going? Videos
One of the other video requests last week was for the "Where are you going?" theme. This is always my go to song if I ever get a class of 5th or 6th graders who don't want to do anything, the funk and competition of getting them to sing louder than each other works every single time - even when other sure hit themes fail!

Here we have the song in action....



Usually I just split the class into two halves, but here they split them into boys and girls. Each group thought of their own gestures for each item. (Oh, and don't clap your hands in time with the music like the teachers are doing here - that's a sure recipe to get everyone out of time as you can't hear the music on a small system!)
Then we have the Leapfrog Game as recommended in the Lesson Plans Book:



Here we have a couple of recommendations for large classes. Either get all the kids to shout out the phrase, or get the kids to shout the phrase one at a time in the group. This keeps large classes from being bored in the demonstration. Then I would normally have them use the minicards to practice it in smaller groups.

In this theme we have things like "I'm going to school" and "I'm going home" but "I'm going to THE park" etc. The kids always pick this up naturally from the song, but here the teachers were mixing it up due to their junior high way of thinking about English. Just be careful the teachers you work with don't negatively influence the kids.

Anyway, if you haven't tried this theme, have a go. It only takes ten minutes and it works amazingly well for the "too cool for school" kids. It's always my reserve secret weapon!






Click here for my diary April - September 2009
Click here for my diary January - March 2009
Click here for my diary September - December 2008
Click here for my diary April - August 2008
Click here for my diary January - March 2008
Click here for my diary November - December 2007
Click here for my diary September - October 2007
Click here for my diary July, August 2007
Click here for my Diary April, May, June 2007

Click here for my Diary January - March 2007
Click here for my Diary August - December 2006

Click here for my Diary March - July 2006

Click here for my Diary January - March 2006
Click here for my Diary October 2005 - December 2005

Click here for my Diary April 2005 - October 2005

Click here for my Diary July 2004 - Apr 2005

Click here for my Diary Jan - June 2004

Click here for my Diary June - December 2003

Click here for Richard's Diary Jan-May 2003
Click here for Richard's Diary 2002!


Sign up to get my top tips, games & hints via email!



Copyright (C) 1999/2021 by Richard Graham www.GenkiEnglish.com

@