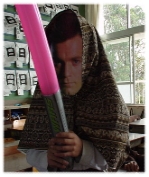 The new 3D version of Star Wars is out this weekend ( Jar Jar Binks is as annoying as ever but the 3D is great!) so it's time for the game that my kids voted the best we ever did  …. Star Wars Lightsabre Battle Game!
It's a really cool game for learning Left & Right etc. and the kids love it, especially as the movie is now all over the cinemas.  Well worth trying!
Plus if you happen to be in the Northern Hemisphere and are suffering with snow you might want to check out the Let's build a snowman lesson (Gumby has just written up some great feedback in the VIP Forum)
May the Force be with you!