So much was going on today I've split the blog into 3 posts!
———————————————
Japan should be very worried.
Last time I went round our Indian schools the kids were hesitant, speaking in whispers if at all and the teachers were just doing rote learning. You asked a kid a question and you got no reply. The teachers, never mind the kids, didn't know much English at all.
Today was completely different. They were amazing.
My main aim was:
1) Observe how the teachers were teaching.
2) Test the kids to see what they know.
3) Show a computer lesson.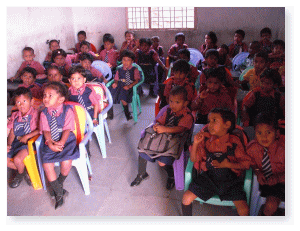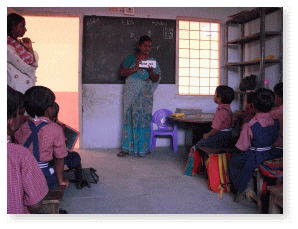 Some of the youngest kids, and a teacher reviewing phonics. I'll try and get some Genki pics for tomorrow!
The schools have 4 hours (2 x 2 hours) of Genki English each week plus 8 (4 x 2 hours) of phonics. And the teachers really are doing it. We feared they'd just learn by memorisation, but when the kids were asked questions they replied, and often in big loud voices. When we gave them phonics exercises that they hadn't done, or tested them with nonsense words, they flew through them at native speaker pace. We were very impressed and if I hadn't seen the teachers and kids before I would have thought that India didn't need Genki English.
It wasn't so much a learning curve they'd gone through but a vertical line!
The training we did in May has obviously helped, but more than that they've had experienced trainers going round the schools helping the other teachers and they've gone from strength to strength! Confidence & training makes such a difference.  Amazing.