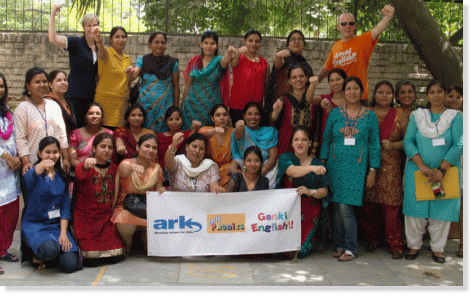 This week we had four days of training split between Genki English and Jolly Phonics. The teachers were all hand picked from private schools in low income areas and they were amazing! Right from the start I did a mini warm up and even the school owners and head teachers were joining in!
I guess having a programme like ASPIRE behind you makes a huge difference. They needed zero motivation talk and got the Genki English rules ("I can do it!" and "Try again!") instantly.
Then I ran through a few themes and they were great.
The needs assessment pulled up the usual classroom problems, hopefully all of which we can solve!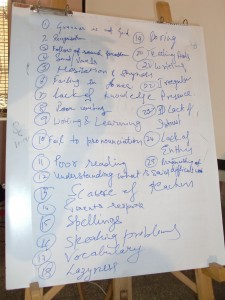 The real test comes though when we put them in groups, get them to read the lesson plans and see if they can do it themselves. In most countries teachers never read the lesson plan, they sit there staring at the page and go "Ugh?" when asked to do the lesson.
Here was the total opposite, they read the first lesson plan and every one of them could actually do the lesson. I've never seen that before!
So it was pretty much plain sailing from then on with them getting into groups and doing really well with the lessons.
As usual for teachers who do solely rote learning then we did have a few problems to fix:
1) They didn't teach the new language, they just said it a few times expecting the kids to magically memorise it.
2) They didn't get the L+1 idea and instead were jabbering away in high level English the kids could never understand.
3) They weren't giving the kids enough thinking time in the beginning to recall the English.
But most of these we could cure by getting them to teach us Hindi (where they also figured out how easy the songs make teaching grammar) and by me jabbering away in Japanese or French to teach one new word!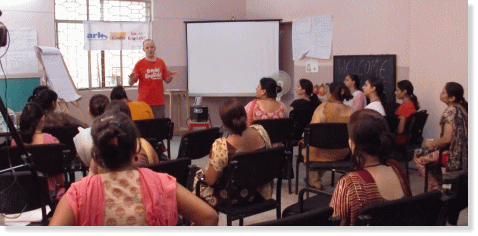 I also did lots of "bad lessons" to get them to criticise me and they again did brilliantly, picking up me up on just about everything.
Overall they were great, some of the best teachers I've ever taught. And then I got invited back to teach the government school teachers next week – let's see how they do!
P.S. It was also quite fun going back to the old school way of doing GE with flashcards and a clothes line! Proper videos coming soon!
P.P.S.  It's the last day to enter the comment competition this month!