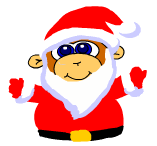 You might have noticed that I added the Baby Monkey Winter Clothes song into the 12 Genki Lessons of Christmas – it seemed a natural addition!
Anyway, once you've gone through the regular "opera" version you can use the karaoke version to change the words to be ….
"Baby Santa put on your …."
Then you can play any of the Winter Clothes Games again! (You might want to change "scarf" for "beard.")
e.g. play a game with Santa outfits, you say "Baby Santa put on your …" and the kids have to race to put that item of clothing on.

Or play the Freezing Baby Santa Game:
1. Draw freezing Baby Santas on the board. One for each team.
2. Mime putting on a piece of clothing.
3. The quickest team to guess what it is rolls the dice.
4. On their team's Santa they draw on the item of clothing that corresponds to the number on the dice.
e.g. 1=hat 2=beard 3=coat 4=boots 5=sweater 6=take one item off!
5. The first team to a fully clothed baby santa is the winner!
Enjoy!
Richard