As we were late it was straight into a 1.5 hour intro workshop. The teachers were happy and smily and the building, built by Pepy, was perfect. We even had power from the solar cells on the roof, again another prize from Pepy.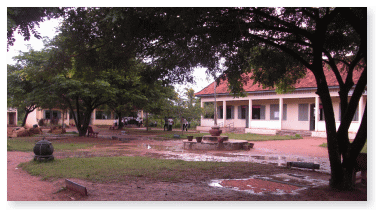 The big challenge though was with the teachers' attitude.
The first thing you have to do when going into a developing area is to do a needs assessment. You find out what the teachers' needs are and help them find solutions. This is where many, many NGOs fail. They simple bound in there with their "This is the right way to do things" attitude, do everything in English and bound back out. It's easy to see why many people get jaded by this and I could easily see it today! It was really my own fault as this time I hadn't done a proper needs assessment before arriving, but every single thing I said or asked them to do was met with a "But … in Cambodia we can't do that". The trick as a trainer is to sort out the cultural things that you must respect e.g. not bowing or mentioning certain animals etc. from the general "can't do" attitude which is the main thing that all humans need to change.
The biggest thing the teachers said was that none of this would work in junior high school. Fair enough. My assurances that we would do junior high stuff in the afternoon met deaf ears. But as luck would have it there were two junior high school classes with no teachers. So I popped across during lunch break and did some Genki English stuff with them. They loved it! So now we know for that particular problem it's the teachers, not the kids!
Problems to be solved
So in the afternoon after a couple of warm ups and identifying my translator (there's no point doing any of this without translations) I got on with a game to figure out what it is they really need. It's very simple, you just …
1. Split the class into groups.
2. One person from each group writes one teaching problem they have on the board.
3. The next person from each group comes to the front and writes one other problem.
4. The team with the most answers on the board at the end of the time limit is the winner.
Everyone always starts off very shyly with this game, but the competition combined with loud background music soon relaxes them into writing down the true problems they have!
Here's what we came up with, the English translations were just for my benefit: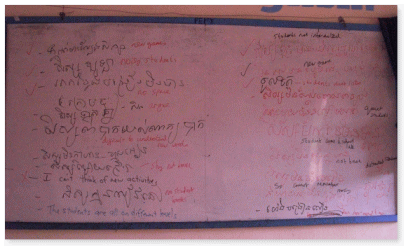 – want new games
– noisy students
– no space to play games
– kids argue
– difficult for the kids to understand new words
– kids are shy, not brave
– don't have books for students
– students not interested in class
– students don't listen to the teacher
– students are quiet
– students come to school late
– students can't remember the English
– don't have enough time
Now the thing you notice here is that although the kids may bike 12km to school everyday, that they have no mains electricity and pump their own water, that the village is so poor that many teachers have to have several jobs or many other factors that many in the west may "feel sorry" for, all the problems that the teachers face here are exactly the same problems that you or I faced when we first started teaching. That was great for me as these are just the things I work on in my workshops, but it just goes to show that the material things we complain about in the west such as lack of budgets or space etc. etc. aren't the real problems at all because compared with these guys we teach in palaces of gold!
Anyway, we spent most of the day working through the list using the Genki English games, songs and techniques and the teachers loved it! Rather than just songs & games, it was mainly general classroom management, class control, general professional development issues. I even sent them across the playground to the 8th grade classes to try out their new skills and they all went in their with a positive attitude and everything worked just as it should!
We rounded off the day with them writing up the activities to put in a Khmer language resource book.
Most of the teachers also live in a house next to the school, so we all went out for dinner before an early, by my standards, night. Mainly because we didn't have much solar power left, but also because lights at night attract bugs!