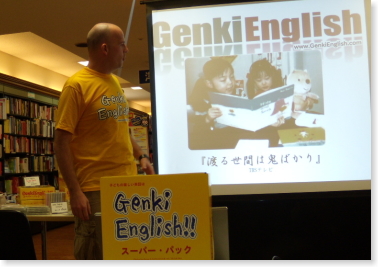 On Sunday I had another CD signing as part of my Japan Bookstore Tour to celebrate the launch of CD9.
Fukuoka's always a good crowd with lots of people I know. In the beginning they were a little "errmmm, we're not sure" but after the hour everyone was "genki ga demashita" – saying how it got them genki again!
Content wise was mainly CD9 as well as talking about development, India, Cambodia & China. The Slumdog Millionaire story is pretty cool isn't it!
It was also good in the intro to play some of the member's exclusive tracks such as Baby Monkey it's Summer, Times Tables Songs, CD10 songs, Try again song, Genki Rules of Life and Genki Relax.
I also did a piece for tonight's "Mentai Wide" TV show. We recorded a ton of stuff so I've no idea how it's going to turn out edited up, but if you're watching TV this evening, check it out!
P.S. the winner of June's caption competition, chosen at random, was Val! Keep commenting to see if you win this month, and Val, which CD would you like?