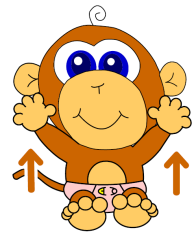 David just wrote in with a very good suggestion to stop his kids confusing the "stand up" and "hands up" cards in the Disco Warm Up.
He just added some arrows!
A very nice tweak.
You can find the new updated A4 cards and mini cards on the Disco Warm Up page.
P.S.  Ninja Tip:  In a regular classroom when kids put their "hands up" they just put up one hand.  But … when I'm teaching the phrase in the beginning I always get the kids to put both hands up.   The cops & robbers feel really makes their day! 🙂