UPDATE: All the Evaluation Sheets are here!
A big request from many teachers is to have a Genki English workbook to print out and give to students.
Usually the recommendation is to pick out the worksheets you like best for each theme and make a book like Flossy has done here:
(Click the title above if you are on email and can't see the video)
But just now I was working on the Evaluation Worksheets & Imagination Worksheets for CD 12 and thought…. why not combine them!
And I think they might have ended up as a Genki English workbook!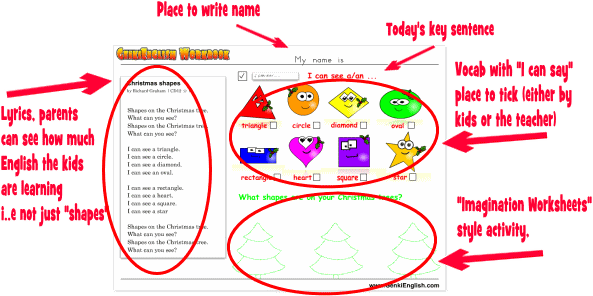 At the moment they are in beta (test) form and we're still discussing them over in the forum.
So if you'd like them, would like to see more for other lessons or have any other feedback, please write it up on the forum.
(The latest CD12 versions are at the end of this page)
If we get enough peopleΒ commentingΒ on the forum I'll see about finishing them up for the other themes too!
How does that sound?
Be genki,
Richard
P.S. Β CD version of vol. 12 comes out later today. Β I'll also have the student CD discount ready for you then. Do you think they'll go well with the new workbooks?