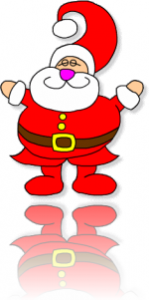 This is a great mash up between the "Exploding Fat Man" game from Mido's Book of Games and the "Do you like..?" running karuta game.
You can of course do it with any theme, but seeing as it's Christmas, let's do the the "Decorate the Christmas Tree" song.
So first of all run through the song with the gestures and then …
Preparation: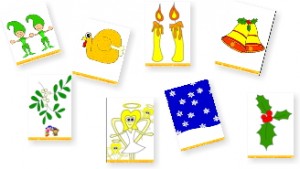 1. Put up flashcards from today's theme on the board.
2. On each side of the board draw two thin Santas, viewed from the side.
3. Next to each Santa draw 5 hamburgers.
The Game:
1. Put the kids in two groups.
2. One person from each group goes to the back and becomes the "runner."
3. Go up to one student and say "Hello,  let's decorate the Christmas tree!"
4. That student then has to say "How about some .." plus one of the words on the board.
5. You say "No, thank you!"
6. Repeat from step 3.
7. But …. every so often you say "Yes, please!"
8. When you say this the runners from the back rush to the front to get the word that the student just asked you.
9. The quickest team to get the card feeds one of the hamburgers to the other team's Santa! i.e. they rub out one hamburger, and redraw Santa's waistline a bit fatter!
10. When all the hamburgers are gone they redraw the Santa exploding!!
Needless to say it's tons of fun, lots of English and a healthy eating message all in one!
What do you think? Comments on the blog please!
P.S. Just in case you've already done the Christmas Shapes lesson, here are some plural flashcards that you can add to this game e.g. the kids can say "How about some holly, snow etc." but they could also ask "How about some diamonds, stars etc.?"