The number one top idea for a first Junior High School lesson is without doubt the "What's your name?" lesson.
As I wrote in the "6th graders" article, even the hardest nosed too-cool-for-school 6th graders turn back into little angels in the first year of Junior High.
And after a week full of entrance ceremonies and often very boring lessons they appreciate having the chance to move around the class and get a bit of the "good old days" of elementary school back.
The song gets all the important points like eye contact etc. and lets the Japanese teacher see how much the kids can do. ( It also helps that "What's your name?" is the first topic in many textbooks!)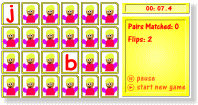 Then it's usually on to the alphabet. I really, really recommend getting the kids into the computer room and playing with the Genki English phonics games for this. The kids play around for a few minutes, then they race to see who can finish first.
You might have a tough job persuading a stuck in the mud old teacher to go for this, but the computer teacher will usually be very happy as they have to spend the first few lessons teaching about the internet, using a mouse, links etc. anyway and the chance to use some real content from other classes is always appreciated.
And the best thing then is that the good teachers will be saying to you "Oh, that phonics thing looks good!"   in which case you can then hopefully start using the Phonics Posters to get the kids reading ASAP.
From then on, get your hands on the upcoming lessons and figure which Genki English activities go best with each one.
You can read a bit more about that here!