And to the final post in this series, what to do in a first lesson when you don't speak your students' language.
I know whenever I do a class in a new country for the first time it can be terrifying.
You walk in there, nobody speaks any languages you understand ( because if they did they wouldn't need you!) and you just have to get on with it, usually to a wall of blank expressions.
I always start out with the Warm Up game, as usual.
But instead of asking or telling them the meaning, I'd simply say the commands to myself and obey them myself! 🙂
e.g. get a chair, say "sit down" to yourself, pretend you are thinking for a few moments, then do a mime of "Ah, I think I know what that means!", sit down, then smile that you got it right.
Repeat with stand up.
After a while the kids will usually get the meaning, although just be careful that in some cases they may think it means something else ( e.g. "sit down" = "chair" or something,).
Ninja Tip:  This is why in an ideal world you would always learn your students' language, so you can ask them "What do you think this means?" and they can tell you in their mother tongue.   In a proper course it's important to build up this solid foundation, otherwise you are building on shaky ground!
If the kids aren't reacting that much,  try stand standing there looking bored.   Eventually one of the kids will tell you to sit down!
They then have lots of fun giving you instructions.
Or you can use an egg timer to say have 1 minute you giving them instructions ( introduce a new one each time it's your go) and then they give instructions to you.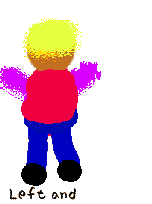 The next step…
I always try and introduce at least one song, even in a lesson like this, ( the whole "power of music" thing to give them something they can remember all day), for China, Japan or Korea I'd really recommend "Rock, Paper, Scissors".
The kids get the meaning straight away and go mad for it!
Plus you don't need to know any of their language to explain it.
You'll notice that there's a long pause between each verse, this is to allow the kids to calm down after they look around seeing who they've beaten and who they lost to.
For other countries I'd recommend Left & Right as it's very simple and kids everywhere enjoy it.
Ninja Tip:  Watch out that you must face away from the kids, so they don't mix up your left and right with their left and right. ( i.e. if you are facing them and you move right, it's their left!).
The song usually thaws any ice that's left and gets everyone happy and smiley.
In subsequent lessons just work your way through the curriculum,  learning the local language for each of the themes as you go along.
Ninja Tip:  Because the Genki English curriculum is written with language the kids want to ask, it's also a really great base for your own language learning!
And, as you've probably realised, my main advice would be, obviously, to learn some of the students' language.
Just a couple of words to start things off really breaks the ice and the tension.
Plus if you can listen to what the students are saying it makes planning the lesson a whole lot easier.
The rule is to use the kids' language:
As little as possible, but as much as necessary.
In the beginning they need lots of help for both meaning and, most importantly, motivation. But as you teach something, you only ever use it, and accept it, in English. Eventually you'll get to the 100% English classroom, but not in the beginning.
Just imagine if you had to teach Chinese to your friends back home, would you need any English?
Luckily there's lots of material on the net to help you, especially on YouTube, and you might want to have a look at my materials for Korean, Japanese and German.
And of course there's the whole trust issue of "Why should I trust a foreign language teacher who hasn't taught themselves our foreign language?". Would you go to a guitar teacher who couldn't play the guitar?
🙂