Donna just sent in this great to teach the past tense of to be, to have in the negative etc. using the "The One Card Game" cards.
Enjoy!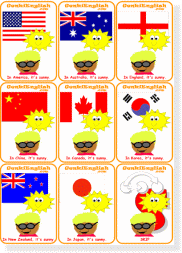 This is a bit of extra practice with the verb TO BE and some other verbs.
The cards are printed in the present tense so Β I used the weather/country cards and instead of just reading the text, they have to say simple past of TO BE Β e.g.
"In Korea, it WAS cloudy." or
"In New Zealand it WAS sunny."
Next time we did the negative,
"In England, it WASN'T snowy."
We even used the future:
"In Japan it WILL BE cloudy tomorrow."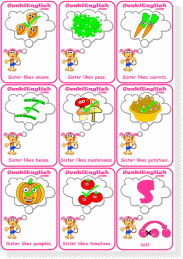 I also used the monkey family food cardsΒ and changed the text using DO. (doesn't-don't)
e.g. Instead of "Brother LIKES carrots."
say "Brother DOESN'T LIKE carrots."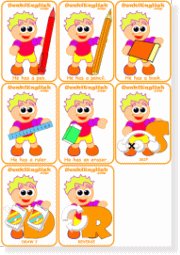 I used TO HAVE in the negative (doesn't have -don't have) with the Β school cards.
This is tricky.
Instead of "I HAVE a ruler." say "I DON'T HAVE a ruler."
"She DOESN'T have a pen."
This would be the American way of saying it.
But here, in Vienna, they teach "have got" so it would be
"I HAVEN'T GOT a ruler."
"She HASN'T GOT a pencil."
I played this with about 8-10 kids (2 groups) and I listen in to make sure no one cheats (reads the card text).
Has anyone tried any other games like this?