Next week I'm doing another very low income project for schools in South India, and we can't use  The Baby Monkey Family over there.
So after their rousing success in the Do you have any brothers or sisters? song, the Baby Rabbit Family are back and bigger than before!
But …. it would really help reduce my stress levels if you could check the software (typing/spelling mistakes, broken buttons etc,) to make sure there are no mistakes and let me know in the comments.
The song and lesson plan (e.g. sticky fingers game!) are just the same, as they are all tested and work really well, but I've just changed the characters – this time we have  a Grandpa! – and also added, hopefully, lots of easy to use bits to the software.
Do you find them useful?
To download the software,
1. Right click on this link "Baby Rabbit Family" and select "save as"
2. You can then drag the file to your browser to see the software!
If you'd like me to find a way to add this to the regular download pack (maybe an option from CD 2's Baby Monkey Family?) let me know in the comments and I'll see what I can do!
UPDATE: See below!
(If you're not a VIP member yet, you can get your Download Pack now and help too.)
There are also A4 picture cards: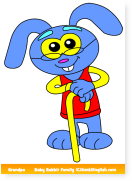 As always, thank you so much for your help and I really look forward to hearing your feedback!
Enjoy!
Be genki,
Richard
P.S.  Yes I am still working on a whole new family theme, but hopefully this will fill the gaps for now!
UPDATE: Here's how to add the Rabbit Family to the regular Download Pack!
1. Back  up your download pack – because you know something will go wrong somewhere!
2. Right click, select "save as" and save the following file to your download pack:
https://genkienglish.net/clipart/RABBIT.SWF
3. Do the same with this new Vol. 2 menu file.  This time say "OK" when it asks if you can overwrite the file:
https://genkienglish.net/clipart/CD2MENU.SWF
You'll now have a very funky new vol. 2 menu that should look like this! 🙂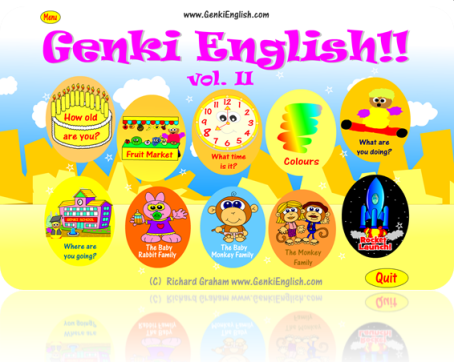 Please do tell your friends if you like getting free updates like this! 🙂
(And I will have an update offer for the CD versions once I get back from India)