UPDATE: Added new pictures for "sh", "ch" and "ng" stories!
(click here if you are on email and can't see the video!)
Thanks for all your fantastic help last week!
In December I'm heading back to Africa to teach 1,600 kids how to read.
Last time, in January, we had fantastic feedback ( "At the beginning of the course they couldn't read a single sentence, but now they can read a book" and this was in six weeks) but we went to do better!
So for the past several months we've been working on…
Genki Phonics 2.0: Insane reading!
Based on all the feedback, we've tweaked the teaching order.
Most importantly in order to make the jump to real books even easier,
instead of just example words we thought it would be cool to have the kids reading real sentences.
Right from the start.
And then even better, why not make those sentences into real, fun, funky stories?
That the kids can understand.
And *only* using the phonemes studied so far.
This is what makes it magic and is totally unlike any other phonics material out there.
After only 35 minutes the kids are totally "reading to learn" instead of merely "learning to read."
It is amazing.  And lots of fun. 🙂
We need you!
There are still a few images to go in yet, but all the text so far should be there up to the "ee" story.
But ….. as with anything new, mistakes always slip through, so I would love it if you could help me proofread what we have so far before we send it off to the printers for the kids.
Things to check are:
1) Spelling/Grammar/Punctuation mistakes/typos

2) If we've accidentally included a phoneme in a story that we haven't taught yet!
As a thank you for your work you not only get to help the kids in Africa, but you also get to keep your copy of the course, which will become a paid for download once it is completed.
If you find any mistakes, or indeed if you don't and have any words of praise for the hard work we've done so far, please write them in the comments – it has been exhausting and I'm sure you now know why I'm so far behind on emails.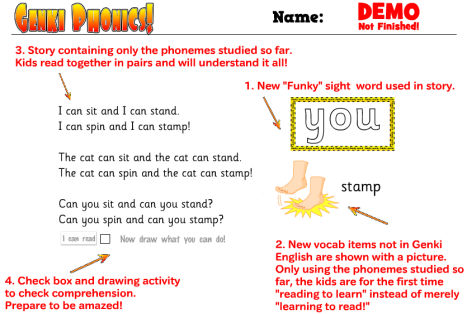 You can also check out the development thread in the VIP forum.
A huge "Thank you" to Margit for working on these stories for so long, Gumby for giving us so much feedback and to Alyssa for such great pictures!
Be genki,
Richard
P.S.  I wouldn't recommend teaching Genki Phonics 2.0 unless you've taught the regular Genki Phonics (either the "5 Minute Phonics" or the full course) at least once, otherwise you'll end up terribly confused!
P.S.  The day before I fly out, Nov 18th,  I'm going to be doing a live presentation on Genki English & Genki Phonics 2.0 at the ETJ Conference in Osaka.  Hope to see you there!
P.P.S.  Well done America!  You did have us worried for a little while there! 🙂