I think you might like this! 🙂
I've just updated the "What do you do?" software.
And for VIP Members, for a very limited time,  in exchange for helping me double check everything (e.g. playing through the songs, games etc. to spot any mistakes!) you get the update for free!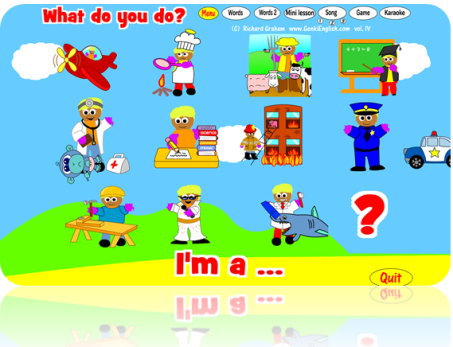 What's changed:
– New graphics (What do you think?)
– Improved sound
– Extra voices
To install:
1. Safely back up your Download Pack / USB ( because you know *something* will go wrong somewhere!)
2. Right click and select "save as" on this link https://genkienglish.net/clipart/WHATDO.SWF
3. Copy the file into your Download Pack / USB folder (overwriting the previous version)
Please write up in the comments if you find any mistakes, or if you don't, to let me know it's all OK!
And what do you think of the new graphics?
It's always * really * stressful for me releasing new software so please let me know how you get on with it!
Be genki,
Richard
P.S. Any other themes you want remixing like this?
P.P.S. Those of you on the homework programme, just wait a day or two till we get the OK on here and then ask your students to bring their USBs to class so you can give them the free update.  Parents *always* love getting extras!