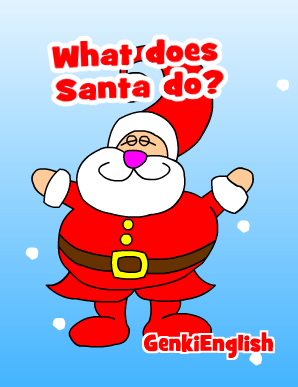 I was hoping to make this a surprise, but… I'm a bit stuck so I thought I'd ask for your help!
What does Santa do?
The music's done, Alyssa is working on the pictures, but I can't figure out the verses.
It's to practice the "He …..s" (third person "s" – a big request) and here's what I have:
He lands on the roof.
He climbs down the chimney.
He fills all the stockings.
Oh what will he bring me?
(But is the last line too complex grammar wise??)
Then ..
He eats all the cookies.
He drinks all the wine.
He feeds all his reindeer.
And he flies through the sky!
In this one, I'm sure many of you wouldn't want the "wine" line in there, so is there something else that we can change it to?
Or as Santa seems to drink milk in America, is there a rhyme for "milk" that we could use for the last line?
Or any other random ideas for what Santa does, please do put them up in the comments and hopefully we can get the song to you before the big day!
Be genki,
Richard
P.S.  If you could also vote for me in this Newspaper Christmas song competition I would be so happy!