Christmas (and Halloween) parties are also a fantastic opportunity to get some press coverage for your school and let more people see the amazing work you are doing.
It was great to see all the Halloween party pictures you've been sharing over on my Facebook page – some of them look well scary!
And of course you can do the same for your Christmas parties too.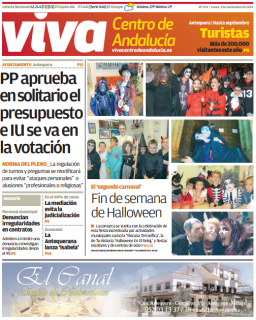 Steve sent in this great clip of his school featured in colour on the front page of his local newspaper.
I asked him if he'd care to share with you how he managed to do this and his reply was:
That's more than fine; I take a 'nobody has a monopoly on good ideas' approach to life; share and share alike.
So how do you do it?
Now I know there are going to be two sorts of school owners who read this.
One who says "Cool, I'm going to try that!"
And the other who says "Ah but …….  "
Which one are you? 🙂
Hi Richard,

There's really nothing special that we do (to get press coverage), but we stay in constant touch with the editor/owner on a regular basis and advertise in the paper as well as their radio station, monthly glossy magazine and the local TV station.

As this is such a small town (50,000) they are always on the lookout for content.

We also did an interview on the local TV station  which was fantastic exposure and we saw immediate response from it with people coming in to enrol the Monday after the Saturday night televise.

My background is marketing/advertising so I'm constantly looking for ways to promote the academy.

Easter is still a very sombre event here in Antequera and I'll be attempting to get the Mayor to sign off on the 'Antequera English Academy 1st Annual Easter Egg Hunt', fun for the kiddies and  promotion for us.

We don't actually have our website up and running yet as we've been so very busy with classes and as September and October are our crazy months for enrolment I have that first on my list to get done if it slows down a bit, which it hasn't now into November, a good thing I guess! Hope that helps.
You can see more photos etc. on Steve's Facebook page.
And remember you don't need a PR background nor to be buying ads to do this,  I got all my press for free just by sending out lots & lots of press releases for every event I did, and the girls in Norilsk did it last year  straight after attending my workshop.
So, when are we going to see your smiling face in the local paper? 🙂