Genki English is a lot like lego.   In each lesson you get a set of blocks (phrases & words) that you can join together (the questions & answers) in new ways.
For example in "How are you?" you learn the block (or "chunk") "I'm" + a whole host of emotion words.
Then in the Pronouns lesson you get  "I am", "you are", "she is" etc.  (plus now "I was", "you were", "she was" etc.)
And the cool thing is you can combine the "How are you?" blocks with the Pronouns blocks to come up with over 128 brand new sentences!
In just 2 class lessons!  ( + maybe a touch of homework)
If you add  the "not" lesson,  you then instantly double the amount of sentences the kids can make to over 256 combinations!
Needless to say the parents find this very, very impressive!
And it's not just the easy phrases, you can do this with any English to form lots of really impressive language really easily.   ( It's one of the secrets as to why Genki English works so well)
Because running around gets the kids' blood pumping and wakes up the kids brains, one of my favourite games for doing this is the pink fish game.
Or if you are wanting something a little more sedate…..
Or if you are wanting something a little more sedate  (for maybe after a big lunch or school marathon!) then the One Card Games are a big favourite too!
In Zurich airport I made up a Christmas version of this "Uno Style" Card Game – "The One" – to practice prepositions (under, on, in etc.) along with Gingerbread house, snowman, Christmas tree and Christmas presents.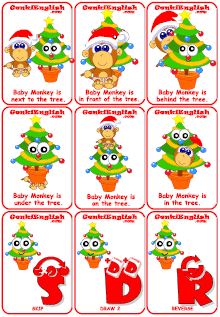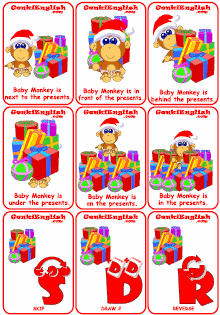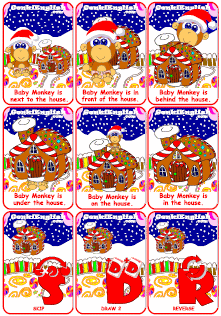 You can find out how to play the game,  plus versions for lots of other lesson combinations for numbers, colors, school subjects, days of the week, prepositions, countries, weather, clothes, shapes, food, rooms of the house and "ing" verbs over on the "The One" Card Game page.   Enjoy!
Be genki,
Richard
P.S.  If you have video of your kids playing this game, please do upload it to Youtube or other social media, it would be awesome to show more teachers just how much fun these games can be!