Julia wrote a comment on the previous post that said…
It's wonderful how you keep ALL the teachers (even in the last rows) singing and doing the gestures ALL the time!
Government school teachers are often worse than teenagers 🙂 and when I have 200 students in a class you have to have *everyone* doing *everything* otherwise it's chaos!  (And many government school teachers think that training is just to sleep through – of course they don't get away with that in my classes!)
The secret "ninja trick" is …
zero tolerance
of the rules.
If you let just one student get away with not doing something, gradually that will spread and soon no one will be listening to what you say.
You have to get everyone in line, right from the start.
Fine in theory, how to in practice
In the main discipline ideas post I give several techniques you can use and in general, the older the students the more techniques you need.
Kids tend to be fine with just one or two techniques, adults and teenagers need more. 🙂
(Ninja Tip:  These techniques work with any classes, especially the hardest, toughest kids.  The only time it doesn't work is when the kids have weapons or actually carry out violence, in that case please don't try and handle it on your own, you need outside help. No one should have to deal with a violent workplace.)
The easiest technique to implement, for kids to adults,  is in the beginning warm up  Just get everyone to stand up and sit down really, really quickly.
Then say "sit down" whilst raising your hands to a) let them know that mistakes are OK and b) That you want them to do the commands really quickly.
Cue lots of smiles and laughter!
If anyone thinks they can get away with not doing it, use the proximity effect.
If they have serious back/leg problems or are pregnant, no worries, but other than that, laziness is not an excuse to not join in! 🙂
If you're moving on to games and activities later it's vitally important to get the students organised quickly otherwise it just descends into chaos.
Level 2: Clapping and clapping & self policing

If there are still stragglers at the back, or gossipers when you are talking, the next step is to say "clap" and raise your hand to control the volume, again have a look at the main training video to see how to do this – it's much easier to see it in action!
Then walk round the class, still with your hand raised and the kids clapping, and get the students next to the ones who are talking to tap them on their shoulder.
You can't do everything yourself, so you have to get the students used to disciplining each other.
I'm quite happy to just keep them clapping and clapping until every student has stopped talking and is joining in.  Patience is the key.  The kids will lose it before you and start policing themselves!  Then you begin to build up speed so they eventually get quiet in just a few seconds.
(Ninja Tip:  Just being silent and waiting for everyone to be quiet doesn't work in large groups.  Eventually you'll reach a tipping point where the kids think you've just given up and all start talking!  Clapping works so much better as everyone knows they are supposed to be doing something.)
Next up ….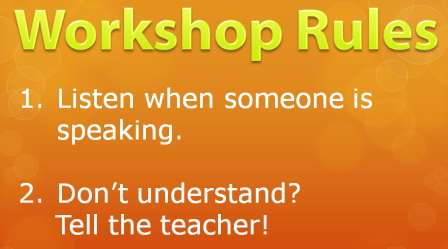 Then I go through my rules for the workshop.  It doesn't matter what they are used to, now it's *your* class so they play by *your* rules.
Incredibly, when I'm teaching teachers the rules I have to use are:
1. Listen when someone else is speaking.

2. Ask when you don't understand.
I go round making sure everyone is on board with the rules, especially the ones at the back.
If they do speak up and disagree with some of the rules, as often happens with cheeky teenagers, just ask them what they want the rules to be.  They  usually come up with even better rules!
Ninja Tip: Remember kids don't do what we say, they copy what we do.  The next time you are in a training session, or listening to someone else speak, think what model you are creating for the kids!  I can't believe these are the rules I have to use with government school teachers, but they often get it wrong and think it's "Do what we say, not what we do"   That's not how the kids see it! 🙂
Shut it down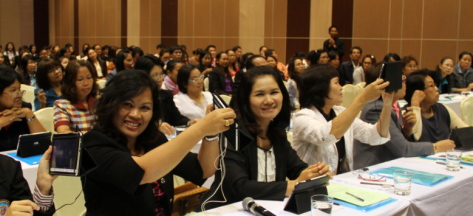 If all else fails, never be afraid to just shut down an activity and stop the class.
I've had demo classes where the kids just didn't listen to any of the rules of the game, and I just shut it down, got everyone back sat down and said to them "Was that really good enough?  Was that up to your standard?"
Invariably they will say "No." and look down.
So you say "So what can we do to make it your level?"   Then they, not you, start saying "play fair" /"speak louder"/ "stop bullying" etc. or whatever they know they were doing wrong. And you can start again.
Or sometimes it brings up problems you didn't know about.
They might not understand part of the English or one of the rules.
Or something else, for example last week the teachers weren't doing the games on the tablets, they were just gossiping and not doing the work.
So I shut it down, got them quiet and sat for a minute.
Then I said "OK, what's the problem?"
After a few minutes of silence, and patience from the teacher, one participant put up their hand and said, in Thai, "We can't hear the sounds."
Now, that was the problem.
They didn't realise that earphones have to go in your ears to hear the sounds. (Not everything is so obvious to everyone.)
So I added that into the instructions, and we started again.
This time they were working away like angels, and having a fantastic time playing the computer games.
If I hadn't have shut things down I would have never figured out what the problem was.
Smile & Isn't this far too draconian?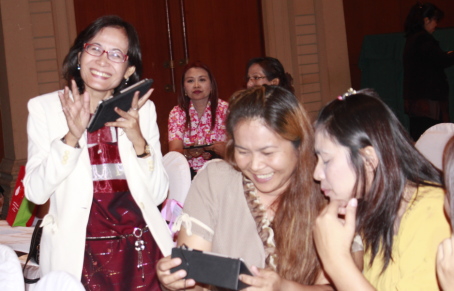 Now you might say "oh, this isn't very student centered, it's far too old fashioned"
Fair enough.
But in my experience the more everyone respects each other and respects the rules, the easier it is to do much more fun, student centered activities later on.
And of course you have to keep a smile on your face the whole time. 🙂
The most fun classes out there are *always* the strictest.   Everyone knows where they stand, they can have lots of fun learning, but everyone knows that if they step outside the line, that's not on.
Stress saving
Wherever you are teaching, set the rules, make them fair and enforce them rigorously.  The more cool, calm & stricter you are I promise it will completely revolutionize your lessons.
And remember, zero tolerance! 🙂
We all need to know the limits of what we can do, and where the lines are.  They might need moving and changing later, but if everyone is playing by the same rule book, and the teacher is calmly enforcing them equally for everyone, we all get much, much more done.
And it also saves you so much stress next class.
You wouldn't want ME as your boss.

Just last week I was having dinner with a fantastic group of teachers from the UK, they were saying "I wish you were our director of studies."
My reply was "Oh no, you'd hate working for me, I would be *FAR* too strict on you!  You'd have a fantastic time, but if you stepped out of line or didn't work smart enough…"
And, keeping in mind these were really great teachers, their reply really surprised me.
They said:
"Well, actually I think that's what we need."
Be genki,
Richard