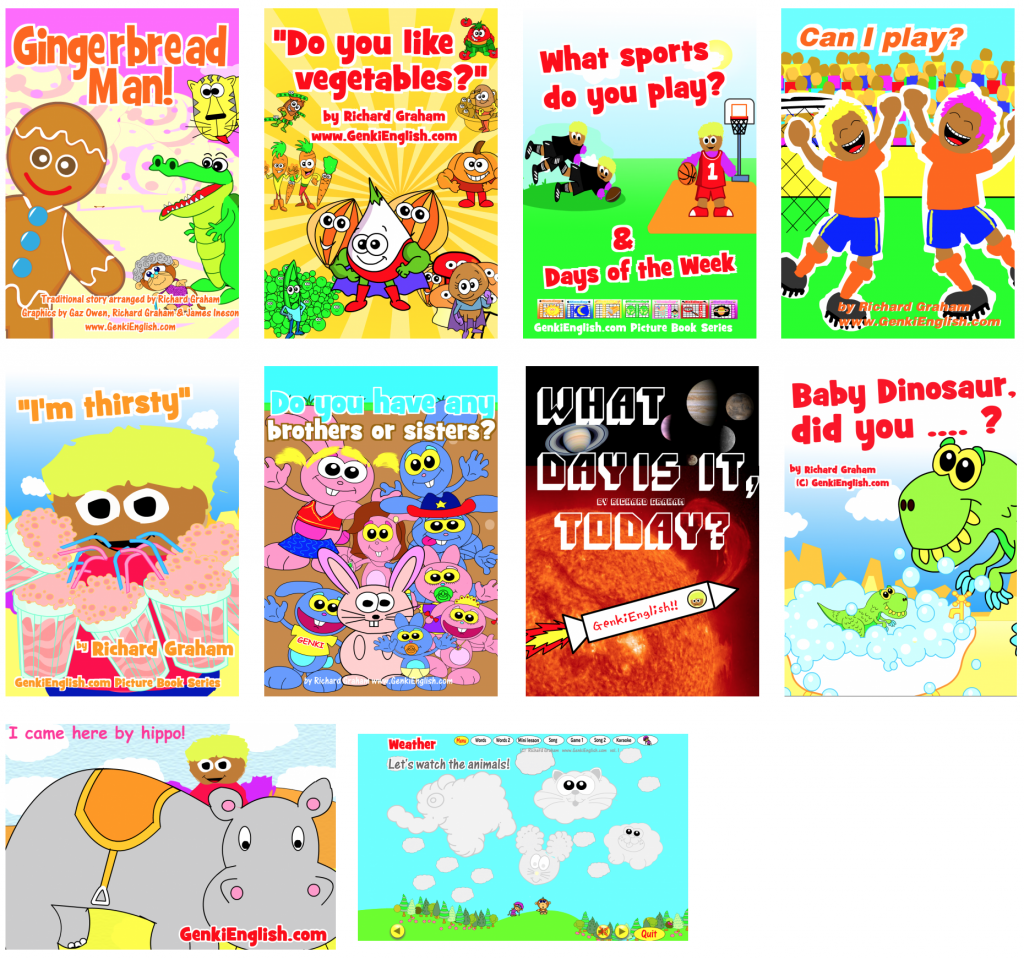 The right Picture Books can be a fantastic way to learn a language and can be a huge confidence boost.

And with Genki English I've written over a dozen of them to help you out.
Where to find them?
You can find them on the right side of the software menu for the themes that have them e.g.


They look like little pictures, i.e. "picture book" 🙂 
Ninja Tip:  If you don't have your Genki English software yet, it's in the Teacher's Set.

How to use the picture books?
I never used to have time to use them in the regular 45 minute lesson plan. 
But they really come into their own when you have a 90 minute lesson, a review lesson or the luxury of 2 lessons per theme. 
In that case you would do the regular lesson plan in the first lesson,  then in second lesson you would:
Review the song again,  
Do another class game for practice (from the lesson plan)
Finish with the picture book – and lots of high fives as your students just understood a whole book in English!
That way the kids get to see that they can understand a whole English book – after just 1 or 2 lessons! 
This is HUGE! 🙂 
What NOT to do.
Technically you just read the book to the students or use the recordings from the Teacher's Set software.
But remember the kids are NOT reading yet.  It's a picture book, not a reading book.  They listen, look and hopefully laugh 🙂
DON'T have them pretend to "read" by looking at the letters, those are just there to help you, the teacher.     
Just think of all those high school kids who now hate English because their teachers got them to read textbooks too early!  
Keep it fun. Smile, listen and enjoy 🙂 
This one is crazy!   
All the picture books are easy to teach with very cool endings,  the only one that might need a little explanation is the Animal Voices picture book, which just happens to be one of the best – here's how you teach it! 🙂 
Build a library!  If you want to print them out…
All the books are in the Teacher's Set software and of course in the students Homework Program software too.
However if you want to go one step further, on Facebook Mark wrote:
I like to print them out and give copies to my students. Then they can take them home and look at them later.
So to help you with this, here are the pdfs of all the books so far!  Enjoy!