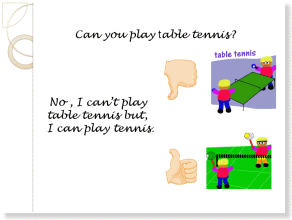 After the success (and great comments) of the last pdf book for combining phrases , Justice in Beijing has sent in another book.
This time the focus is on "can" and gives great examples on how to build up to sentences like

Of course I can speak Chinese.
My father and mother can speak Chinese too, but my teacher can't speak Chinese.
Or
Yes, I can play the piano , I can also play the violin. Henry can play the piano too, but he can't play the violin.
Anyway, have a look at see for youself!
What other examples can you think of?
P.S. Something BIG coming for you very soon!