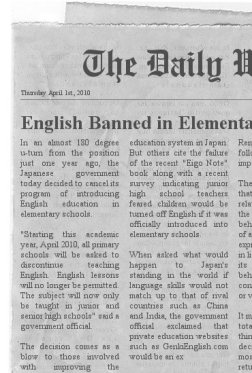 Although school starts next week, the new academic year begins in Japan today. The press were full of this story this morning!
"In an almost 180 degree u-turn from the position just one year ago, the Japanese government today decided to cancel its program of introducing English education in elementary schools.
"Starting this academic year, April 2010, all primary schools will be asked to discontinue teaching English. English lessons will no longer be permitted. The subject will now only be taught in junior and senior high schools" said a government official.
The decision comes as a blow to those involved with improving the education system in Japan. But others cite the failure of the recent "Eigo Note" book along with a recent survey indicating junior high school teachers feared children would be turned off English if it was officially introduced into elementary schools.
When asked what would happen to Japan's standing in the world if language skills would not match up to that of rival countries such as China and India, the government official exclaimed that private education websites such as GenkiEnglish.com would be an excellent way to continue their English studies"
Related Articles:
Get fluent in English, Japanese or any language
Japan to Make English Official Language
Celebrities Sing Genki English