Surprisingly the most popular page by far this month on Genki English is the Junior High & High School games page.
I guess quite a few teachers are starting over there.
Gumby has actually done a brilliant spreadsheet linking her Junior High School textbook lessons with Genki English lessons.   With the curriculum these days we've pretty much got a lot of it covered.
And by far my biggest tip is to do the Phonics course in the first few weeks of Junior High instead of the "alphabet" lessons.  It's the single biggest thing you can do for your junior high students' pronunciation and reading.   Of course if you have your own school then you'd take your time with the  Phonics, but if it's a choice between that or textbook alphabet stuff in high school then feel free to rush through as quickly as you can!
High School & Adults too….
And of course Genki English works great in university & high school too,  after all the Harvard Research was on kids transitioning to high school.
The regular curriculum works best for beginners, false beginners (those who have studied but can't actually use what they have studied!) or non-confident speakers.
The key is to start at the beginning (telling them it's a "review") and whizzing through the lessons they find easy, and very soon you'll find their true level where they'll begin to slow down to the regular speed.
Ninja Tip:  Try the trick here if the adults say they want more "serious" stuff! 🙂
Hip Hop Genki English
Or if they are already at a high level then check out the Hip Hop Songs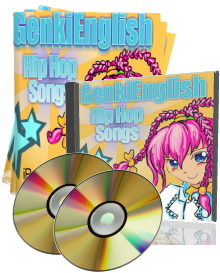 … and my own Success Secrets of Learning a Language – all the tips and tricks I use myself!