Today I had a demo workshop for a company who put teachers into kindergartens in Beijing. It was a bit of an experiment to see how the teachers react to Genki English before hopefully introducing the Teachers' Packs (and maybe even workshops) into the schools.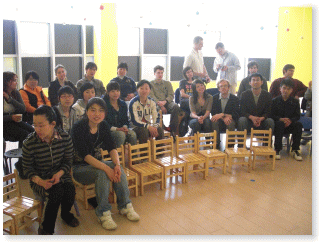 We started off with 21 teachers (as shown here), but ended up with almost double that when everyone arrived. Cool.
What level?
The first thing with doing a demo for a kindergarten to is to find out the expectations they have. You can get some pretty funky extremes from "My kid's been studying for 2 weeks and still isn't fluent!" to "Hmmm, I think that two colours in one lesson is maybe too difficult for our students."  Luckily today they seemed quite cool with high, but achievable, aims.
What we did…
I started off again with the basic Genki Disco Warm Up to show the GE rules. Today was I think the first group I've ever had where everyone agreed that making mistakes is good right from the start. At first I just thought they weren't understanding my question, but even when translated they were all saying "yep, we agree, mistakes help us learn."  Excellent.
Then after a brief self intro, which they didn't seem too interested in(!), I demoed an example structure of a GE class i.e. the song to learn the English, then the game to practice it. Obviously in kindergarten this pattern gets stretched and changed and mangled almost every lesson, but it's still a good basic template to keep in mind.
I did Superhero with the Clap, clap game, which worked very well. I got the CD mastered version of the audio files the other day and it sounded really good.  Then it was How are you? with the How are you? monster game, just to give a feel of what GE is like.
Everyone was really into it, the Chinese teachers were on board and the foreign teachers were cool with everything as well. Afterwards teachers were coming up and saying how they'd love to use Genki English instead of their current textbooks and others were saying they already use the games from the website so would love to use the full package. Nice.
They also invited me to join their staff trip to the Great Wall on Saturday which should be cool.
The best bit was at the end. I was having a chat with the organisers to see what they thought and two guests walked in from a province miles away. They saw my t-shirt and said "We use Genki English!" and came to shake hands, which I guess was the icing on the cake for getting these kindergartens to start using GE!
Great ideas for 4 and 5 year olds
There's also a great thread on the forum at the moment: Need help with 4-5 year olds
It starts off with "I'm at my wits end " and ends with "If every lesson was like today, it will be a blast …. ", thanks to everyone who contributed their great ideas!
Friday

Today I was in meetings again with other school chains.
Saturday – the Great Wall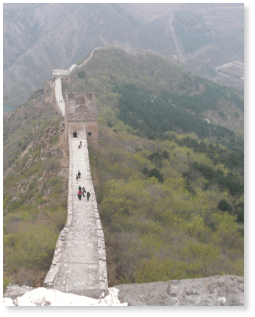 I've only taken 1 day off since I've been in Beijing this time, so it was great to be invited along with 50 of the teachers from Thursday's company for a trip to another section of the Great Wall. That was a lot of fun! It was strange that some teachers who weren't there on Thursday knew who I was from the website videos, I never knew GE was so popular over here!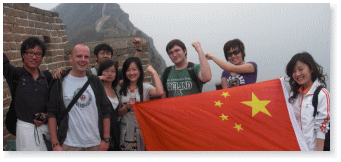 Compared with December the air quality was pretty bad, and it was a serious hike up there. But we made it!
… then we zip lined down!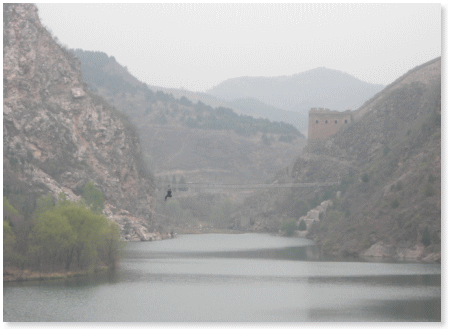 Then dinner and some beers on the Beijing waterfront. What a cool day, thank you very much to everyone for making me so welcome and for being such good sports on Thursday. Good luck with your schools, the kids are very lucky to have you, and email me if there's anything I can help with!