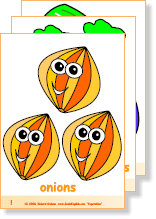 It's the Royal Wedding this Friday, so I've got the perfect lesson of the week for you ….. vegetables!
Ehhhh?  Well, if you have a look at the "I love vegetables" picture book on the lesson page you'll see why!
Two lessons for one theme?
Speaking of the Genki English picture books, they are a great activity if you have more than one lesson per theme.
You just do the normal lesson plan in the first lesson.  Then in the second lesson you…
1. Do the warm up as usual…
2. Review the song & game for ten minutes…
3. Then do the picture book.
The kids love that they can listen to a whole story in English and understand every word.  You can then follow up with something like the imagination worksheets.
Having said that I still prefer to whiz through the themes at one per lesson, but if you have more time it's a great confidence boost for the kids.
ASL
Anyway, back to the lesson of the week and we've also got videos of the song in action from Val's kids in Argentina and also some great gestures.