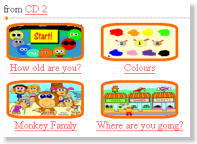 This is a bit of a risk for Genki English, but hopefully, with your help in spreading the word, it's going to help a whole lot of kids; 12 lessons worth of online games, all free to use in class…
There's the full teacher's guide online, but the beauty of these games is…

kids love computers and will love English time even more. ( especially upper grades and junior high)


everyone learns at their own pace ( great for mixed level classes)


their pronunciation is perfect.


students learn to make mistakes, not just losing their fear of mistakes, but actively wanting to learn from them.


in normal class time you can concentrate on learning to use the English, rather than learning the words ( each game fits perfectly with the normal lesson plans)
How to use them?

In private English classes…
Set the kids the game for the next class as homework. They have to play the game at home until they can do it 3 times in a row without making any mistakes. Just one game per lesson is fine ( but of course some will rush ahead and do more!).

In elementary school…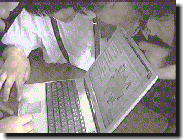 * Get the kids in the computer room, 2 kids per computer.
* Give them 5 or 10 minutes to play around on today's new theme.
* Then the teacher says "go!" and all the kids start together and see who finishes first.
* Do this 2 or 3 times ( or more if they are still having fun.)
The GE computer games are really popular with the kids and computer teachers as it's an excuse to combine ICT and English classes together. But it's really difficult for ALTs to get access to the IT budget to buy student pack CDs for all the kids. So to help out here are 12 games for the first 2 CDs completely free to use on the site. It's a bit of a risk for me giving all these away free, but hopefully once teachers see how well the games work in class they may well decide to buy a site license for the software.
In any case as long as it doesn't affect CD sales too much, it's a great way for even more kids to learn in an even more fun way! The games really do work well so please help spread the word as far as you can.
Your students can get access from the "games" part of the "for students" section on the main menu.
Or if you want to see how they really work yourself, try the Korean or Japanese versions!
OK. let's see how this all works out…