Hugo has just sent in his very cool Mega Maze game for practising Left & Right (or North & South) and reviewing previous themes.
Here's Koharu Playing our game "Mega Maze" and practicing the words she had learnt (Left, Right, Forward and Back).

Koharu had to say the correct word before moving the mouse in the direction out of the maze.

Not only that, there were many pictures from previous lessons and every time she reached one she had to say what it was.

That was a great way to practice the "How are you?" and "Superhero" lessons.

She directed the mouse from start to finish and got many stickers as a reward.

Now she can give directions in English to anyone!
There are more pictures on Hugo's Facebook page and VIP members can download the maze pdf below!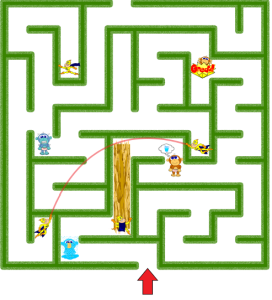 Ninja Tip:  And of course you can make up your own maze with spaces to put in your own mini cards to review any theme!