As the sharp eyed amongst you may have noticed, there's also a funky new School subjects & days "Uno" style game that you just have to get: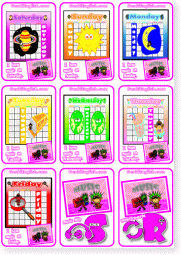 ( As usual VIP members can just right click and select "save as" to download,  and if you're not a member yet, pick up a Download Pack (before the big price increase comes in September!) and you'll be joining us too. )
Instructions on how to play are here: https://genkienglish.net/theonecardgame.htm
OK, any other themes you'd like to see linked together like this?  They are a great way to start making sentences!