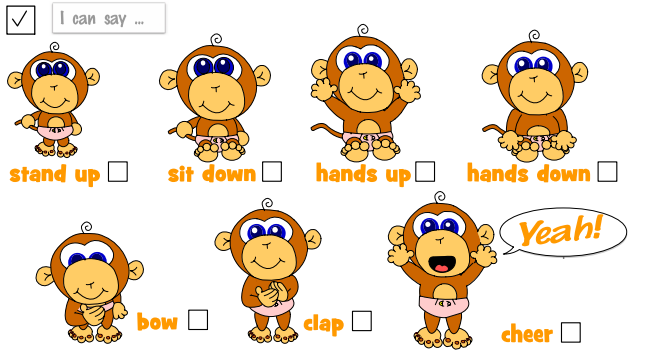 Jan just sent in a great comment to the Simon Says Please game (i.e. where the kids do something when you say "please" but shouldn't do it if you don't.)
I've been doing this game for years ( we're clearly on the same wavelength! )

I do a variation using the days of the week – if it's a Monday for example, I say "Comb your hair (or whatever) on Monday!" The other days don't count, but the kids are hearing different days of the week during the game.

They like it and it's an easy way of reinforcing stuff
Thanks for the tips, keep them coming
I then asked Jan if she wouldn't mind sharing the idea on the blog, and she wrote back:
Of course, feel free. I use the same idea with colours too, or whatever l need
to reinforce and/or introduce – numbers, letters,even animals.

It's also great for mixed age / mixed ability groups.

One group can be wild animals the other pets,so if you say "cats/dogs/rabbits sit down" or "elephants/tigers/giraffes stand up and someone in the other group responds, they are eliminated.

Great fun, especially
when they know that the winners get a sweet! 🙂
Ciao
Pretty cool, eh?  You could probably introduce this into just about any lesson as a quick fun review!