UPDATE:  Thank you to everyone who came to the workshops – this is what we did!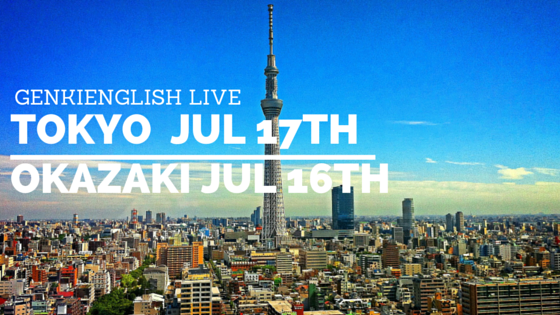 First of all a huge thank you to everyone who joined the Tokyo Meet Up on Saturday.  It was really cool to chat to you all.
It was fantastic when you were all asking questions and I could just say "Let's ask Ken how he did that!"
That is the power of live events,  getting the inspiration by seeing what your fellow teachers have acheived and being able to ask about how to do things and how they solved the problems you're having now.   It is magical.
Drum roll please ….
And keeping that in mind I have a big announcement today,  I have the dates for my 2016 Japan Workshops!
They are July 16th in Okazaki and July 17th in Tokyo.
Both are sponsored by the amazing COFFET Teachers Group.   They are organizing the tickets and placements and you can book online here.
Usually they only allow members to attend, so I've managed to negotiate a few extra spaces for you guys on here.
But do get your order in quick,  there are only 40 spaces available and I just looked now at the Tokyo one already has 30 people confirmed!
There is also a Facebook Page, but you still have to register on the online form.
It's going to be an awesome couple of workshops, the teachers there really rock.   So get your questions ready and be prepared for a huge boost of Genki Energy!!
See you soon!
Be genki,
Richard
P.S.   I'm also in (very early) discussions about possible workshops this summer in Beijing & Vietnam.    I'll be back in Europe from August till September,  LA in October,  maybe Cyprus in November and hopefully South America in January/February.  If you'd like to organise a workshop whilst I'm nearby, do let me know!
P.P.S.  These are my only two teaching workshops in Japan this year.   However would any of you be interested in doing a school owners'  business workshop on the Sea Day holiday, July 18th in Tokyo?  If there are enough of you letting me know in the comments on the blog I'll see what I can do.  Otherwise I'll just head to the beach 🙂
P.P.P.S.  One of the best quotes from Saturday was when I asked Bob if he had doubled his income with the online school owners' course.  "Nope,"  he said "we tripled it!" 🙂