I'm sure you'd all love a nice, friendly, safe place to exchange ideas with other teachers.
Being able to chat and discuss teaching really helps keep the stress levels under control, as well as being a great way to make new friends.
Quite a lot of people have been trying, and not being able, to get into the VIP forum this week.
(I guess the super freebies make a difference!)
Well, we'd *love* to have you join us so here's a little guide to get you started.
1.  Head over the forum page. ( You'll probably have to enter your regular VIP username/password to get in there.)
2. Now to join the forum you have to set up a NEW username/password.  (This is to stop people seeing/stealing your regular username.)
3. Just hit the register button at the top of the page to do it: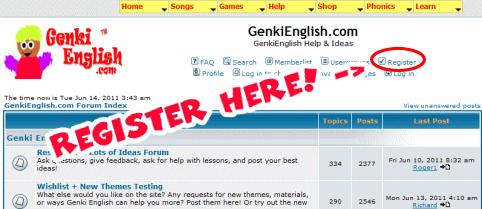 There you go, you'll be a member and have all the help, support and ideas we share.
I treat it like my "front room" where we can chat and exchange ideas and things.
Many of the Genki English themes have come from threads on the forum and everyone is *very* friendly and helpful.
It's also a fantastic way to make the most of your investment in Genki English.
See you over there, or please put up comment on the blog if you are still having problems!
Be genki,
Richard
P.S.  Did you notice how Apple used "What's the weather like today?" in their presentation yesterday – I needn't have done the "How's the weather?" remix!