A nice game for you today, it's lots of fun!
Pop the Pumpkin Pics
1. Put several Halloween themed picture cards on the board, roughly in the shape of a pumpkin.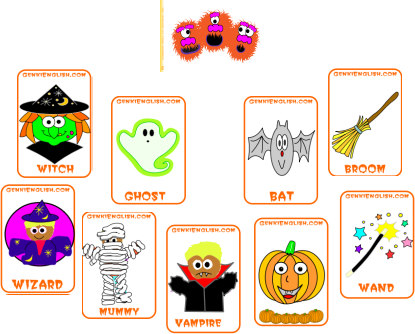 2. On top of each card fasten an orange balloon!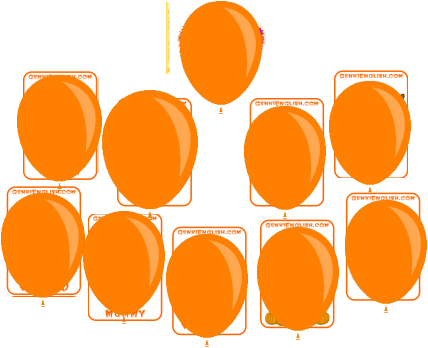 (If you use more cards you can make it look even more like a pumpkin!)
3. Play a quick guessing game (e.g. ask the kids an English question you've been learning in class) and the quickest person to answer comes to the front and pops one balloon!  You can give them a pin to do this with, or for older kids you could give them a dart. (Disclaimer:  Only do this with kids you know well.  I accept no responsibility etc. etc.!)
4.  If/when they pop a balloon, if they can make a sentence using the card below (e.g. look, there's a ….. or I want to be a …..) they get a point for their team – and maybe a candy if it's a Halloween party! 🙂
5.  Team with the most points at the end is the winner!
You can also puts some bonus candies inside one or two balloons if you like, or even better add in glitter to a bonus balloon – watch it explode everywhere when popped!
You can decide if you want to cheat and have parts of the cards below able to be seen, or if you want to cover them all up!
This takes a bit of prep, but is a really fun Halloween game!
What do you think?  Would love to hear your thoughts https://genkienglish.net/teaching/poppumpkinpics