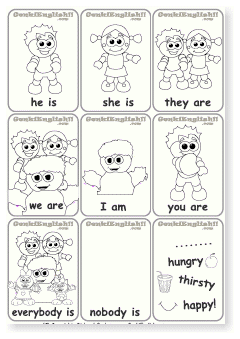 Over on the members forum we're beta testing a new Pronouns/Be Verb song which also links in with yesterday's "Be Verb Game"
I've been working on a few ideas for minicards to represent the pronouns and I think this is the best way to do it, with "I am", "She is" etc. on the cards instead of just "He", "I" etc.  What do you think?
If you need colour cards, they are in the Pronouns & Stationery card game.  It's then easy to link up with the "How are you?" cards to say "He is hungry", "They are happy" etc.
P.S. If you just treat pronouns as normal vocab items then it's also really easy to add in "everybody" and "nobody" in one lesson as well!