Whilst my main discipline ideas have been helping teachers up and down the globe,  it's always good to add in a few new flavours to the mix every now and then.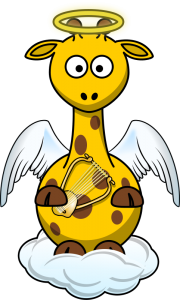 This trick I actually learnt from a doctor, and it actually works in any walk of life.  It does sound a little out there, but give it a try, it's amazing what it can do to brighten your day as well as take away all the stress of those previously "bad" kids!
1. Best to start this outside the classroom, but where you have people around.  Now I just want you to imagine that every human being you see has angel wings coming out of their backs!  Weird, I know, but try it.  🙂

2. Keep doing this for several days before trying it on a live class of students.  Just see *everyone* with angel wings on their backs.   You'll be amazed at how people's reactions to you will change.  You'll feel taller, smarter and much more charismatic!   See, I told you it was weird!

3. After a few days practice of seeing everyone around you with angel wings on their backs, now give it a try on that worst class in the school!  Walk in there, chest out, chin up and imagine all those rock hard kids all with little angel wings on their backs!   Give it a few minutes and see the magic happen!
I told you it was out there, but it certainly works!
Happy Valentine's Day!
Richard
P.S.  If you are a total hard nosed skeptic then do try the regular ideas,  but remember, we're all now seeing you with those wings on your back! 😉
P.P.S.  Another related tip for those of you who need a little extra self esteem boost,  just imagine you have a massive, massive  heart in your chest.  Your heart is so big and giving that it is just huge inside, expanding out your chest.  Just feel as it pumps you up, makes you stand tall and just wants you to get out there and give all your heart to everyone around!   Give it a try and let me know how it feels! 🙂