Talk about chalk and cheese, this morning's school was 100% different from yesterday. It's actually the school whose teachers I spoke to on Friday and was very impressed by. However they weren't putting anything into practice. They'd been doing the songs, and the kids liked them, but they hadn't been teaching the meaning of the words so the kids had no idea what they were saying! I tried testing one class with the Lines Quiz and it was just torture.
The worst ever way to teach…
We quickly found out why. In the neighboring classroom they were also doing English. But not part of our English course, it was the review for their social studies quarterly tests. If you think your school has "teaching for the test" problems you've not seen anything.This is what was written on the board: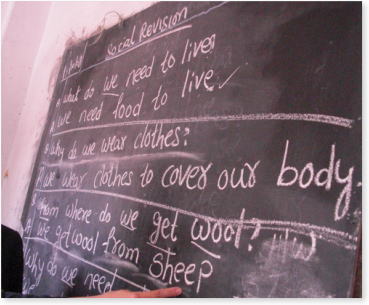 "Social Revision
What do we need to live?
We need food to live.
Why do we wear clothes?
We wear clothes to cover our body.
From where do we get wool?
We get wool from sheep?
Fair enough you might think, they are at a much higher level than we thought. Oh no, you see this is what they memorise, the teacher reads the line, the kids repeat, the teacher reads the line, the kids repeat, for lesson upon lesson upon lesson. As the teacher is reading occasionally she will say "sheep is spelling?"
But the kids have no idea what the meaning of any of the words they are saying is. It's not that they have forgotten or have forgotten some parts, it's that they are never taught the meaning of any of them. They go through years of schooling like this. All in the name of tests.
Then in the final exam, the question paper will always be "What do we need to live? Why do we wear clothes?" etc.and the kids have to perfectly write in their memorised phrase without understanding a word. No deviation, no thinking, just the worst possible kind of rote learning.
I wish I could put the video online it would make you cringe. These are some of the best schools. In the government schools the lessons are apparently even worse!
But you can see why Genki English is such a breath of fresh air for the teachers and also a huge burden. They are amazed that they can have fun whilst teaching, that kids can move around and talk. They are also amazed when kids understand and can respond when people talk to them in English. It's something the teachers have never seen before! But it's also a huge burden because they are still told to teach social science, like here, or natural science in a purely rote way.
Chocolate & Telegraphs
Getting parents and school heads out of the rote way is the thing we have to do. Whilst ever it's there the phonics and Genki English stuff is always under threat because the naturally tendency is for the teachers to slip back to their old ways. If you tell a fat man to stop eating chocolate he won't, but if you put him on a desert island with only fruit and vegetables, that's what he'll eat.
I did think when I joined this programme that we were going to completely revolutionise the education system here. We certainly have the people to do it, they are some of the most brilliant minds in the education world. But with lessons like this it feels like we are just improving the telegraph when what should really be doing is inventing the telephone.
Then again I spoke to the Prof tonight and he said, paraphrasing, "But look this is just after three months, compared with what the schools were like before it's entirely different, the teachers are happy, there is energy and life in the classrooms and that's something we'd never seen before. Think what this will be like in 5 or 6 years time."
So then we went to the next school…