Emi wasn't wanting to do Twister on the floor, so at last month's ACET meeting (their next one is Sunday, Nov. 18th if you're in Kyushu and want to get a load of new ideas yourself!)Β Β she introduced this great version of doing Twister on the board.
Emi was planning on using it for the Hi Friends colours & shapes lesson, but of course it works great in any course.
1. Β First of all make sure the kids know their shapes (or Christmas shapes,) colours (or Christmas colours) and left and right.
2. Draw lots of different coloured shapes on the board.
3. Prepare a matching set of mini cards for all the shapes on the board.
4. The kids split into two lines, the commanders and the players.
5. The first commander picks up a mini card and shouts out "Left hand …. "plus the colour and shape of the card they took e.g. Left hand blue square. Β (Or you could just have them pick up two cards, one for the shape, one for the colour.)
6. The first player has to put their left hand on this object.
7. The next commander comes to the front, picks up another card and says "Right hand …" plus the new colour and shape e.g. Right hand pink circle.
8. Β The first player has to put their right hand on this object.
9. Β The next player comes to the front and repeat from step 5 until all the players are on the board!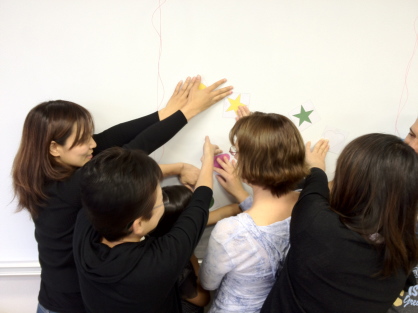 It actually works out really well even though it's just on the board!
What do you think? Β MaybeΒ for a Christmas party?
Be genki,
Richard
P.S. Β November 18th is also the day I'll be doing a Genki English workshop in Osaka.Β Details here!
P.P.S. The winner of last month's commentΒ competitionΒ was … Β Grace! If you'd like to win a Genki English CD Download of your choice (vol. 12 is great you know! πŸ˜‰ ) then keep commenting on the blog and you might be the lucky winner this month.
P.P.P.S. Β It's OK to comment on older posts too, it's the date you post that counts!