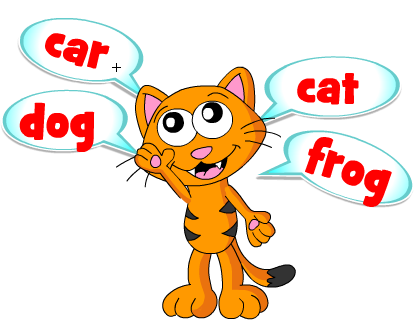 One question I often get asked is….
Should I teach just words or full sentences?
In the beginning I used to just teach words.
My thinking was that no real English kid would ever say "My name is ….  " to the question.
They'd just say their name!
So I taught lots and lots of words.  Animals. Colours. Transport.  Tons of stuff.  Eventually the kids knew a few hundred words.  Which I thought was quite good.  We were all very proud! 🙂
But …..  then we quickly realised that even though they had learnt all these hundreds of words,  they couldn't make a sentence at all!  They just sat there trying to communicate with only single words and ended up sounding like little cavemen!
So I figured we needed to change tactics.
I started teaching full sentences instead.
It made the world of difference and the new kids could talk, properly!
They were now used to grammar and sentence forming and their speed of learning was through the roof.
(Plus it was hardly any extra work which was really cool!)
And the best thing was that we were covering all those tiny little words that make up so much of English.
So that's why I now always recommend teaching in full sentences, even if it's just simple things like "I like .." or "It's a .."   Eventually you cover all the most common structures and they end up learning grammar for free.  Which is pretty cool.
Give it a try, I think you'll like it!
Be genki,
Richard
P.S.  One other really good reason to teach full sentences with questions is that it vastly aids comprehension when speaking with other non-native speakers.  For example if you say "What's your name?" and the other person doesn't understand from your accent, then you can then point to yourself, say "My name is …" and then ask the question again.   This idea of saying the answer first and then asking the question is very a very powerful communication tool!