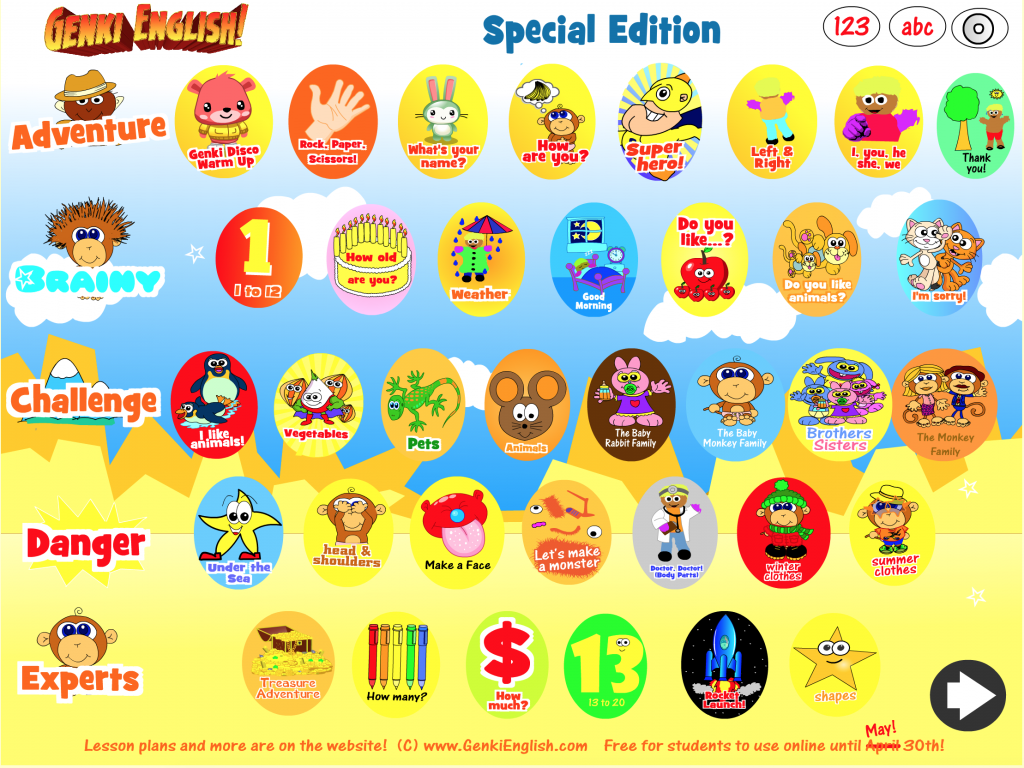 Some good news for you today,  I've extended the GenkiEnglishOnline.com for your students until May 30th!   (The hard cut off date is May 31st, so we're saying May 30th to make sure all time zones fit in!)
It has been a huge success in 110 countries so far but there are a few reasons I've put the systems (and budgets) in place to extend it as far as we can go:
It's just easier to extend it rather than try to rush into any new system to replace the USB homework right now!  (I still need your help with that to find an online way that is a great win-win-win to allow you to get some extra income, your students to get the best learning and to also allow me enough of the crazy development budgets to move things forward.  All ideas are appreciated!)
I'm still feeling guilty about not being able to do enough to help in this world crisis.   The factory that shares our office space has now moved to producing PPE and I've put together the "Get Teaching Online" video course so all of you still can make your living teaching English online but I still feel I want to do more.
I've been bowled over at how it has helped the kids whose teachers aren't helping them online!
So I hope this helps your students too.  It's as far as the tech will take us, so hopefully we can all work together to find out a new system where your students can get access to the materials by June.
And the extension should help for all of you in the Genki Business Course who are using 7, 14 or 21 day online challenges to fill up your classes with new students for September.  It's been amazing to see all of your progress so far!
And of course if you're not a Genki English teacher yet,  then hopefully you've seen just how powerful this program is for both you and your students. So pick up your Teacher's Set now so you support Genki English, have the license to use it in your classes and let your students take full advantage of the extra month of online access 🙂
It's been amazing to see the impact this has made in 110 countries since we put it out there last month, so it's exciting to see what's going to happen from now on!
Be genki,
Richard
P.S.  To gamify the experience for your students, here's a gamified pdf worksheet you can send them.  Every time they learn the words, the song or play the game for a lesson then they can colour in a star.   Can they get all 273 stars before the end of the month???