My nephew's school is covered with motivation quotes all over the wall.  (Nelson Mandela & Steve Jobs in primary school!)
Facebook is also full of amazing quotes but the English is quite tough.
I figured, why not make some easy Genki English ones for kids (or teachers!) ?
So I made you a set of posters featuring all the mantras and sayings I keep repeating in the workshops!
I think they'll look pretty cool on your classroom walls?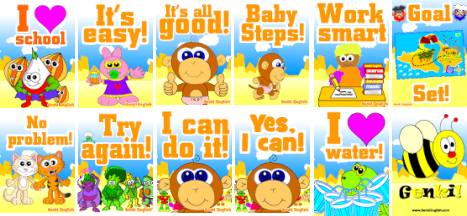 Do let me know what you think in the comments!
Ninja Tip: Choose 2 or 3 of these as rules for "The Agreement" to get a perfectly disciplined class!
Any others you'd like to see made up?
P.S.  The winner of last month's comment competition was ….. Jaione.    If you put a comment on any of the blog posts  you might win a Genki English download of your choice too    Vol. 13?  Advanced Genki English?  Genki Relax?  Or maybe even the learning Japanese pack?   I pick one winner at random each month!