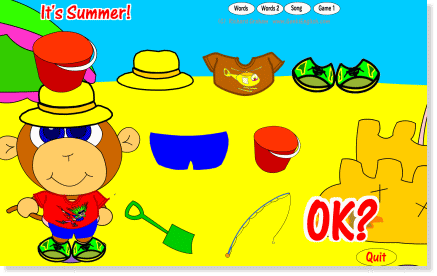 Here's the animation, game and digital flashcards for the "Baby Monkey it's Summer!" Summer clothes theme. It's not totally finished (there's no mini lesson yet), but should hopefully keep your students happy! It's a totally free – but time limited – offer for VIP members (grab your Download Pack if you're not a member yet!)
Right Click and select "Save as" to download to your machine:
UPDATE: The offer has now finished, but check out the volume 11 page!
Usually WARNING: DO NOT DOWNLOAD unless you want it in your head all day!
If you need the Mac version, shoot me an email.
The song itself has also been remixed a touch. It is one of those songs that sounds quite simple at first, but I've been hearing great feedback about it! What do you think?