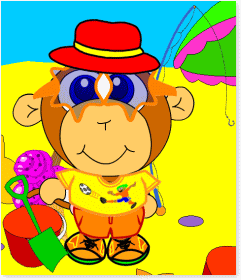 UPDATE:  This song is now released and you can find it on Genki English vol. 11! 
—————————
To follow on from the raving success of Baby Monkey's Winter Clothes, I guess there just had to be a Summer Clothes song as well!
I'm still working on a combined set of picture cards (with much better colour sense than the picture to the left!), and they should be available soon.
For the time being you can use Gaz' Summer Clothes Picture Cards (where you can choose from 10 different t-shirt designs!) for the first four items and the new bucket, spade, fishing rod, shades cards for the next four.
And in case you want to print them out, here are the lyrics:
Baby Monkey it's Summer!
====================
by Richard Graham
Baby Monkey it's Summer.
Let's go to the beach.
Baby Monkey it's Summer.
Let's go to the beach.
Don't forget your hat.
Don't forget your t-shirt.
Don't forget your shoes
Don't forget your shorts!
(Repeat Chorus)
Don't forget your bucket
Don't forget you spade
Don't forget your fishing rod
Don't forget your shades
You should also be able to link this up with the Weather Picture Book from the other week.
The chorus is a bit different to the other Genki English songs, but it does stick in your head! Anyway, what do you think? Is it useful as it is or anything to change?