Here are a few of the other great ideas that the teachers came up with at the Fukuoka ACET meeting the other day. Their next meeting is in September, be sure to pop along if you are in town!
Othello Phonics
I have to admit I still don't quite get the rules of Othello yet, but apparently it's really popular with junior high students!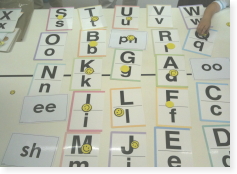 1. Put down a grid of graphemes (letter symbols)
2. First team chooses a card.
3. If they say a word containing that phoneme they can put their counter on the card.
4. Continue with the other team using normal Othello rules.
Today they used both upper and lower case letters, but as usual I'd always recommend just sticking to lower case letters to begin with. You can of course use the game with any theme, just use the minicards!
Run! Stop! Sit down!
This is a game to teach kids how to sit down properly e.g in classes of 3 year olds, but can work well with any ages.
1. Say a command (e.g. basic verbs, superhero words etc.)
2. The kids repeat and do the action.
3. But if you say "sit down!" they have to run back to their seats as quickly as possible!
The key is to have funky music in the background, e.g. today they used Yummy Yummy by the Wiggles.

The Aliens are Coming!
Then it was storybook time. Craig who owns the eMac English school in Fukuoka did one of the best books I've seen in ages, "The Aliens are Coming" by Colin McNaughton.
The vocab is of course way above most kids' level, but the rhythm and rhyme match the quality of Dr Seuss, with a very catchy hook line! Highly recommended. Also note how Craig adds in extra activities as well as tons of expression whilst reading the book!
Part one of this post is here, and as I say if you're in Fukuoka then be sure to pop along to the next ACET meeting in September, they really did come up with all these ideas and more in just one afternoon!