Just a reminder,  if you bought your Teacher's Set this month (Thank you & welcome!!) then you do also get access to the "How to add an extra $1,000 per month to your teaching income" mini-course too.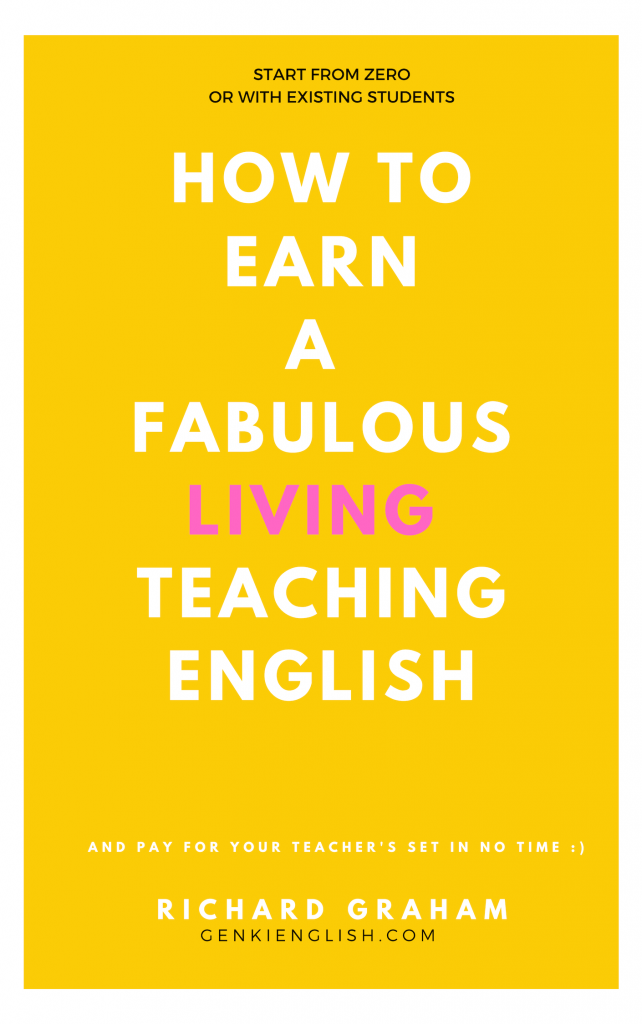 Be sure to go through it ASAP because the main aim is to get you back the money you just paid for your Teacher's Set as soon as possible 🙂   I want you all to be cash flow positive ASAP!
And from lots of experience it should be possible for just about all of you who use Genki English to gradually (or sometimes not so gradually!) add up to an extra $1,000 teaching income per month, even if you think it's not possible 🙂
Remember Genki English Rule No. 1 is " I can do it!" 
We're also here this month to full on support you.   Whenever you have questions, ether on the teaching side or on the income side,  send me an email with any questions you have and I'll get back to you.
If you have a definite goal in mind we also have a select number of coaching calls available for new VIPs (and old ones if they ask really nicely & have a solid goal they want to achieve 🙂 ) in both English with me or in Russian with our Russian speaking coach.
This month I'm also OK if you ask any income questions in the VIP Facebook group too.  (Normally I keep that group for teaching questions only, but at this time of year we have so many income related questions it saves me time by answering the questions over there!)
Plus of course if you want to go even further, there is the How to earn $100,000 per year teaching course.
But get that extra $1,000 per month & pay off your Teacher's Set FIRST!!
Then we can start looking at bigger things!
The more financially successful you are, the more teachers you'll tell about how amazing Genki English is and ultimately the more children you will help get a fantastic education.
So we're totally here for your 100% success!!
Good luck and enjoy the course above!!
Be genki,
Richard