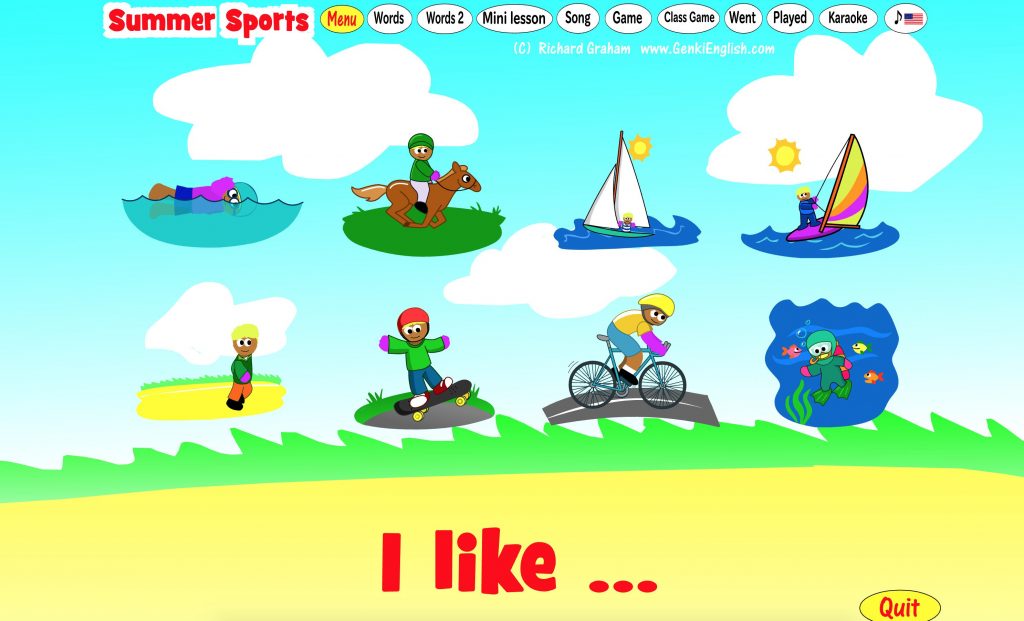 It's finally here and it does seem there is at least some Olympic excitement coming through!
And of course it's always a good idea to incorporate real world excitement into classes!
That's one reason why I incorporated gold, silver and bronze into the Genki Colours Song.
There are also lots of the new Olympic sports in the What's your favorite sport? lesson. ( Skateboarding for the win! I used to get so many comments from teachers saying skateboarding wasn't a real sport and hey, it's in the olympics now!!!)
Ninja Tip: For non sporty kids you can also add in "watching" to this lesson without needing to change anything i.e. I like watching baseball/swimming/running etc.
🥇 The medals!
The Olympic Medal tables are also a fantastic game idea resource, letting the kids look up the tables on their own and using them to practice lots of country names ( great for pronunciation as well as geography e.g. zooming into the country on google earth!), colors and shapes from flags, plus of course numbers and basic maths skills.
Ninja Tip: These work especially well for those near the top of the table!
🚗 More Games…
You can also use print outs of two famous competing athletes (instead of race cars) in the race car game! This works great online too!
And at least one school has done a Genki English Olympics where they do a whole day of Genki English review games and give medals to the winners!
And the Under, On, In,  Where is Mr Monkey? obstacle course game could almost be a whole olympic sport in it's own right (although I'm sure these days I'd definitely swap out the dogs and trainers for coaches and athletes!!!!) 🙂
Plus I'm sure there are lots and lots of other ways to incorporate the excitement into your lessons!
Do let us know your favorite Olympics tips and tricks in the comments!
Be genki,
Richard
P.S. I was once on a TV show with an olympic gymnast gold medalist. She was the one who taught me how to jump properly (I was apparently killing my knees with my old way!) So next time you check out a video of me teaching, check out my olympic inspired jumping technique!! 🙂